Forget socks or some new kitchenware: When Christmas rolled around two years ago, Katherine Gutierrez and her now-wife Emily decided to give each other the gift of ink.
More specifically, the Guiterrezes got matching tattoos that spoke to both their individual identities and their identity as a couple.
"We saw an quote on Pinterest that said, 'I'll keep you safe. You'll keep me wild,' and it spoke to us," Katherine told HuffPost. "Emily is the calm, level-headed one and I'm more spontaneous and carefree, so we instantly knew the quote was the perfect one for Emily. We tweaked mine to say, 'You'll keep me safe. I'll keep you wild.'"
When the Toronto couple wed in 2016 after six years together, the tattoos made bold, splashy statements in their wedding photos.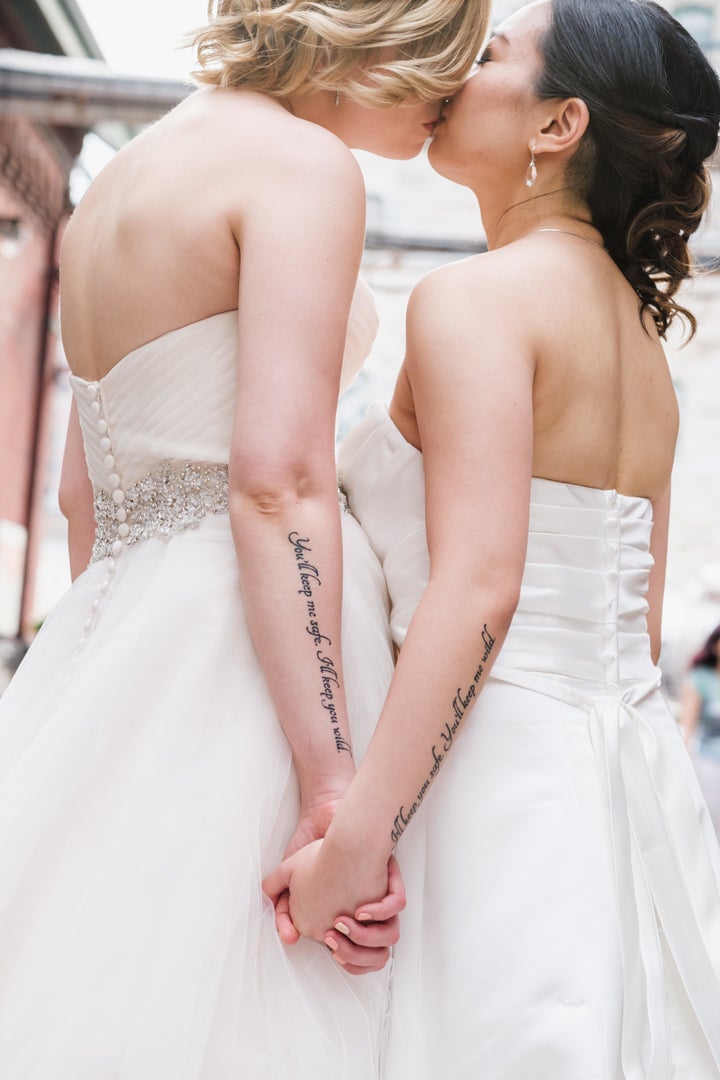 Tattoo artists around the country say that many couples just like the Gutierrezes are forgoing the standard name tattoo ― "Jen" or "Max" tattooed across a bicep, for instance ― and choosing something a little more unique to their relationships.
"Couples tattoos are best when they have actual artistic value and a reason to be kept in the event the relationship doesn't work out," said Brittny Abad, a tattoo artist at Rosewater Custom Tattooing in Portland, Oregon.
"I always recommend that people avoid names at all costs because names are so difficult to work around," she said. "That being said, I've met more people who are actually perfectly happy keeping their couples tattoos after a breakup than people who want cover-ups."
The key to a good couples tattoo design, Abad said, is to base your idea off a mutual love you have for something, whether it's a movie quote or a favorite food.
Austyn and Felycia Vaona went the latter route when they got matching tattoos in July of this year, a few weeks after their engagement.
"We wanted something that mattered to us and would remind us of each other whenever we're apart," Felycia told HuffPost. "The banner over it says 'forever cheesy pizza pals,' which describes our relationship: goofy and filled with too many cheesy puns."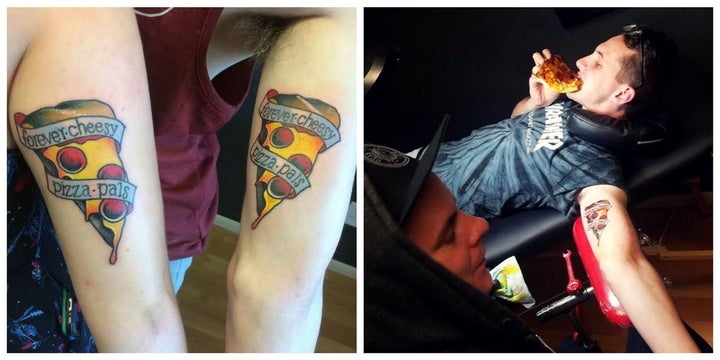 The Vaonas even coaxed their tattoo artist ― Andrew Farmer at Stronghold Tattoos in Bremerton, Washington ― to order a pizza during the session. (Deliciously played, guys.)
Other couples opt to get tattoos in lieu of traditional wedding rings, like Jason DeMar and Kristin Hope of Detroit, Michigan.
"We got tattoos done in February as [a way of having] unconventional, unofficial, totally-not-recognized-by-the-state kind of wedding," Hope told us. "Given the divorce rates nowadays, nothing is more permanent than a tattoo."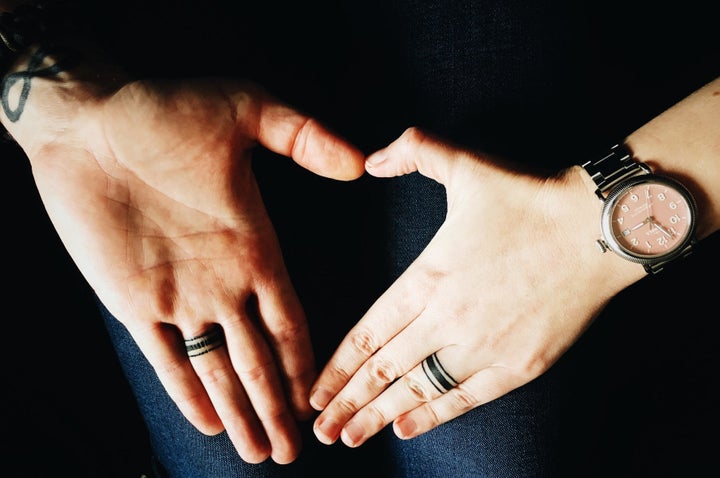 What happens if a tatted couple were to break up and want the tattoo gone? Often, the same tattoo artist will cover them up. If the tattoo is sizable, many people have them lightened or removed by tattoo removal specialists.
Jeannie Beaver, a lasering specialist and family nurse practitioner at Newport Tattoo Removal in Costa Mesa, California, said that roughly half the laser removals she does in any year ("it's hard to say how many, but the number is definitely in the hundreds") are couple tattoos.
"Most of the time, people come in because their current partner really wants them to get rid of their ex's name or the reminder," she said. "In some cases, it's causing a rift in their current relationship."
New partners aside, exes are often fine with the reminder of past love. That's true for Jenna Van Camp, a makeup artist from Cheektowaga, New York who got matching inner lip tattoos with her former boyfriend in April. Hers says "forever," his says "young."
"I picked young for him because that's his last name and I thought, 'How could we go wrong with his last name on him?'" Van Camp told HuffPost. "I got 'forever' because I felt like we still have so much time to grow but it's important to always remain young at heart."
That evergreen message still holds true for the 24-year-old, so the tattoo ― and the Instagram post about it ― stays.
"It's fine because him and I are still friends," she said. "We're cool."
To read more backstories on couples' tattoos ― from the perspective of tattoo artists and the lovebirds themselves ― scroll down.