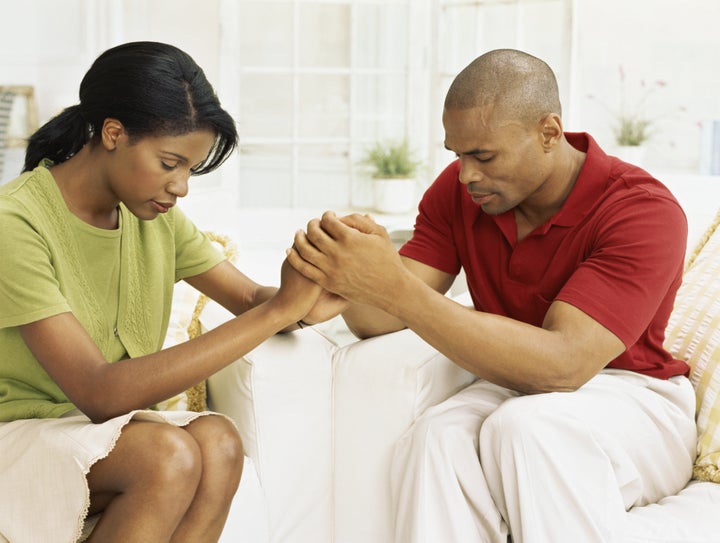 By Adelle M. Banks
Religion News Service
(RNS) The old adage "couples who pray together stay together" may be true, especially for African-Americans, a new study shows.
The survey of religion, race and relationships found that African-Americans attend church more as couples compared to members of other racial and ethnic groups.
Four in 10 African-American respondents said they attended services regularly as a couple, according to a study published in the August issue of the Journal of Marriage and Family. In comparison, 31 percent of Mexicans or Mexican-Americans, and 29 percent of whites, said they regularly shared a pew.
"Without prayer, black couples would be doing significantly worse than white couples," said W. Bradford Wilcox, a co-author of the study and the director of the National Marriage Project at the University of Virginia. "The vitality of African-Americans' religious lives gives them an advantage over other Americans when it comes to relationships. This advantage puts them on par with other couples."
In addition to worshipping together, African-Americans were found to be more likely than non-Hispanic whites to participate in prayer and Scripture studies at home.
In general, researchers found that people in same-faith relationships and partners who attended services regularly were more satisfied with their relationship.
But scholars said religion may not always help couples. Those with divergent religious beliefs and worship attendance tend to not be as happy about their relationships.
The study, which was based on responses to the 2006 National Survey of Religion and Family Life, does have limitations, scholars cautioned. For example, the responses to the survey came from one partner's report on the quality of their relationship and the extent of their religious involvement.
Related
Popular in the Community