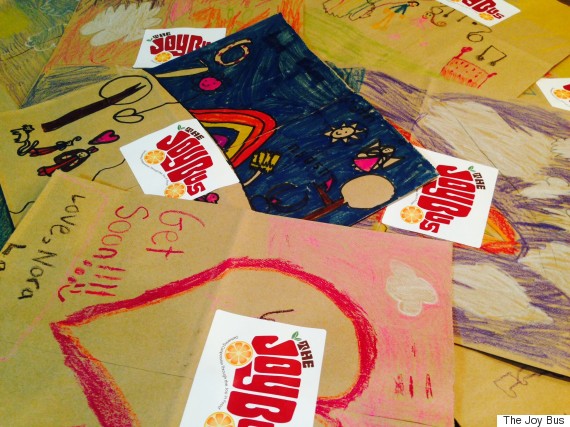 Brightly colored paper bags decorated by a local kindergarten class packed with grilled swordfish, fennel, turnips and sweet pepper skewers served over wilted Swiss chard and drizzled with a fennel leaf gremolata is just the veil of The Joy Bus. The Joy Bus is a labor of love that began several years ago with the illuminating sparkle and rosy cheeks of my friend Joy, a kind and gentle soul who most will unfortunately never have the pleasure of knowing. When Joy became ill, I began to bring her handmade treats to lift her spirits and nourish her body and mind. My background and passion have always been food and every aspect of it. Obviously the eating of it, but equally the simplicity, comfort and art that surrounds food is transcending.
Although I believe everyone surrounding Joy feared the worst, Joy exuded such a calm grace that eased her amazing support system. There was always hope that another drug trial would open up and a cure would be found. If there was any fear in her heart, I never once witnessed it. Joy's determination and calm inspiration throughout her battle with ovarian cancer drove me to want to make a difference. I wanted to reach out and provide comfort to those without the same support system as Joy the only way I knew how: with food! Our organization was created and aptly named The Joy Bus. Once we received our name approval from the Arizona Corporation Commission, my daughter created beautiful art with crayon and ink amongst the document; pictures of Joy, flowers and rainbows! We gifted the piece of art to Joy so that she knew what we had planned in her honor.
Joy passed the following week, on February 15, 2012.
What happened next was the beginning of what The Joy Bus is today. After reaching out to many local farms in the Phoenix area, one farm (Crooked Sky Farms) stepped up to the need and now donates produce every week towards our meals. We then reached out to the Case Managers Association of America -- Arizona Chapter who gratefully began to refer their patients our way. Today The Joy Bus is an all-volunteer organization that delivers healthy, homemade meals to cancer patients and their families each week. As much as possible, we use fresh, organic, locally-sourced ingredients and we prepare meals to order to meet the dietary needs of each person. We are still searching for a permanent commercially-approved kitchen, so we bounce back and forth between church kitchens, donated industrial kitchens and several local chefs have pitched in and prepared some of our meals. We have a tremendous amount of support from our local culinary community. We also partner with The Civitan Foundation (a local nonprofit that teaches life skills to mentally and physically disabled youth) once a month to help prepare our meals. Our volunteers that help to deliver our meals consist of mother and daughter teams from the Moon Valley National Charity League in addition to dedicated members of our community who sign up every week via our website.
But The Joy Bus has grown into much more than a meal delivery service. We are a group of friends bringing over a meal, delivering today's mail, taking out yesterday's trash, a companion in a time of confusion and despair. My passion is food and The Joy Bus was created to share that passion and comfort with others in Joy's name. Unintentional side effects from our deliveries have been long lasting friendships and an overwhelming humility and gratitude for life. A good percentage of the people we deliver to each week do not share my passion for food but they do crave human interaction. It is an unfortunate fact that many of our meal recipients live alone and we are the only face they see every week. We are a face of compassion, a shoulder to lean on, and an ear to bend coupled with artistically decorated bags filled with organic nutrition.
The Joy Bus is now a recognized Arizona-based nonprofit corporation that has been granted tax-exempt public charity status under Section 501(c)(3) of the Internal Revenue Service. To date The Joy Bus has delivered upwards of 1,800 meals free of charge to home-bound cancer patients within our community. I am blessed that I found my calling and grateful to the community that supports our mission. Offering a free service can sometimes prove to be difficult, but we are forging ahead with the guidance of our experienced board. We are growing with each year and looking towards the day where every home-bound cancer patient in our community can get a weekly visit from the amazing Joy Bus volunteers who make The Joy Bus dream a reality!
Food is the passion behind The Joy Bus mission and The Joy Bus has received numerous accolades applauding our efforts since our incorporation in 2011. Most recently we were honored by the Massachusetts General Hospital Cancer Center as a recipient of the one hundred. We are honored to be able to do what we do and hopeful that we may continue.
This blog post is part of a series produced by The Huffington Post and the one hundred, in conjunction with the Massachusetts General Hospital Cancer Center. Each year, the one hundred honors 100 Everyday Amazing individuals and groups -- caregivers, researchers, philanthropists, advocates and volunteers from around the globe -- who are celebrating hope and inspiring action in the cancer community. To see all other posts in the series, read here. For more information about the one hundred, read here. Do you know someone who's making a difference in the fight against cancer? Read here to nominate them for the one hundred.
REAL LIFE. REAL NEWS. REAL VOICES.
Help us tell more of the stories that matter from voices that too often remain unheard.