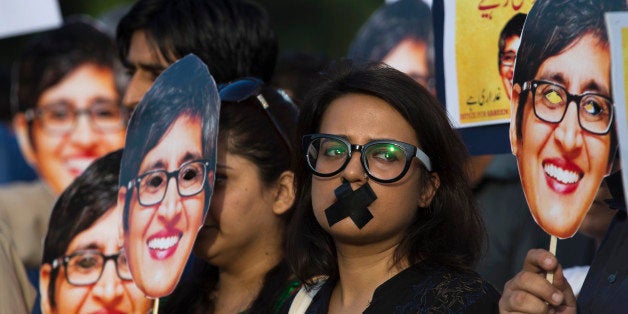 Pakistan lost a beloved, courageous leader last Friday night. Sabeen Mahmud -- a lover of innovation, technology, free speech, intellectual discourse, arts and culture, and the potential of young people -- was shot dead. She was driving home with her mother after an evening session at The Second Floor (T2F), a community space she ran to encourage civil discourse in Karachi. It was not yet 10 p.m. when two men on a motorcycle rode up to her car and shot Sabeen repeatedly in the face and chest and then shot her mother. Her mother survived, but Sabeen died before reaching the hospital.
No one asked why she was killed. That evening, The Second Floor hosted a conversation titled "Unsilencing Balochistan," Pakistan's largest and poorest province. She had been warned not to host the panel that included controversial human rights activists. She had received death threats -- though this was not the first time. The future of Pakistan, she felt, depended on the courage to hold conversations with all kinds of people across all lines of difference. She stood neither for a particular political party nor a singular ideology, but rather the critical need for discourse, for rational thought, for celebrating the potential of what it means to be human.
I met Sabeen years ago when I spoke at The Second Floor. I was struck by her frank smile, her insatiable curiosity, her generous way of gathering people together to learn about Acumen, patient capital and our approach to tackling poverty. She was a friend to our work, as she was a friend to all who worked for possibility. Sabeen believed that it was up to all of us to create and nourish civil society. And that we were here to support one another, that this endeavor must be a shared one.
Everyone in Pakistan who knew Sabeen has been left speechless, bereft. Hers was a light that made everyone around her shine. Hers was a moral courage that made everyone who met her want to do more, be more.
Those who have spoke of her in the news and on Twitter these past few days remember her audacity, her optimism, how she idolized Steve Jobs and did all she could to promote technology and the future, including sponsoring Pakistan's first Hack-a-Thon.
Upon news of her death, the journalist Mosharraf Zaidi Tweeted, "Sabeen was like titanium. So strong. So dignified. In every way. A huge supporter of all voiceless people. A voice. Ya Allah."
She was like titanium. She did not succumb to fear. She fought for peace.
Hundreds flooded the streets for Sabeen's funeral procession. Breaking Islamic tradition, it began neither from her home nor a mosque but from T2F, the place that will forever symbolize freedom of thought and speech and belief in a shared future. Her mother received visitors despite her bullet wounds and gently urged supporters to carry on. Friends continue to gather everywhere from Lahore to New York to Washington to memorialize her.
I cannot help but think about Acumen's team, our 50-plus Pakistan Fellows and the entrepreneurs we invest in there. They also do what is right and not what is easy in a way that confronts cynicism. I am proud to know every one of them. I know that Sabeen will stand forever as a beacon to them -- and to our entire global community.
When friends in New York have asked if I think Sabeen's killing will make Pakistanis recoil or feel silenced by this horrendous act, my response comes quickly.
To the contrary, Sabeen's stand for dialogue, justice and human potential will inspire more courage, more action, more truth. As my teammate Batool shared, "I am positive we carry her legacy, fearlessness and courage with us because the alternative of fading into the dark is not an alternative at all."
If there is one thing that everyone who had the privilege of knowing Sabeen understood, it is that above all else, she loved Pakistan and believed it was a country worth fighting for -- and, in her case, tragically, worth dying for.