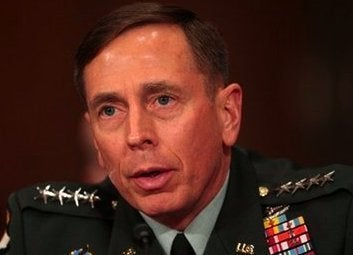 You probably missed it, but General David Petraeus' easy ride through Congress yesterday was interrupted by three members of the House Armed Services Committee: Chellie Pingree of Maine, Carol Shea-Porter of New Hampshire and Niki Tsongas of Massachusetts. Fortunately for Petraeus, mainstream media had already fled the committee room before it was their turn to question the General.
I disagree with you, basically, on the premise that our continued military presence in Afghanistan actually strengthens our national security. Since the surge of troops in southern and eastern Afghanistan started, we have seen only increased levels of violence, coupled with an incompetent and corrupt Afghan government. I am of the belief that continuing with this surge and increasing the level of American forces will have the same result -- more American lives lost, and we will be no closer to success."
-- Congresswoman Pingree to Petraeus.

Isn't it great when a member of the House of Representatives is willing to represent the truth -- even a politically inconvenient one?

At issue for these courageous members, and now a majority of the American public, are two key questions: When do you accept that your military strategy is not working? At what point do you recognize the evidence before you and change course? When it comes to the US strategy in Afghanistan, these questions are a matter of life and death for our soldiers in harm's way and countless innocent Afghans. It's also the matter of hundreds of billions of US dollars. Here are some of the inconvenient truths that the Pentagon is trying desperately to avoid about its war in Afghanistan:
Just over halfway through June and already it is the 12th straight month of record-setting casualties in Afghanistan. US casualties in the first six months of this year are more than twice their total in the first six months of 2009, and the peak fighting season has yet to begin.
What our top commander in Afghanistan, Gen. Stanley McChrystal, was once describing as a "model" operation in Marja he now calls a "bleeding ulcer."
The Pentagon's most recent quarterly report to Congress on Afghanistan confirmed that efforts to strengthen the Afghan National Army have been stymied by "high attrition and low retention" of recruits. Meanwhile, the insurgency continues to grow: "A ready supply of recruits is drawn from a frustrated population where insurgents exploit poverty, tribal friction and a lack of governance to grow their ranks."
The Karzai government remains mired in corruption and incompetence under its mercurial and less than stable leader. After threatening to join the Taliban this spring, this week we learned that President Karzai "has lost his confidence in the capability of either the coalition or his own government to protect this country" and "that he can't trust the Americans to fix the situation" in Afghanistan.
Our NATO allies refuse to provide the military trainers they once promised as opposition to the war among their citizenry climbs ever higher. Canada and the Netherlands begin to pull their troops out of Afghanistan in a few months.
Here at home, polls now show that a majority of Americans do not believe the US military campaign in Afghanistan is worth it.
Still, as was the case in Vietnam, Pentagon officials trooped up to Capitol Hill yesterday to ask for more time, money and patience. And despite growing public opposition to the failed escalation strategy, pro-war hawks like Sen. John McCain (R-AZ) were joined by none other than Senate Armed Services Committee Chairman, Carl Levin (D-MI), in challenging not the failures of our current strategy, but the administration's increasingly thin promise to begin withdrawing troops in July 2011. According to Gen. Petraeus and Undersecretary of Defense for Policy and Planning Michelle Flournoy, who also testified, those who favor our unending commitment to Afghanistan have little to fear from that date. It is simply "an inflection point" at which time "a process begins."
Bottom line: How many more soldiers need to die during that "process" and how many more billions of taxpayer dollars wasted before reality trumps the hope-based US strategy in Afghanistan?

Thank you, Congresswomen Pingree, Shea-Porter and Tsongas. Now it's time for your colleagues to join you. For our soldiers in harm's way, it is literally a matter of life and death.
Watch Pingree's questioning of Gen. Petraeus here:
Popular in the Community