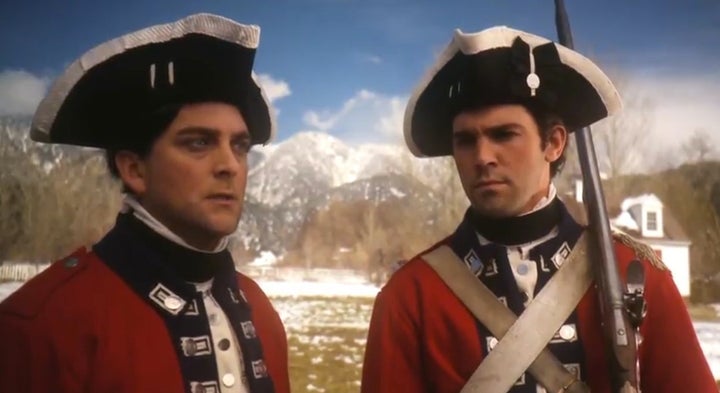 The Tea Party movement has their own news network, and now, they're turning to admitted fiction.
Having long accused Hollywood of raging liberalism, a group of conservatives have banded together to start Colony Bay Productions, according to The Hollywood Reporter, a startup production company that will create right wing-tinged content. Founded by Jonathan Wilson, an experienced Hollywood development executive, and James Patrick Riley, an experienced Patrick Henry impersonator, the company will debut its first show, "Courage, New Hampshire," on Saturday night.
With their interpretation of the founding fathers' intentions, and idealized belief in the purity of early American life, "Courage, New Hampshire" is an obvious start for the Tea Party company; set in the 1700s, it's a soap opera-style show that will go straight to DVD after its red carpet debut. They didn't pitch it to mainstream networks that are actually on TV.
As Riley, who wrote, produced and appeared in the show, told THR, while they'll work to include Tea Partiers in the cast and crew, they, "hire anyone who can get the job done. We have cast members who are raging leftists."
Their characters, presumably, are not; Riley told THR that "Hollywood tends to make over the past in its own image - 18th century women become raging feminists; statesmen become agnostics or rakes."
The premiere will be attended by Victoria Jackson, the former "Saturday Night Live" star-turned-Tea Party activist, who in the past year has come out with blistering homophobic critiques of the gay-friendly musical dramedy, "Glee."
"Did you see 'Glee' this week? Sickening!" she wrote in her column for WorldNetDaily in March. "And, besides shoving the gay thing down our throats, they made a mockery of Christians - again! I wonder what their agenda is? Hey, producers of "Glee" - what's your agenda? One-way tolerance?"
She later defended her comments, bashing secular humanism for its alleged domination of TV airwaves.
"Well, it doesn't matter what I think," Jackson said on Showbiz Tonight. "What matters is what the Bible says. And I'm really concerned about our country because immorality is, well, let's see: secular humanism rules the airwaves, and it's stealing the innocence away from this whole generation of children. My daughter is a teenager and I cant find any show that she can watch."
There are a number of Hollywood conservatives, including Mel Gibson, Kelsey Grammer and Chuck Norris (who has campaigned with Mike Huckabee), though none of them have contributed to the startup company, at least to public knowledge.
No word yet on when their Ronald Reagan biopic might come out.
Popular in the Community