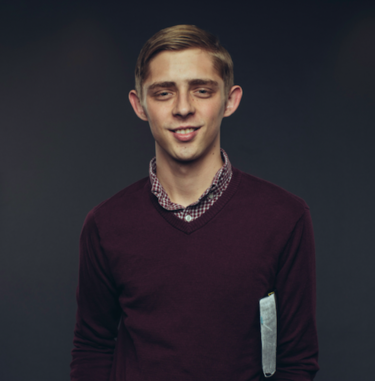 I recently had the fantastic opportunity to do a Q&A session with one of my favorite Christian leaders, Brandan Robertson.
Brandan is a much sought after pastor, speaker, ecumenical consultant, and commentator--his primary focus centers around the intersections of spirituality, sexuality, and social renewal. He regularly pens articles for Sojourners, The Huffington Post, and Patheos; additionally, he's been published in TIME, The Washington Post, Dallas Morning News, and Religion News Service.
He recently published his first book, Nomad, and is the founder and executive director of Nomad Partnerships--a nonprofit that works with people of faith to be human rights advocates. He's originally from a suburb of Washington, DC., but currently resides in Denver, Colorado.
Mr. Robertson holds a Bachelors Degree in Pastoral Ministry & Theology is studying for a Masters of Theological Studies. Brandan obtained the Bachelors from Moody Bible Institute.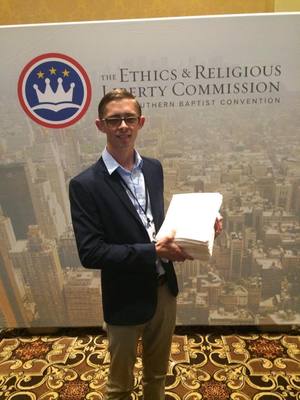 Q: Outside of classroom instruction and required study, how did Moody influence your life?
A: Well, Moody is located right in the heart of downtown Chicago, just a few blocks from Michigan Avenue and a half mile from the "Loop." So getting the opportunity to live and experience all of the challenges that I did in the middle of one of America's greatest cities was absolutely transformative. The city was my best teacher during Bible College. The experiences it provided me, the questions it caused me to ask, the people it connected me to--I would not be who I am today if it wasn't for that experience.
In regards to the school itself, it showed me everything that was wrong with Evangelicalism and at the same time gave me hope for the future of the Evangelical movement. I know those are big statements, but I stand by them. Moody is a big institution, enraptured with power, position, and money, like so many other churches, institutions, and leaders in Evangelicalism. Institutionally, it fears diversity and authentic questioning. It prefers conformity and submission to exploration and spiritual and academic freedom. It uses fear to keep people in line doctrinally, which is not unique to the school, but is part of the sickness that plagues much of Evangelicalism in the world today. At the same time, there were many at Moody who flatly rejected these tendencies, who encouraged me to explore the bigness and beauty of God, to step outside boxes and boundaries, to have experiences that would challenge my deepest held beliefs. They did this because they were confident in the Gospel--that it was truly Good News and they knew that no matter where I wandered or what I experienced, I would come back to the way of Jesus. Sure, it might look different that many other Evangelicals, but they taught me to be less concerned with how I looked and to care more about seeking after God and challenging boundaries that we've built to limit Him. That was one of the most important lessons of my life, and I would never have learned it if it wasn't for Moody.
Q: Looking back, would you rather have studied somewhere else? If so, where would you choose? Why?
A: I wouldn't choose to study anywhere else. Though Moody became a challenging place for me personally, I loved the training I received in the Bible and had many professors who challenged me intellectually and spiritually in ways that I doubt I could have been challenged elsewhere. I am grateful for my time at Moody and how God used it to shape me into the man that I am today.
Mr. Robertson began to pen Nomad while he was a senior at Moody. After graduation, he took a few weeks to complete his manuscript. At the time, he was receiving national attention for his public support for same-sex marriage. After he submitted the finished work to his publisher, he received the dreaded news that they were dropping his book. Later, another publisher approached Robertson about Nomad, and they were able to get it to market.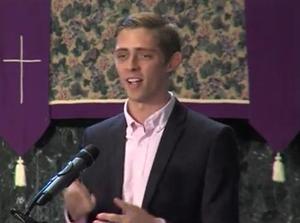 Q: What were some of the unexpected hurdles you faced when you Destiny announced they were dropping your book prior to publication?
A: The media attention. I had no clue that anyone would find the story of me losing a book deal newsworthy, and I was totally unprepared to deal with the amount of press that I got as a result of it. But I survived and am really grateful that so many people helped lift up my story to help shed light on the discrimination that exists in the Christian book industry.
Q: What motivates you to push forward even as you encounter significant resistance?
A: Because I honestly believe that God has called me to this work and that the Spirit is moving in our day in a unique and powerful way. If I wasn't sure that God was in this, I'd shut everything down tomorrow. But I am absolutely sure that God is doing a new thing in our day and that He called me to this work of reformation. I want to see a better world. I want to see the Kingdom of God expand in our midst. I want to see all people welcomed into the body of Christ and gather at the table of grace. And I believe that's possible if we are willing to work for it.
Q: What is unique or unusual about your ministry?
A: That's an interesting question. I think what's most unique is that many people perceive me as primarily an LGBTQIA activist and speaker, but in reality, a majority of my writing has nothing to do with sexuality or gender. I don't want to be the "Queer Christian", but a Christian writer, pastor, and commentator who happens to be queer. Going forward, I am going to be much more intentional about making that clear in what I write and what I do.
Q: What do you hope Nomad Partnerships will accomplish?
A: My hope for Nomad Partnerships is to help convene faith leaders around the nation and around the world to have important conversations around sexuality and gender identity. My mentor, Dr. David Anderson says, "Comprehension begins with conversation." In order to build empathic understanding among my fellow evangelicals, I believe they need to be put at a table with LGBTQIA Christians to get to know us, to hear our stories, and to understand our position.
Over the course of 2016, we will be working to convene these gatherings as well as lifting up voices of evangelical leaders that affirm same-sex relationships, to show the general public that all evangelicals are not anti-LGBTQIA and that in fact, a growing majority are actually supportive of sexual and gender minority rights both civilly and ecclesiastically.
Q: How has your family been with regards to both your LGBTQIA+ status and your public ministry?
A: My family is generally not very connected to the Christian world that I spend most of my time in, and questions of sexuality have never really been a problem. I have a very "take it as it comes" family, which has made all of this work significantly easier for me; in a way that many others, both in full-time ministry and who identify as LGBTQIA, never get a chance to have. 
Q: You seem to do an extensive amount of travel, how many miles do you log in a year?
A: You know, I never counted my miles and I am not a part of a frequent flier program (which is probably my biggest regret of 2015!). However, I know I took about 24 trips over the course of 2015, 21 within the United States and 3 international trips. It's been a crazy year, but I am so grateful to get to travel and see what God is doing around the nation and around the world. 
Q: How has this impacted your life?
A: Travel has been the biggest blessing and a huge challenge. It has allowed me to do more work in more places with more people. To be a part of the larger movement of God's Spirit that's happening around the nation. I've learned so much and formed so many great friendships. But it is also a huge challenge--physically, it wears you down, it reveals just how undisciplined I've been. It doesn't look like my travel schedule is slowing down all that much, but I will take more time to build disciplines into my life to keep me healthier and more productive.
Q: What are the biggest challenges you face when dealing with conservative Evangelicals?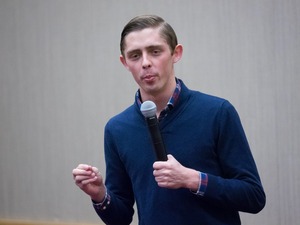 A: The biggest challenge I face in working with my fellow evangelicals is probably more about me than it is about them. I think it's being very careful to not view myself as more evolved or above them because I have changed my theology in some significant areas.
In a lot of the work I do, I get to sit across the table from people who have shaped and influenced my faith in indescribable ways through their public ministries. However, now as I sit at the table with them, there is the temptation to see them as somehow "less than" because they aren't where I am at. I think that works the other way around too.
They often are tempted to see me as a sell-out or heretic. But we've got to reject those tendencies and realize that on each side of the table sits a real person who is really trying to live the best life that honors God and is faithful to what they believe in. If I don't consistently keep a check on my attitude and mindset, then I will derail all of the work I am trying to do.
Q: What is the most effective way, in your experience, to help people overcome anti-LGBTQIA+ attitudes?
A: I believe the key to changing hearts and minds of people on any topic, but especially on issues of LGBTQIA equality and inclusion, is through building empathetic understanding.
When people see the fruit of LGBTQIA people's lives and see us as people, not as issues or sex acts, they will often begin to be open to rethinking their theological or political views. But breaking through the wall of fear and bias to get people to look at the facts and reality can only be done through relationships and empathy.
Q: How has the feedback you've received thus far made you feel?
A: Inspired. All the feedback, negative and positive, shows that people are awakening to the need to have these conversations about sexuality, gender, and our faith. So every time I see someone feel compelled to engage--either in support or in opposition to me or others in this space--I feel a sense of affirmation. That what I am working on matters and that this is the right time for this conversation.
Q: In what areas do you hope your work in this field most help others?
A: My hope for all of the work that I do in the area of sexual and gender minority rights is that LGBTQIA people may find healing from the trauma caused by Christian communities and would seek to be reconciled to the very communities and traditions that harmed them.
On the surface, I know that can be a hard sentence to read. But I really believe that faith is an essential part of living an abundant life and that if we are to ever see substantive change in our faith communities, it will only come through sexual and gender minorities stepping back into the communities that rejected them and living as faithful witnesses in their midst.
Through that witness and those relationships, they will build in their community, we will see transformations occur. My other hope is related: I hope to continue to be a witness with my own life to the conservative religious leaders that I get to interact with, to show them that for me, my work isn't based on progressive values, per se, or even on my sexuality. Instead, it is my faith that compels me to do this work and to embrace my true identity. Through that witness and those relationships, I really believe we can change the Church and the world. 
Q: Can you describe for me what you achievement you're most proud of?
A: I am most proud of the work that I do that people rarely see, namely, convening gatherings with conservative religious leaders and progressive religious leaders and watching two groups of people who are so used to demonizing one another from a distance begin to form friendships, begin humanizing one another, which then leads to significant change in our nation and the world. That work is the most important and the work that I am really, really proud of. 
Q: What would you recommend to someone just starting on his or her faith journey?
A: To the person who feels like they're just beginning their faith journey, I'd say welcome. The road that lies before you is filled with twists and turns, uncertainty and temptation. In the midst of it all, remember first and foremost that this thing that we call God is infinite, so far beyond our ability to comprehend. So resist and avoid the desire to systematize and carefully define every belief and aspect of your theology. Life isn't that clean cut.
St. Augustine once said, "We're talking about God. What wonder is it that you do not understand? If you did understand, we wouldn't be talking about God!"
Keep an open mind and open heart. Look for God in the most unexpected people and places. And never, ever lose your sense of awe and wonder at the bigness and beauty of this mystery we call life.
If you can do this--stay humble, stay in awe of life--I believe you'll live the best possible life.
Q: Do you have any tips or advice on prayer? If so, what are they?
A: The best advice I can give on prayer is to remind you that prayer does not have to be bowing your head, closing your eyes, and whispering requests to God. Prayer can take many forms.
For me, prayer is the discipline of remembering that God is with me and surrounding me every moment of every day. When I call this reality to mind, I am filled with peace and comfort knowing that my Creator is with me and cares for me. I also spend a lot of time taking walks at night and reflecting on the bigness and grandeur of the night sky, which postures my soul in a state of awe and wonder.
Living conscious of the presence of God and experiencing awe are two of the most important spiritual practices for me and help keep me centered and focused on what matters most. For me, this is prayer.
It's important to remember that our own spirituality and connection to God is unique to each one of us and that our spiritual practice will be unique to us.
We shouldn't feel pressured to have to try to connect with God in an inauthentic way that doesn't work for us.
We have freedom. Seek God, and he will be found. 
Q: What would advice would you give to your younger self?
A: This is a question I have thought a lot about. Early on, after becoming a Christian, I learned two lessons that have guided me through my childhood and into adulthood. They are, I believe, the two most important lessons that any of us can learn:
First, everything belongs.
Second, Trust in God and not on your own perception of reality and He will guide your path.
Those two pieces of advice have helped give me a perspective on every circumstance--from my abusive childhood, the traumas of high school, my toxic Bible college experience, and my coming out journey--to remind me that no matter what happens in life, it will be redeemed, used to make me stronger, healthier, and whole.
Every injustice I faced, every ounce of pain I felt, had a place in my journey. God has redeemed and is redeeming it all and has transformed the broken pieces of my life into something more magnificent than I could have ever imagined.
That's the advice I learned early on and it's the same advice I'd reiterate to my younger self again. It was hard to believe then--it still is. But I have seen time and time again how my pain has been redeemed into something beautiful and how God has taken me places I could have never dreamed of going. So I trust that these words are true.
Calling all HuffPost superfans!
Sign up for membership to become a founding member and help shape HuffPost's next chapter