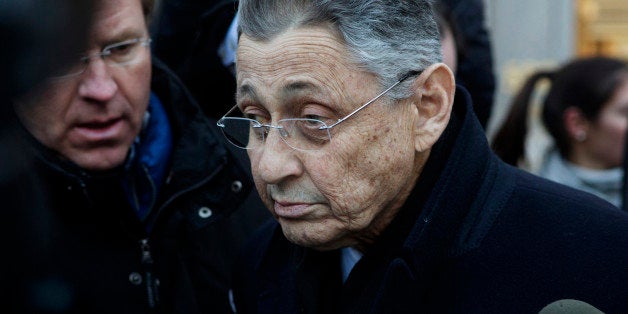 The United States has a long, possibly unique, tradition of fearlessly prosecuting top politicians for corruption. The latest to be caught in the graft net is Sheldon Silver, the long-serving Speaker of the New York State Assembly.
"An Albany Powerhouse on the Edge of a Volcano" ran the front page New York Times headline.
Silver has occupied his post since 1994. He is the third most powerful politician in New York (after the Governor of the state and the Mayor of New York City). He says he is innocent. Preet Bharara, the United States attorney for the Southern District of New York, supported by extensive evidence uncovered by the Federal Bureau of Investigation (FBI), takes a different view.
Bhara has filed charges against Silver involving at least $4 million in illicit funds. The charges are all too commonplace in local and municipal politics. They include kick-backs from real estate developers seeking special tax relief and pay-offs by law firms to get lucrative cases from government agencies. Taking on a politician as powerful as Silver takes courage. Prosecutor Bhara, however, is following in the footsteps of a host of other gutsy U.S. public prosecutors in recent years.
Top Priority: Fighting Corruption
Indeed, it is this tradition that singles out the U.S. from so many other countries. Like other nations, the U.S. has plenty of corruption in public life. But, unlike so many others, our public prosecutors are fearless and determined to see that those who abuse their public offices for personal gain are brought to justice. The driving motives and approaches of our leading prosecutors were center stage at a seminar I recently attended at Columbia University Law School's Center for the Advancement of Public Integrity. Fundamentally, they believe that the very core of what America's "Founding Fathers" sought to ensure is that citizens are served by honest politicians.
"The values of integrity and open government and democracy are foundational to our nation and thus we assume that all who serve in public service are expected to do so with full integrity," says David Harbach. As a U.S. Justice Department top attorney, Harbach was key to the successful prosecution for corruption of Virginia Governor Bob McDonnell, who starts a two year prison sentence on February 9.
Harbach, left his former role to become a top FBI advisor and he notes, "The FBI's public corruption section has more undercover operations than any other part of the FBI. This area of prosecuting public corruption is at the core of what we are as a country."
Harbach was joined at the seminar by Cyrus Vance, Jr., the New York County District Attorney, Patrick Fitzgerald, former U.S. Attorney for the Northern District of Illinois, and Michael Garcia, former U.S. Attorney for the Southern District of New York. Each of them stressed that they see investigating and prosecuting corruption by public officials as an absolute top priority, central to securing the United States as a democracy.
It is precisely this core conviction that has driven each of them, as well as Preet Bharara, to be unflinching in going after crooked politicians, irrespective of how powerful they are.
Moreover, each of them underscore that they are non-partisan and driven solely by the goal of ensuring justice, irrespective of whether or not charges just happen to be made public on the eve of an election, or at another time that may be especially sensitive in terms of the political calendar -- for example, New York state governor Andrew Cuomo's hopes of finalizing a complex state budget deal with the Assembly will probably be delayed because of the charges now brought against Sheldon Silver.
Chicago and New York Examples
Fitzgerald noted that Chicago has both a long tradition corruption and prosecuting corrupt politicians. He said this helped greatly in bringing the high-profile cases that he pursued, which led to the jailing of former Illinois state governor George Ryan , and then the even higher profile prosecution on 18 counts of corruption of Ryan's successor, Governor Rod Blagojevich. He is now serving a 14 year jail sentence. Fitzgerald believes that judges are increasingly willing today to impose serious sentences for corruption crimes and that this is a very positive development.
Michael Garcia recalled that when he was appointed in 2001 to the New York post now held by Bharara, he reviewed pending corruption investigations and encouraged his staff to be still more vigilant. He said that at the same time, it was important for him to speak publicly about corruption and to stress the priority that his office attached to honesty in government. He said, "It is often very difficult to quantify the impact of corruption on society, but it is undermining the system and trust in the system."
Garcia noted that where top public officials are concerned then for him there is no option to settle the case, but to ensure that actions at a minimum force the official from office. This happened on Garcia's watch, for example, when then New York governor Eliot Spitzer felt bound to resign as investigations highlighted his meetings with prostitutes.
Cyrus Vance Jr. noted that Federal law provides prosecutors with greater scope to bring corruption cases than does New York State law. This probably explains why the Silver cases have been brought by Bhara's office. Vance explained that immunity laws for witnesses are too sweeping in New York, so this can enable individuals who are corrupt to evade being prosecuted. He added that in New York state a person cannot be prosecuted solely on the basis of what accomplice say, while Federal law does not have this kind of provision.
Footnote: An excellent book that places in perspective the views of the U.S.'s 'Founding Fathers' on corruption in government and major milestones in U.S. approaches can be found in Corruption in America by Professor Zephy Teachout, published by Harvard University Press.
REAL LIFE. REAL NEWS. REAL VOICES.
Help us tell more of the stories that matter from voices that too often remain unheard.