Editor's Disclaimer: This post contains images of the human form that some consider graphic and may be inappropriate viewing for a workplace setting.
Whether we attribute it to the power that women hold over men, the unconscious envy of men denied the facility to give birth, or Courbet's audacity to paint a frank image of a vagina as art in 1866, L'Origine du monde (Origin of the World), still has enough power to scandalize the censors at the social media giant, Facebook. Enough, in fact, that Facebook not only removes the image of the painting, they also suspend the Facebook accounts that post it.
At least that's what well-known painter, installation sculptor, and media artist Matthew Weinstein found out this week. Weinstein, who has shown his work at the Sonnabend Gallery in New York City for nearly two decades, found that his Facebook account was suspended after doing no more than posting the art-historical icon, and despite it being one of the biggest draws of international audiences to the Musée d'Orsay in Paris.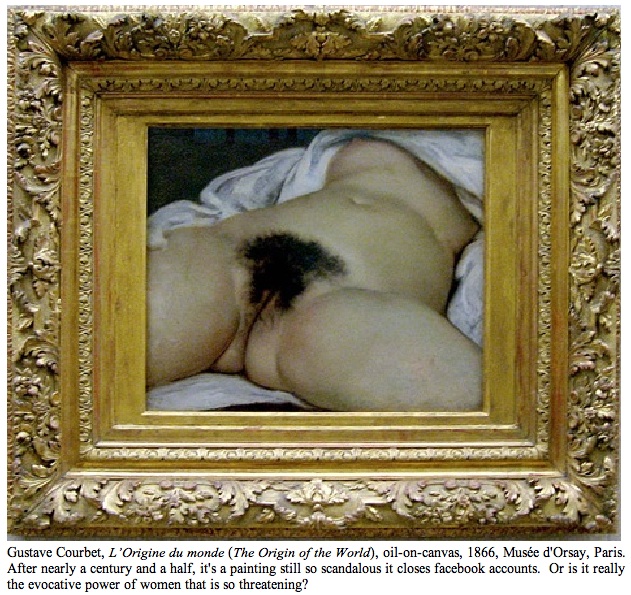 It's not the first time that Facebook has puritanically suspended accounts because of sexual and nude image content, or even displays of affection. Earlier in the month Facebook removed photographs of the painted breasts of 25 post-mastectomy breast cancer survivors that are part of the Breast Cancer Awareness Body Painting Project (see Breast Cancer Body Paintings Called Pornographic By Facebook). This past spring it censored a gay kiss photo. (See Facebook's Censorship Problem). Facebook also removed an image of Katsushika Hokusai's The Dream of the Fisherman's Wife (蛸と海女), an 1814 woodblock print depicting an octopus performing cunnilingus on a nude Japanese woman, that was posted on the wall of Jerry Saltz, the famed New York Magazine art critic and Bravo TV judge for the popular Work of Art reality show. At least that image was pornographic enough to warrant removal, but all the others are no more than expressions and iconography of factual life.
In the interest of journalistic transparency, I should report that in December 2010, my own Facebook account was suspended for posted nude imagery by artists Marina Abramovic, Matthew Barney, Andrei Tarkovsky, and classical painted and sculpted nudes from ancient Greece and Rome. (I am also the culprit who posted The Dream of the Fisherman's Wife on Jerry Saltz's Facebook wall after the print appeared on an episode of Mad Men). In that instance the account was restored when it was explained by an intermediary that I'm an art critic whose writing is featured on Huffington Post and after I agreed not to repost the images, nor any imagery containing nudity or sex on the Facebook site.
Update: As of 1:15 pm EST 11/11/11, Matthew Weinstein's facebook account was restored. It was accompanied with the following message on his facebook wall.
My name is Krista Kobeski and I work at Facebook, alongside Elliot Schrage, who has asked me to reach out to you directly in regards to your profile. Earlier today, I was asked to investigate the situation with photos being removed from your account in the past days. Firstly, I did want to apologize for the removal of these two photos and for the warnings that you have subsequently received. At it turns out, neither of the photos in question was in violation of our Statement of Rights and Responsibilities, and they were both removed in error.
Our policies are designed to prohibit real world nudity and are enforced by a team of reviewers in several offices across the globe. This team looks at hundreds of thousands of reports every week, and as you might expect, occasionally, we make a mistake and remove a piece of content we shouldn't have. When this happens, we work quickly to address it by apologizing to the people affected and making any necessary changes to our systems and processes. We encourage you to re-post these photos, if you'd like. We've also removed these warnings from your account.
Again, we apologize for any inconvenience this may have caused. Please let me know if you have any questions about our policies or practices, or if I can help with anything else.
Thanks in advance for your understanding.
Best Regards.
Krista Kobeski
Facebook Privacy & Policy
Read other posts by G. Roger Denson on Huffington Post in the archive.
Related
Popular in the Community