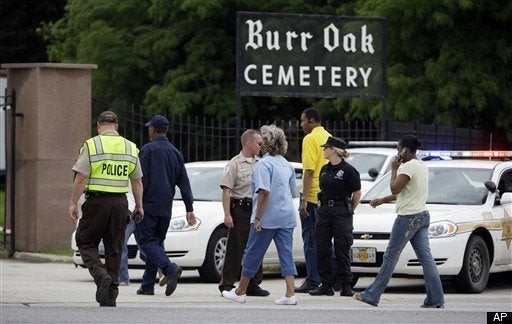 CHICAGO (AP) -- A Cook County judge has appointed a veteran cemetery director to run everyday operations at Burr Oak Cemetery, where an investigation continues into a grave desecration and moneymaking scheme.
Judge Stuart Palmer appointed Roman Szabelski (shah-BELL-skee) of Chicago on Wednesday. Szabelski is executive director of Catholic Cemeteries, which runs about 40 cemeteries in northeastern Illinois. He has 40 years experience.
The sheriff's staff and FBI agents are sifting through old cemetery records and surveying the grounds of Burr Oak to identify bodies buried there.
Four former Burr Oak workers are accused of digging up bodies and reselling the plots.
Also Wednesday, the daughter of boxing legend Ezzard Charles, who is buried at Burr Oak, joined a class-action lawsuit filed against the cemetery's owner and the four employees charged in the grave desecration scheme, the Tribune reports:

Deborah Charles, 58, of Chicago said that after news broke last week about bodies being dug up at Burr Oak she toured the graves of her father and mother and noticed they had been tampered with.

She said her father's headstone, which had been sunken into the grass since his burial in 1975, had been raised slightly. And she noticed her mother's headstone no longer sat directly beside her father's.
Popular in the Community