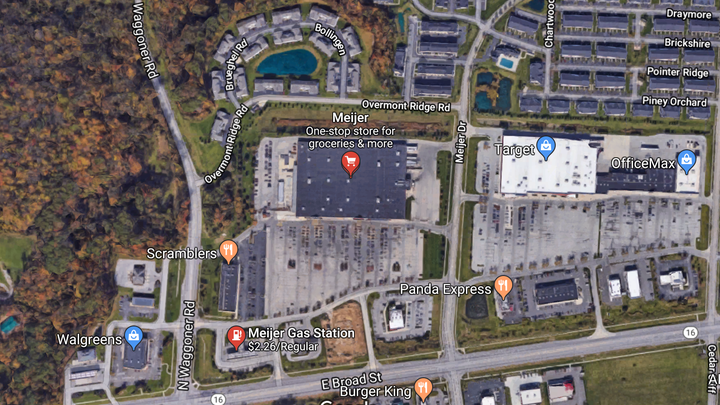 Andrew Anglin was mad. Triggered, to be precise.
As we reported Tuesday, a short, bald man who looked exactly like the publisher of The Daily Stormer, one of the biggest neo-Nazi websites in the world, was spotted buying protein powder in a grocery store outside Columbus, Ohio, two weeks ago.
This was bad news for Anglin, who is currently embroiled in a federal court case in Montana in which his whereabouts matter a great deal. Anglin is arguing that he exists beyond the reach of federal litigation as a "stateless" person, an unusual legal category that applies to American citizens who live abroad with the intent to remain there indefinitely. In July, Anglin managed to troll CNN into publishing that he lives in Lagos, Nigeria. Amazingly, that's what he and his lawyers were going with in court.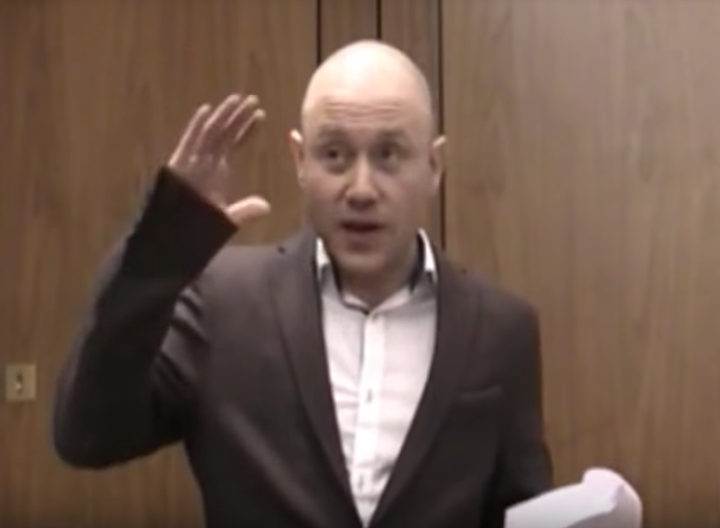 But now there'd been a sighting of the neo-Nazi in the Columbus area. And the spotter was a process server — one of the very people hired to find Anglin and deliver him notice of the lawsuit. The man, whom I'd been in contact with before the sighting, told me about the encounter and his frustration at not having the necessary legal paperwork with him. He requested at the time that HuffPost withhold his name so he could preserve an element of surprise should he need to approach Anglin again.
Enraged, Anglin took to his website.
"It is a confirmed fact that I live in Nigeria," the propagandist wrote, "but the fake news media are too big of cowards to visit a country filled up with blacks."
Then Anglin took to GAB, a social media platform favored by far-right extremists, to falsely accuse me of fabricating sources. He referred to another story I'd written about him in The Atlantic magazine in which I described a woman's encounter with Anglin in another store in Columbus in February. The woman hadn't been an anonymous source. Anglin just failed to grasp how magazine journalism works, especially after fact-checkers and lawyers check copy.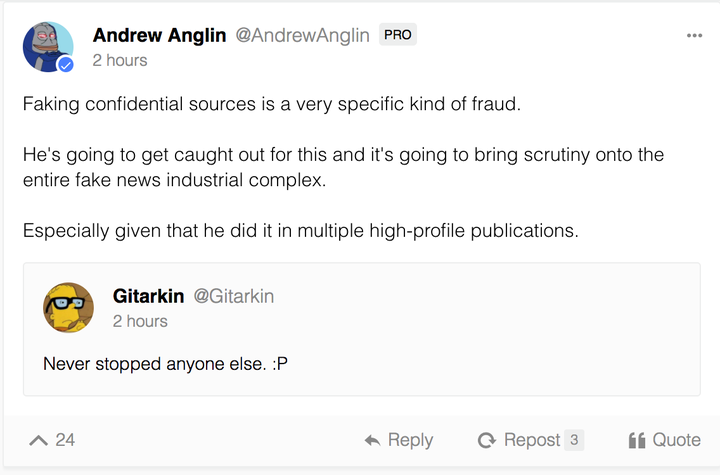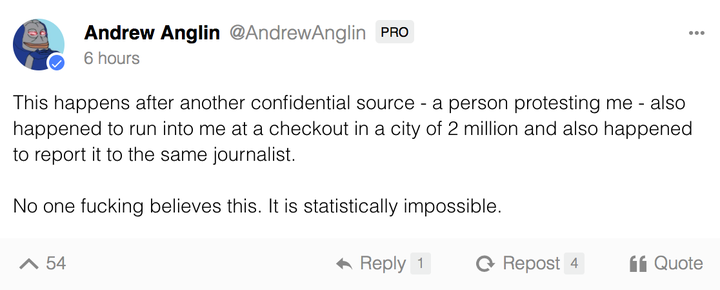 The Daily Stormer puts an online horde of racists and fascists at Anglin's disposal. He uses these gullible minions, — his "Stormer Troll Army" — to do his dirty work. At Anglin's behest, they harassed me for two days this week, calling my phone all through the night. They sent menacing voicemails and emails, and tried to feed me false information about the location of their master.
The fact-based world, however, has a tendency to intrude.
On late Thursday night, the attorneys for Tanya Gersh, the plaintiff in the Montana lawsuit, who is suing Anglin for orchestrating a brutal campaign of harassment against her and her family, filed a document in court that dismantles at least one of his lies. It is a declaration from the process server who spotted Anglin in the grocery store outside Columbus. This is the source that Anglin accused me of fabricating. His name is Jeffrey Cremeans. Here is his statement:
While the case promises to be a significant one in the internet era because of the First Amendment issues it raises, the question of jurisdiction — and Anglin's whereabouts — must be addressed first. By every indication, he was a resident and a citizen of Ohio at the time Gersh filed her lawsuit in April, which would give a federal court jurisdiction over him. He never officially changed his citizenship or domicile. He was registered to vote in Ohio. His neo-Nazi business was registered in Ohio. He admitted to being in Columbus for a court hearing in February.
That month, he also admitted in the comments section of his site that he was picking up checks his readers mailed to his father's Christian counseling office in Columbus: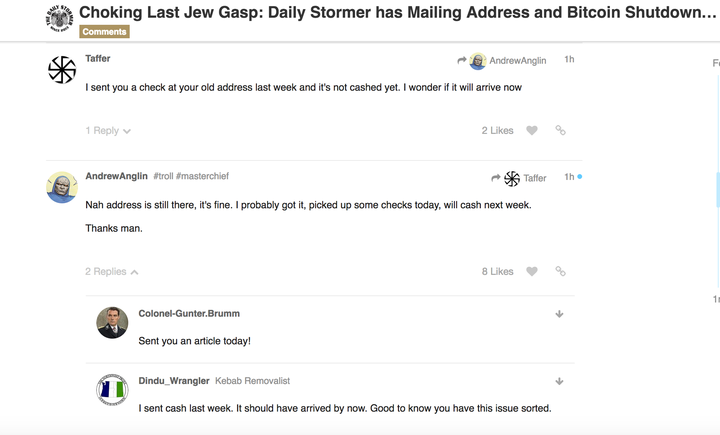 Anglin has been fleeing litigation for the better part of a year. But his time is almost up.
"Defendant can only hide for so long," Gersh's lawyers wrote in the latest filing to the court.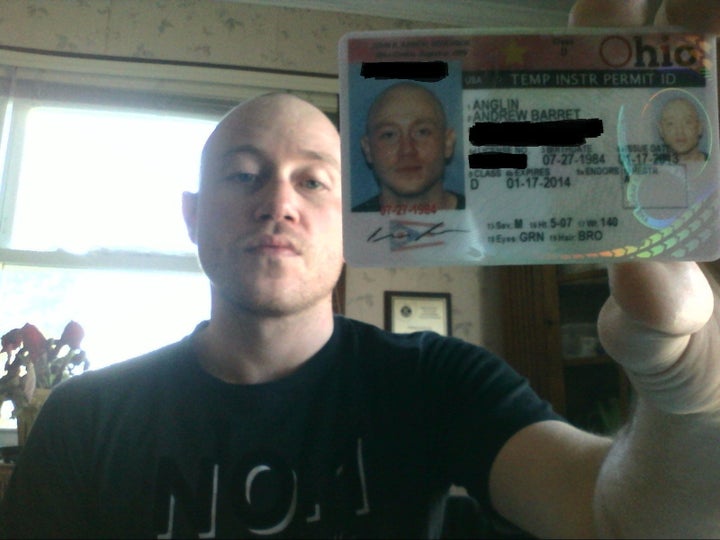 Do you have information on the whereabouts of Anglin? We'll safeguard your anonymity. Send tips to luke.obrien@huffpost.com or 202-624-9305.
Popular in the Community