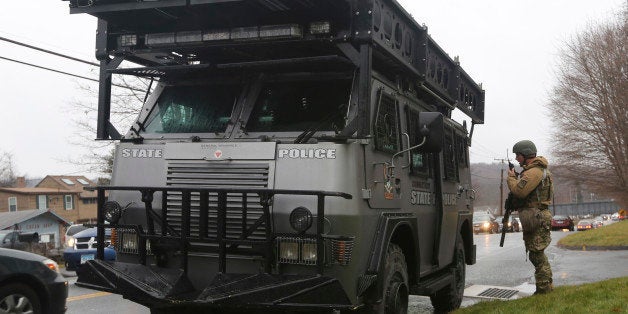 (Corrects hometown of shooting victim in para 3)
MILFORD, Conn., Aug 26 (Reuters) - A U.S. federal appeals court has ruled that Connecticut police cannot claim immunity to quash lawsuits seeking millions of dollars in damages from a botched 2008 raid by a SWAT team that severely injured a homeowner and killed his friend.
The decision by the U.S. 2nd Court of Appeals in New York clears the way for a judge to decide whether five suburban Connecticut police departments violated the constitutional rights of homeowner Ronald Terebesi by using excessive force.
On May 18, 2008, a heavily armed SWAT - or special weapons and tactics - team unit knocked down Terebesi's door, threw stun flash grenades into his Easton home and fatally shot 33-year-old Gonzalo Guizan of Norwalk as the two men watched television.
Guizan, who was visiting the home, died after being shot a half dozen times.
"The court ruling here is going to be relied upon in other courts throughout the country," Gary Mastronardi, a Bridgeport attorney who represents Terebesi, said on Tuesday. "They set up the parameters that define the extent to which qualified immunity can be asserted by police in SWAT cases."
In a 51-page ruling that upholds a lower court decision, the appeals court said the police responded with unnecessary and inappropriate force and under the circumstances, are not protected by "qualified immunity" from the lawsuits.
The U.S. Supreme Court has ruled that government officials have qualified immunity against civil damages if their conduct does not violate someone's legal or constitutional rights.
"The plaintiffs presented evidence indicating that all of the defendants understood that the warrant was for a small amount of drugs meant only for personal use. The basis for the officers entry, in other words, was related to an offense that was neither grave nor violent," the appeals court wrote in a decision released late Monday.
The ruling coincides with a rash of cases in which police have been accused of using excessive force. In Ferguson, Missouri, days of sometimes violent protests have followed the death of an unarmed teenager shot by a police officer.
The Connecticut raid involved officers from the Easton, Monroe, Trumbull, Darien and Wilton police departments.
It followed a claim by an exotic dancer that she had seen a small amount of cocaine in Terebesi's home. After the raid, police found only a small quantity of drugs and no guns.
The Easton Police Department declined to comment immediately, and representatives of the other four departments could not be reached on Tuesday.
The towns have claimed their SWAT officers did not use excessive force or violate either man's constitutional rights.
But District Court Judge Janet Bond Arterton ruled in 2012 that the departments are responsible because the SWAT team entered the home with undue force and without enough warning.
Prior to the raid, two police officers expressed concern about using force to execute a search warrant on suspicions of drug possession, court records indicate.
Last February, the towns agreed to pay $3.5 million to Guizan's family to settle their lawsuit.
Terebesi, 50, states in his lawsuit that he was injured when police hit him in the head with a gun. He claims he is suffering from post-traumatic stress as a result of the raid, which he says violated his civil rights. (Editing by Frank McGurty and Ken Wills)

Before You Go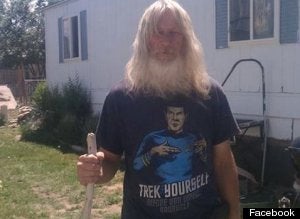 The Most Outrageous Stories Of Police Misconduct In 2013
Popular in the Community