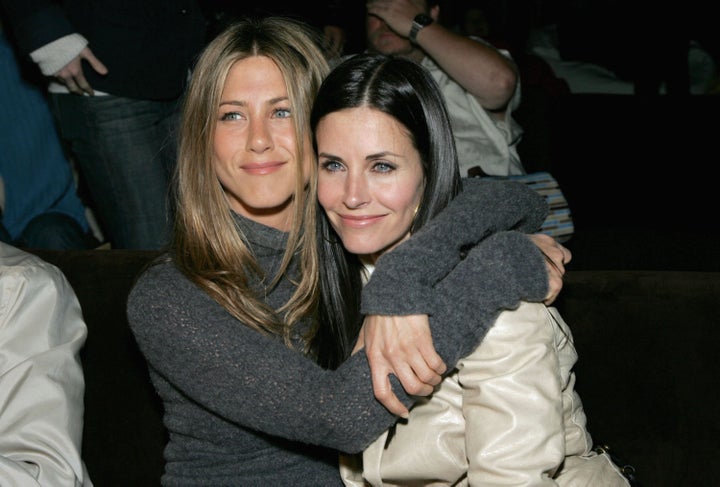 Courteney Cox talks about her decade on the 'Friends' set in a new interview with the LA Times and says she wishes the cast could reunite on the big screen like the 'Sex and the City' ladies. Here are some excerpts, read the whole interview here.
On the logistical problems with making a movie:
"I wish we could do that with 'Friends.' The thing is, the characters from 'Sex and the City' hopped all over Manhattan. On 'Friends,' we were always stuck in the apartment and that coffeehouse."
On Jennifer Aniston's salad:
"Jennifer and Lisa [Kudrow] and I ate lunch together every single day for 10 years. And we always had the same thing -- a Cobb salad. But it wasn't really a Cobb salad. It was a Cobb salad that Jennifer doctored up with turkey bacon and garbanzo beans and I don't know what. She just has a way with food, which really helps. Because if you're going to eat the same salad every day for 10 years, it'd better be a good salad, right?"
On playing Fat Monica:
"God, playing Fat Monica was so freeing! I remember being in [Fat Monica] makeup one time waiting for the other cast members to come out, and [director] Kevin Bright put on 'Shake Your Groove Thing' and I just grabbed a doughnut and started dancing like crazy in front of the audience. I could do anything because I was hidden under all that prosthetic makeup."
REAL LIFE. REAL NEWS. REAL VOICES.
Help us tell more of the stories that matter from voices that too often remain unheard.