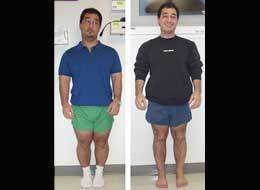 Medical miracles are sometimes stark but painful. Case in point: limb lengthening procedures advanced at a leading New York Hospital. Akash Shulka, a 20-year-old engineering student at Philadelphia's Drexel University, lived most of his life under five feet tall. With this procedure, he gained three inches and a vividly different stature in life. "I don't feel held back emotionally or physically like I used to. I'm still short...that hasn't changed...but I'm not apologetically short."
Lengthening for stature in normally proportioned individuals with short stature but without dysplasia (dwarfism) requires a different strategy for lengthening than in patients with disproportion and dysplasia. Most patients with constitutional short stature (CSS) or low normal stature (LNS) require only modest increase in stature compared to the extreme amount of lengthening required by patients with dwarfism. In fact, the starting stature of patients with LNS is the final goal of lengthening in patients with dwarfism. Thus, Mr. Shulka was an ideal patient for these procedures.
Dr. S. Robert Rozbruch, the Director and Chief of Service of the Limb Lengthening and Reconstruction Program at the Hospital for Special Surgery, Cornell Medical Center noted that, "the best candidates for this procedure have short stature dysphoria. They exhibit consistent unhappiness with their stature while being well adjusted and happy in other aspects of their lives".
"We require potential candidates to be evaluated by our psychologist. We have found this to be of great value in identifying the best candidates for the procedure and to provide support during the process," said Dr. Rozbruch.
When assessing distribution of height in the population we consider the normal bell curve. We divide people by distribution around the mean (average), and normal height is considered plus/minus three standard deviations from the mean. Short stature below three standard deviations from the mean in individuals without a medical condition such as dwarfism, growth hormone deficiency etc., is considered constitutional short stature. The lower limit of so-called normal stature for Caucasian men is 5'5" tall and for woman is 5'0".
While patients with dwarfism are often treated as children, patients with constitutional short stature or low normal stature are not treated until they have completed growing. Patients with LNS and CSS also do not usually have deformities of the bones. To minimize the treatment time for lengthening we prefer the lengthening and then nailing technique (LATN). This method minimizes the treatment time in the external fixator, limited to the time required to obtain the lengthening desired without having to wear the external device during the hardening or consolidation phase. This method also reduces the rehabilitation time, time to return to full weightbearing, work, school and recreational activities.
"The need for extended time in frames is difficult for the average adult patient. For this reason we have innovated a combined approach with both internal and external fixation. We use the external fixation for the controlled precise lengthening and then substitute an internal rod to support the new bone during healing. The advantages of this innovative technique are quicker bone healing, minimal time in external frames, and protection against fracture or bending of the new bone," said Dr. S. Robert Rozbruch.
A new fully implanted lengthening nail is available. This approach would not require an external fixator at all. While this is FDA approved, it is relatively new. Dr. Rozbruch stated that "while this holds promise for the future, at this time unpredictable rate control precludes its widespread use."
The usual goal of lengthening for stature for most patients with LNS is 2-3 inches. More than that amount cannot be achieved safely in one pair of bones during one lengthening. For more lengthening one needs to repeat the process in a second pair of bones.
The usual strategy is to lengthen both tibias, including the fibula, 2-3 inches using the LATN method or the internal lengthening nail. If a second lengthening is desired then both femurs are lengthened the same amount. Most patients do not choose to have the femurs done because of the added time commitment and the doubling of the expense. Furthermore, doing too much lengthening in the lower limbs in normally proportioned people leads to the obvious disproportion. Up to three inches of lengthening produces no obvious disproportion.
Our preference for tibial lengthening over femoral lengthening is for several good reasons. First of all, tibia lengthening makes one's leg look longer than femoral lengthening. The reason for this is that the level of the knees and feet are obvious, but the level of the hips are not obvious. Depending on how we wear our belts, our hips seem to be higher or lower. When we see long lower legs we extrapolate that the rest of the person has a normal proportion which gives the impression that the individual is taller than they really are. Furthermore, wearing short skirts and dresses shows the lengths of the lower legs but not the thighs, therefore one gets more mileage in apparent increased height from tibial than from femoral lengthening.
The second reason we prefer tibia lengthening is that technically it can be performed all at one operation in a reasonable period of time. Two femoral lengthening over nails requires two separate set-ups during the same operation or two different operations. This greatly increases the operating time and cost. Furthermore, there is much less blood loss with tibial lengthening than with femoral lengthening.
The third reason we prefer bilateral tibial rather than femoral lengthening is that it is much easier and better tolerated to have two external fixators on both lower legs than on both thighs.
Most patients are in the hospital between 2-4 days after the procedure. Physical therapy to stretch the ankles begins in the hospital and continues after discharge as an outpatient. Patients need to have physical therapy for 1-2 hours everyday during the 2-3 months of lengthening. The patients who do best work diligently at stretching their ankle and knee joints both at home and at therapy. Therapy can be carried out at any therapy center. The patients from out of town can do their therapy in their hometown. Remember you cannot do too much stretching. Ankle range of motion is the limiting factor for lengthening. As long as the patient can stretch the foot beyond 90 degrees, the lengthening can continue.
Patients are seen in follow up every two weeks during the lengthening phase. Even out of town patients need to be seen every two weeks. On these visits we perform nerve testing if needed, exam pin sites, and obtain X-rays. Problems are identified and treated, and medication prescriptions for pain or antibiotics are written. Occasionally, adjustments to the external fixators are required in the office.
One can assume approximately one month of distraction for every inch (2.5 cm of lengthening). Lengthening does not begin until approximately one week after surgery. Therefore, 2-3 inches of lengthening takes 2-3 months in the external fixator. Weight bearing is allowed within limits of pain. At the end of the lengthening there is second surgery to insert the intramedullary nails, and the external fixators are removed. Since the rods only fix the tibias, an additional screw is needed for each fibula to protect the fibula from shifting from the ankle. This screw can be removed under local anesthesia 3 months later. After the external devices are removed, the follow up is once a month for the first 2-3 months. Out of town patients can just send X-rays and physical therapy reports instead of coming in.
Patients remain non weight-bearing until the X-rays show that the bone is healed enough to allow weight-bearing. One or two intact cortices must be seen on the X-ray. This usually takes 1-2 months after nail insertion. Most patients can begin weight-bearing two months after removal. Physical therapy continues mostly to regain full ankle motion and foot push-off strength. This can take several more months. Therapy is only three days a week after removal, but daily home exercises are recommended. Removal of rods is recommended in the future. This is not critical, and can be done at anytime once the bones are fully healed. We generally perform this about one year after the lengthening is completed. Again, this is an outpatient or one night stay surgery.
While there are many potential complications of lengthening, other than mild pin infections, they are uncommon. Ankle stiffness is a concern but a rare complication if intense therapy and home exercises are carried out. If the ankle does become stiff, then a tendon lengthening can be done at the same time that the rods are inserted. Deep infection with tibia lengthening over nail is rare. It is resolved by removal of rod. Nerve injury is also rare. All patients with lengthening for stature must undergo a psychological evaluation prior to the lengthening. This evaluation is needed before we will agree to offer the lengthening to a patient. Lengthening for stature is considered cosmetic and will usually not be reimbursed by insurance carriers.
Finally, the most important issue to consider is that lengthening for stature in any individual over 5 foot tall is primarily for cosmetic reasons and does not improve function. It does seem to improve body image in patients with what we call short person neurosis. Nevertheless, the issue of function is of greatest concern to us. This procedure can damage nerves, muscles and joints. If such damage were to occur it could become irreversible leading to long term problems such as arthritis, limitation of joint motion and pain. Rare cases can even develop reflex sympathetic dystrophy which is a chronic pain condition and which may not be resolvable. Pulmonary embolism and deep vein thrombosis which are common with other forms of orthopedic surgery are rare with this surgery, but they can occur and could lead to sudden shortness of breath, chronic leg swelling and even death. While loss of life and limb have never occurred to us with this procedure, one must still weigh the risks of undergoing a major surgical procedure versus the benefits of increasing ones stature by 2-3 inches. Proceeding with the surgery is a very personal decision. At the present time, although the procedure is performed for cosmetic reasons, it is not in the same dimension as other cosmetic procedures such as face-lifts, breast augmentation and nose jobs.
"Stature lengthening is a very small aspect of our comprehensive limb lengthening and reconstruction program. Most of our work is aimed at limb equalization, deformity correction, and limb salvage", said Dr. Rozbruch.
Dr. Rozbruch shared his experience by saying, "we have had very successful outcomes in a carefully selected group of patients. Two to three inches of height was achieved successfully and safely in all patients with no functional deficits. This has been a life changing event for these people." Akash comments that "with my added height has come increased confidence." Furthermore, he adds that "at my new height I am able to more easily blend in."
Check back here every Friday for more medical commentary by Dr. Rock.
Related