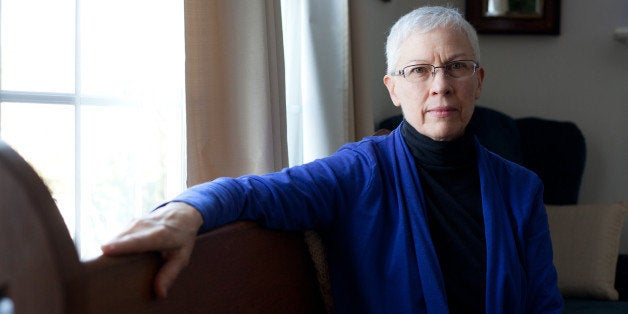 Press play to hear Karen Hines tell her story.
Obamacare allowed Karen Hines, a three-time breast cancer survivor, to get health insurance she was denied before because of her medical history. It also gave her the financial help she needed to buy it. But if those subsidies disappear after a Supreme Court ruling in June, Hines is mostly worried about what will happen to her ailing mother.
Hines spends her days caring for her 84-year-old mother, who suffered a stroke in 2010 and has dementia, in their Virginia Beach home. Hines, 59, is able to do so because she has her own health care needs covered, but if she lost the subsidies she'd have to return to full-time work that provides health benefits. That would mean her mother would have to spend more time away at elder care and less time at home with her daughter.
"It would be tough on my mother," Hines said. "It would be harder on her to go to day care more for a longer period of time, because she needs a break and she needs some rest."
Finding a job that provides health care wouldn't be easy for Hines. She left behind her career in public relations more than a decade ago to pursue graduate studies in American history, aiming to become an educator. Her third breast cancer diagnosis in 2009 and the side effects of chemotherapy interrupted her studies and teaching work, and she took medical leave in 2013. She hasn't worked since, and subsists on the "pittance" she receives for looking after her mother.
"Look, life's not really hopeful out there for a 59-year-old to go into the workforce again," Hines said. "Considering that I was in graduate school and so away from my longest type of employment, my skills are not current."
Hines pays about $250 a month for her health insurance, after a subsidy of more than $200. She got the insurance on a federal health insurance exchange because Virginia didn't set up one. The lawsuit before the Supreme Court claims only state-run exchanges can distribute subsidies. She figures she could dig deeper into her retirement savings to pay the full price for about a year, but doesn't know how she'd cope after that.
Even during that first year, Hines would have to cut back on her coverage and her medical care, a dicey proposition for someone still at risk for cancer even after having both her breasts and her ovaries removed.
"I'll scrimp back as far as I can to make sure that I can cover catastrophic care," Hines said. "Everything else goes."
The audio interviews in this feature were produced and edited by Ibrahim Balkhy and Brad Shannon.
CORRECTION: An earlier version of this article erroneously said Medicaid pays Karen Hines to care for her mother.

Calling all HuffPost superfans!
Sign up for membership to become a founding member and help shape HuffPost's next chapter