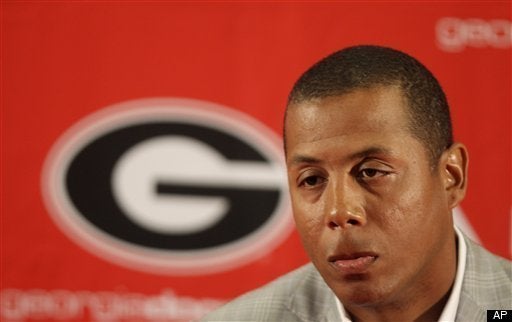 New, damning allegations have emerged in the drunk-driving case of University of Georgia Athletic Director Damon Evans.
-Evans tried to bribe his way out of the arrest. "I am not trying to bribe you but I'm the athletic director of the University of Georgia," he said. Later, he made another attempt, saying: "I don't want you to use who I am but I would just ask that you take me to a motel."
-Courtney Furhmann, a 28-year-old real estate firm asset manager who was riding with Evans in the car, was being "very loud and obnoxious," police wrote. She failed to follow police instructions and was arrested, charged with disorderly conduct.
-Fuhrmann also backed up Evans's assertions of authority, saying the charges would not mar his record. "Just to let you know, it will be erased because he is the athletic director of UGA and he has that power," she told police.
-Evans had a pair of red panties between his legs when he was pulled over. When the police asked him about the undergarment, he said, "'She took them off and I held them because I was just trying to get her home." He told police "there was nothing there" with Fuhrmann "because he had a wife and family."
-Post-arrest, Evans said to the trooper: "We go through life and we all drink and jump in a car."
What do you think? Should Evans be given a second chance? Weigh in below.
Calling all HuffPost superfans!
Sign up for membership to become a founding member and help shape HuffPost's next chapter