It hasn't been a quiet month for Courtney Love, and the next will bring its own share of noise. The singer/songwriter-turned-artist opens her first-ever exhibit at the Fred Torres Collaborations gallery in New York on May 3. Here, she shares with us drawing from the series, "And She's Not Even Pretty," and gives a behind-the-scenes glimpse of her painting at home.
"It's really a Kurt-free zone," Love told The Huffington Post of her collection. What began as a tribute to her girl crushes -- Gwyneth Paltrow, a friend of Love's, is drawn with son Moses -- became a more inward look at her relationships.
"A lot of this collection is about one romance," Love said, not taking the bait when we asked which one.
A title she once used for a zine in the early '90s, "And She's Not Even Pretty" references the way girls put down other girls, in respect to boys. The images are a series of fraught, doll-like women in vulnerable mental states, with sexuality driving much of the collection.
Love's desire to paint stems partially from her childhood, when her mother insisted she be an artist, buying her easels and African instruments to encourage her.
"It's embracing this thing in my life that haunted me," Love said.
Video edited by Amber Genuske
Below, see a selection of images from "And She's Not Even Pretty" -- some are unfinished, many are titled, some are not (yet?) titled, and all photos are taken by Ms. Love herself. The show will feature more than 45 drawings, done in colored pencil, pastel and watercolor, with excerpts of poetry, music lyrics and other writings scrawled over them.
Love was still adding to the collection when we spoke to her on Wednesday. Why?
"I don't know when I'll do this again," she said. "[But] if this works with me, there are gonna be a whole lot of other ones."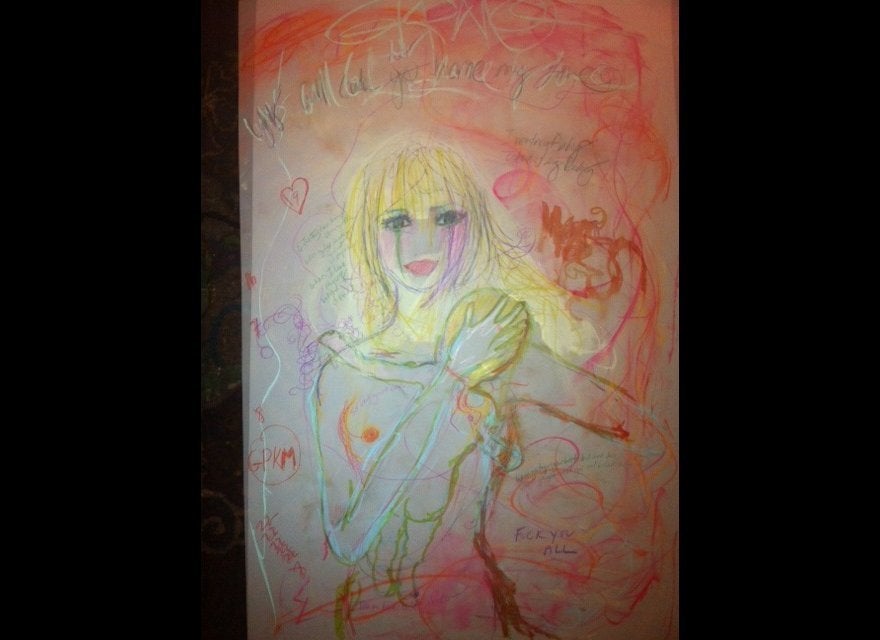 Courtney Love's Art
Popular in the Community