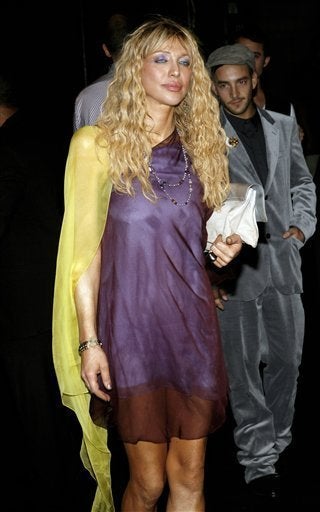 The UK's Telegraph has a new interview with rehabbed rock star Courtney Love. Love was in London promoting her upcoming album and her gig as a muse for Givenchy, but the most interesting parts were interviewer Nigel Farndale's commentary on Love's chanting when he meets in her hotel suite:
...it is she who is bringing me close to tears with her Buddhist chanting. I have to endure 15 minutes of it before the interview can get under way. We are in her hotel suite, one of London's most exclusive. She is in the adjoining bedroom, chanting loudly. I am sitting waiting for her on a sofa surrounded by unruly piles of magazines, a guitar in a case, two full ashtrays, burning joss sticks, property details for a £4 million house in Notting Hill, and racks of her clothes- Givenchy, mostly, as Love is the new muse for that label.

A gong sounds, the chanting stops and she appears smiling in a skimpy black nightie and no make-up. There is a long-haired man with her. 'This is my friend David,' she says. 'We're chanting. Obviously. But he is so much better at explaining it than me.' She disappears to get changed, leaving me with her guru...

...in the hotel room ten minutes have passed and the guru is coming to the end of his explanation. 'I tend to chant with Courtney for two or three hours a day,' he says. 'A lot of celebrity Buddhists don't like to put in the time. But she loves to chant.'...

Our opening exchange goes something like this. 'Did you like David?' He seemed very nice. 'I share him with Orlando Bloom.'

Calling all HuffPost superfans!
Sign up for membership to become a founding member and help shape HuffPost's next chapter