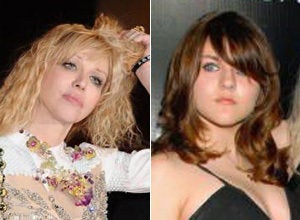 Courtney Love has taken to her Twitter with an impassioned plea for daughter Frances Bean, who turned 18 this week, to 'run like hell' from her guardians, telling her 'i love you,' but also asking her things like, 'why do u want to ruin my personal life?'
She lost custody of her daughter in December 2009, and the court appointed Kurt Cobain's mother Wendy and sister Kimberly to watch over the then-17-year old. Unable to contact her directly, Frances also got a restraining order, Courtney uses Twitter.
On Thursday, one day after her daughter's 18th, Love tweeted a video montage of herself, Frances Bean and Kurt from YouTube (seen at the bottom) and then tweeted dozens of followups, saying in part (typos hers):
that therapist told me you said you "were never talkiung to me ever again" i was hapless, i dont understand anything that amoral cunt tellsu

just go the page i love you chuck, happy 18th i got you something so bloody awesome, finally. i love you hard day for me

and you do know its not exactly a turn on to anyones kids what youve done and its all so fucking UN necseasssry i just assumed no kin ofmine

no kin of mine or of kurts who despised yoru grandmother, ( ask charles cross) with a vengeance would go "where the money is" shocked

beyond the obviopus heartache why are you trying to desperatly to ruin my life and reputation? what is it did you decide to be linda?

well i long for your kiss and your sweet head smell i long for you i ache for you, i die for you every day my heart breaks for you, sowrong

and youve taken away all motivation to do anything i couldnt give a fuck i go where im told go thru the motions why? i warned you theyd come

was that thearpist right? why do u want to ruin my personal life? they dont theres billions int his you were manipulated but why sellmeout?

youve done a dammed good job frances of destroying anything i could build that is positive, and i want to know why now that your of age.

for gods sake now that your of age run like hell they have to give you by law 30k a mionth no matter what not 15k seen your legal bills ?

why would you leave me and my life in tatters like this and get angrier and angrier to justify it, i feel you missing me and i miss you too

just come home,. it took a year but i got the sickest townhouse in the village, theres 4 floors, just come home, i pray to god snap out ofit

i love you little bean, but please stop this madness over so much more money than your little self can comprehend its taken years but

its finally in the right hands things happen for a reason, but you tore me apart from a great love and i dont know why you would do that .

your finally grown tell me why? gop tpo the page & tell me the hell why i deserve to kno if that psych is telling the truth & what they say

i love you but your 18 now do NOT allow any guardianship to continue whatsoever! theyll lie to you tell you it "has" to,. no it doesnt!

no lawyers free yourself now theyve built a tower of terror in the REAL word fbc if you dont want to talk to me? we wont talk, stoppaying$

NO LAWYERS!I LOVE YOU@!

she a little baby & sheltered to SOME degree, phony cop raids, seeing her mother cuffed for no reason other than i found out and theyGRABHER

i shouldve hooked up in some loveless marriage to a powerful hedgefund guy then youd be safe, im sorry i didnt. for your sake.i love you.
The Montage Courtney Tweeted:
Popular in the Community