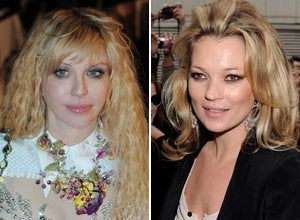 Courtney Love claims that Kate Moss once chased her around the the room before pinning her down for a sex session.
"It's a great story for the grandchildren, so yeah. Kate wasn't doing a lot of drugs. It was just a thing that happened in Milan in the Nineties. It happened and it was fun and whatever. And she talks about it and so I hope she doesn't get mad that I outed her about it. I feel like such a kiss and tell. Kate's great, though! Kate's a good friend of mine. I almost bought her house in St John's Wood, London."
Moss, 36, has been linked with the likes of Johnny Depp, Pete Doherty and is now dating Kills guitarist Jamie Hince.
"Me and Gavin dated for eight months. There was some overlap between when I dated Edward [Norton] and he dated Gwen - but never when they were engaged. So we were like sorta fuck buddies. He was playing the field... one night Gavin made roast chicken and it was really, really good, and then we snogged and he was really good at it. And he'd improved vastly from the last time we snogged."
Popular in the Community