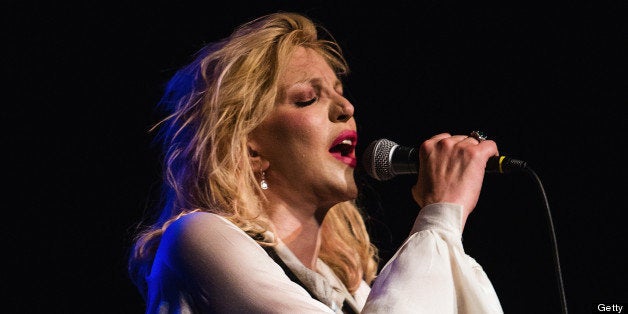 Courtney Love is in the middle of an 18-city tour that has taken her from New York to Seattle. Consider the trek a warm-up for Love's comeback: In addition to a memoir that's in the works, the 49-year-old's new album tentatively titled "Died Blonde" is scheduled to hit stores this Christmas.]
The lack of new material to tour with seems to bother Love more than anyone else. The former Hole frontwoman has repeatedly said she doesn't like playing "Doll Parts" anymore, this despite the fact that she ends up performing it most nights. (The song is a fan favorite, and was one of Hole's biggest hits back in the '90s.) Some of Love's other songs aren't as fortunate.
"There are songs I never play," Love told HuffPost Entertainment in a recent interview from the Seattle stop on her tour. "The two dumbest songs I ever wrote -- one was for [the movie] 'Any Given Sunday' and they put rappers and rocker together, it was so damn stupid. I took the masters home with me. They put me with Lil Kim. It was a nightmare. It was just terrible. OK, that was really bad, but even worse, I wrote an entire song and recorded it about the [Led Zeppelin] song 'Stairway to Heaven' and how I'm sick of it. That seems like it might come off, but it's the most pretentious thing I've ever written about in my life."
Love can trash her own work because she's still proud of the career she's amassed. The rocker recently told Billboard one of the songs on her upcoming record is titled "California," which she says is her final bid to write the perfect California song. Love has written many musical love letters to California over the years; New York, her home for the last four years, has not been as lucky.
"I wrote one [song about New York], but it didn't make the cut in terms of ever being a single. It mentioned Bleeker Street. It has the lyric, 'And then she jumped into the Hudson/Even though it was pointless/Even though no one was watching.' So I used a few things in New York, but the song just probably won't ever be released," she explained. "It didn't make the cut. I don't know why. It sounded like a really a really good Oasis song, but we aren't Oasis."
Beyond music, Love might also find Hollywood calling once again: rumblings of a Kurt Cobain biography have been discussed in the past, not that Love has her hopes up.
"There was talk of a biopic a few years back," she said. "I think I changed my mind about it, but I did do a deal with Universal. Scarlett Johansson was into it; I was also into Michelle Williams. These were the people the studio offered to me. It wasn't me choosing them. I kind of liked Anna Faris, which everyone said I was insane for, but I thought she kind of looked a little bit like me, and she was a little prettier. [That's] the whole point of Hollywood: I was offered to play Janis Joplin. I'm a little prettier than Janis Joplin so it's always like that. Whatever."
Love, who starred in "The People Vs. Larry Flynt" and "Man in the Moon" for director Milos Forman (along with other features), said the Cobain project could still happen -- not that she'd be totally onboard. "I know that Universal wants to make the film but I don't know that I want to do it until ... I would feel weird having a film made about me and Kurt unless I was actually acting myself. It would be too weird."
July 26: Agoura Hills, Calif.
July 27: Anaheim, Calif.
August 2: Houston, Texas
August 4: Dallas, Texas
August 22: Las Vegas, Nev.
August 23: Las Vegas, Nev.
Before You Go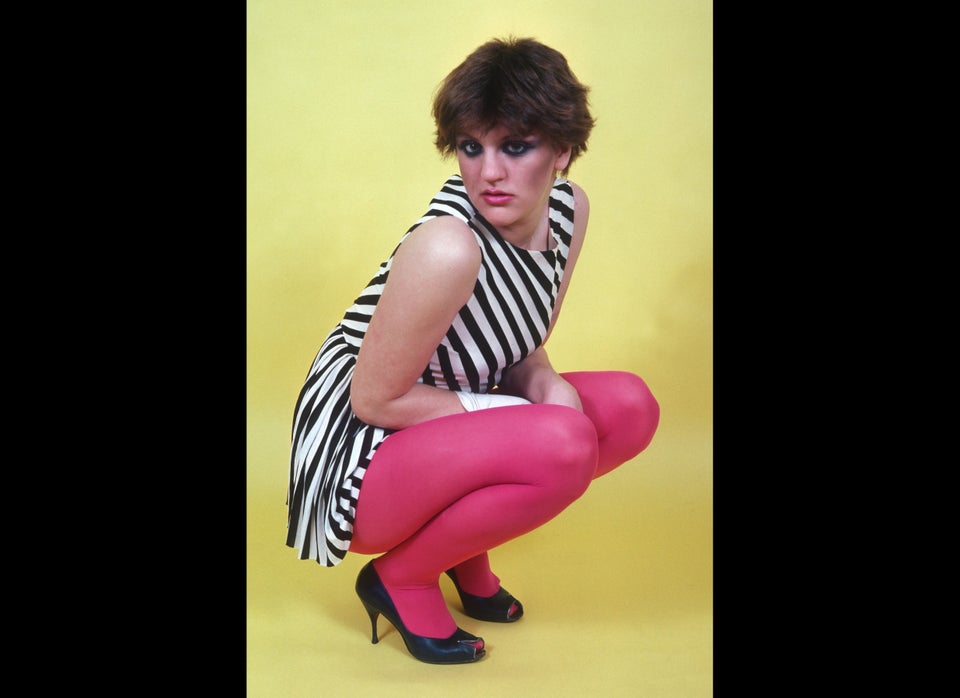 Courtney Love's Style Evolution
Popular in the Community