 Zombies. As of late, their popularity has spread like the virus they carry. I was never that interested in zombie movies or stories. Yet, my feeling regarding zombies all changed after watching The Walking Dead on AMC. How I ever got through the first season is an absolute wonder because I'm not a fan of scary stories or gore. But from that point on, I became "hooked on" zombies.
I'm no zombie aficionado, mind you, but I've read plenty of zombie-based novels over the last year. Heck, I've even read The Zombie Survival Guide by Max Brooks. You never know when the zombie apocalypse will strike. So, you want to be prepared!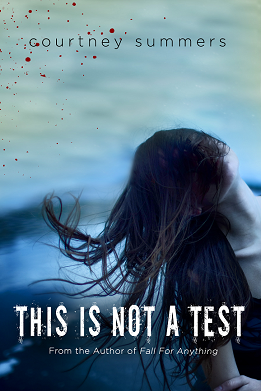 Most zombie stories are set in an apocalyptic or post-apocalyptic environment. Why else would the undead grapple their way up from their graves or why would people on the streets suddenly turn into mindless shambling shells who want to eat your brains for breakfast? We could certainly talk about Fox News, but that's for another day.
Zombie fiction spans genres -- mystery, mainstream, sci-fi, steampunk, and romance -- because the possibilities are endless. There are tons of zombie books coming out this year. One of which is This Is Not a Test by Courtney Summers, who is best known for her angst-ridden teen dramas that focus on bullying and suicide. So, why zombies, Courtney?
"I love, love, love zombies! I always knew I would write a zombie novel. It was just a matter of when. After finishing my third book, Fall for Anything, the timing seemed right."
She goes on to say, "[Zombies] are scary and they eat your brains. They lend themselves perfectly to that search for a greater meaning in life. To watch a zombie movie where people get stripped of the things that make their lives worth living and still want to live in spite of it can be very inspirational. Yes, zombies inspire me every day."
But This Is Not a Test is not your typical zombie novel. Sure, it's got a super creepy cover and blood-splattered pages for each chapter, but it's been described by bloggers, reviewers and this reviewer alike as The Breakfast Club meets The Walking Dead. Zombie stories typically tend to have a hero and/or heroine who is desperate to survive the grueling post-apocalyptic mayhem and fight to protect their family and home. In This Is Not a Test, the protagonist, Sloane, a teenage girl is the ultimate anti-hero. She's ticked off at her older sister for running away and leaving her with their abusive father, and she wants more than anything to die. She's already written her suicide note. So, when all hell breaks loose outside her front door in the form of the end of the world and crazed zombies, Sloane is all too happy to let them come and get her. But fortunately for Sloane, and for readers, her time isn't up yet. Summers explains, "In a lot of zombie stories, the main characters really want to keep going, no matter how much they end up losing -- but that can't be true of everyone, can it? I realized I wasn't sure I'd want to live during a zombie apocalypse if all the people I loved were gone, so I thought it would be interesting to write a survival narrative from the perspective of someone who doesn't really want to survive."
Readers are then plummeted into the main story, where Sloane is hiding along with a ragtag group of scared teens at their high school. It's not extremely clear at this point how Sloane ended up here or what happened to her father, but we eventually find out. And if things aren't all that great outside, inside tensions are mounting, accusations flying, tears falling between the group, and on top of it Sloane still wants to check out. Summers says, "Sloane is very depressed. She's grown up in an extremely abusive household and the only thing that got her through that was her older sister, Lily. When Lily abandons Sloane, Sloane loses her purpose. She realizes her sole reason for living was tangled up entirely in someone else and now she doesn't have that."
This Is Not a Test is fast-paced with panic and terror at every turn. Even though Sloane fights her desire to live, the others want desperately to live. The novel is raw with believable characters who rely on each other to make it through another day. Sloane often comes face to face with her decision to risk her life or the lives of the others based on her selfishness. There's a battle between the teens to be accepted by their peers, even though the world is crashing in around them, which makes post-apocalyptic stories so popular with today's youth. About this trend, Summers says, "I think it's timely. There's so much upheaval and instability going on in the world right now -- financially, environmentally, etc. -- that it's hard not to wonder and worry about what kind of future we're headed for. I think, in a lot of cases, teens gravitate to these stories because it helps them process what's going on around them right now."
There are some things I struggled with, in This Is Not a Test -- The characters repeat a lot and constantly interrupt each other, which makes sentences trail off, so I wasn't sure where they were heading with their thoughts, and it's littered with swearing. Yes, many teens and adults swear, regularly -- even I do, occasionally -- but sometimes swearing in movies, television shows and books does go overboard. This is my opinion when it comes to this novel -- too much. However, with that being said, I was invested in the story and the characters, especially the outcome. This Is Not a Test is filled with tense moments and a whopper of an ending. After turning the last page I said to myself, "Wait. This can't possibly be the ending? How can you do this to me, Courtney Summers?!" But the standalone This Is Not a Test relies on the old adage of... you never know what's going to happen next.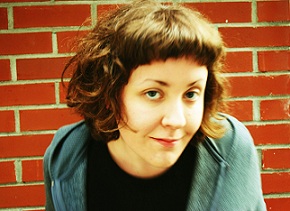 Born in Ontario, Canada, Summers still resides close to her hometown. Not being able to connect with school and not feeling she was benefiting from the education she was receiving, she dropped out of high school at age 14. But even though she says it was the right decision for her, she does not endorse dropping out of school. Summers wrote her first novel at 18, which she says was terrible. Ironically, all of her published novels are set in high school, and she thoroughly enjoys writing YA. Summers explains, "There's so much to love about it! The YA community is incredible and I love the YA books that are out today -- some of the most exciting stories are shelved in the YA section right now. In terms of writing YA novels, I love exploring coming of age elements."
In her spare time, Summers enjoys reading dark, gritty and edgy stories like The Chocolate War, In the Miso Soup, Battle Royale, Bible Camp Bloodbath, and Imaginary Girls. She enjoys cooking and killing zombies in video games, which is her form of zombie apocalypse preparedness.
What Summers would like readers to take away with them after reading This Is Not a Test is "Whatever they want! Once a book is out there, it belongs to the reader. I just hope they felt the time they spent with it was worth it."
This Is Not a Test was released on June 19th. Pick up a copy and enjoy!
Calling all HuffPost superfans!
Sign up for membership to become a founding member and help shape HuffPost's next chapter