If you could change the world, would you?
Would you get off your ass, answer the call, and rise to the occasion?
Are you willing to join with a million others to send a single message, a powerful message, a compelling, world changing message to governments and corporations and those individuals around the world who profit from the captive exploitation, and contribute to the of barbaric execution, of whales, dolphins and porpoises?
The ocean is our life support system, it is what sustains us. When it is at risk, we are at risk. There is a precarious balance between humankind and nature - a reality we must never forget.
If we are going to change the world to save ourselves, we have to save the ocean; and if we are going to save the ocean we have to start by saving the cetaceans. We have to protect their habitat and ensure that all marine life can thrive, so that we can too.
Last year, at the first World Whale Conference, delegates agreed that a new coalition should be formed to effectively protect the world's cetaceans from the many and varied threats that they face.
With the conference as its backdrop, the inaugural meeting of the World Cetacean Alliance (WCA) is guaranteed to make a splash on the international stage; bearing a new banner carried by its first Honorary President, Jean-Michel Cousteau:
"Without collaboration we will achieve nothing more than a drop in the ocean. The World Cetacean Alliance is a unique opportunity to combine our collective energy, knowledge, and expertise in order to protect whales, dolphins, and their habitats."
© WCA, used with permission, all rights reserved
Dylan Walker, Secretariat of the WCA, emphasizes that the World Cetacean Alliance represents a new and powerful global community that is willing to work together to protect cetaceans and their habitats. Walker says the WCA will actively seek recognition and influence as the largest international network of experts and advocates for whales and dolphins.
"We currently have a reach of 850,000 people through the WCA partners and hope to crack a million by the end of the conference. That's funding, marketing, and campaigning power we intend to use to help cetaceans, including captive orca which is at the top of our list."
Hotspots - Putting Cetaceans on the Map
Part of the first year challenge for the WCA has been identifying "Hotspots" around the world where cetaceans are at risk. To do this, the WCA has created a survey using a mapping tool called "sea sketch" and invited the public to participate by identifying locations on the map which deserve attention. The information is being entered into a database and used to identify issues and bring pressure for change. You can take the survey here.
The top three issues for the WCA are:
• Releasing the wild orca called Morgan from captivity in Loro Parque;
• Saving the critically endangered Maui's dolphin in New Zealand; and
• Protecting the Southern Ocean / Ross Sea from whaling and other destructive practices.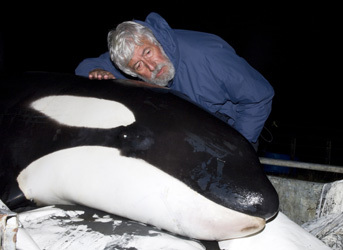 It is only fitting that Jean-Michel Cousteau would be the first Honorary President of the WCA.
He is a tireless and impassioned advocate for cetaceans, with a special place in his heart for orca.
When I first met Jean-Michel, he held up his iPhone and displayed a picture of a trainer standing on the nose of an orca and said - in a tone which I will never forget: "This has to stop, this is anti-educational, don't tell me that kids learn anything when we are doing these circus acts." (Photo © Carrie Vonderhaar, Ocean Futures Society)
In a recent article, Call to Freedom, Jean-Michel talks about his personal experience with
Keiko, the male orca made famous in the film, Free Willy. He talks about the plight of Tilikum, and speaks of hope for other captive orca including Corky, Lolita, and of course Morgan, the young wild born female captured in the Netherlands, illicitly sold to SeaWorld, and the subject of an ongoing international custody battle. Cousteau writes:
"My dream would be that it be illegal to capture any orca anywhere for any reason. The orcas now in captivity could be prevented from reproducing and would live their lives in retirement under the best conditions we could provide. There would be no "shows," no entertainment, only activities to keep the orcas active. They would die of premature death like all captive orcas. A sad chapter in the history of our treatment of sentient, intelligent, complex animals like orcas would finally close, with the recognition that captivity of these animals has moved and changed us as well.

My dream would also be that we honor the lives of these captive orcas by assembling an international group of brilliant scientists, animal cognition and behavior experts and human psychologists and that they devise humane studies to understand as best we can the intelligence and mental capabilities of these temporary ambassadors of the sea. We are in the presence of alien intelligence and we are asking them to jump. It is a tragedy of a different magnitude." Jean-Michel Cousteau

2013 World Whale Conference
The lineup for the conference is an impressive who's who list of cetacean experts and advocates: Dylan Walker (WCA Secretariat); Bill Rossiter (Cetacean Society International); Keith Takaoka (BiLLe Fund Ltd); Thorsten Lisker (WCA Individual Partner); Ian Rowlands (WhaleFest co-founder); John Fanshawe (BirdLife International); Patricia Sullivan (Cetacean Society International); Michael Fishbach (The Great Whale Conservancy); Sami Mhenni (Houtiyat); Floppy "Jo" Halliday (Whale Rescue); Barbara Maas (Nabu International); Dr. Naomi Rose (Animal Welfare Institute); and Dr. Ingrid Visser (Orca Research Trust).
The full conference agenda and speaker's schedule can be found here.
David Kirby, author of Death at SeaWorld, will be giving the keynote address, and it should come as no surprise that the conference will also feature a special screening of Gabriela Cowperthwaite's powerful documentary Blackfish; the hard hitting expose that challenges society to examine the harm to cetaceans, and consider the ethical cost to humanity, posed by SeaWorld's captive orca shows.
Following the screening of Blackfish there will be a special panel discussion led by two of the world's most knowledgeable orca experts - Dr. Ingrid Visser and Dr. Naomi Rose. Dr. Visser will give an update on the efforts to Free Morgan and Dr. Rose is sure to share her thoughts about keeping orca and dolphins in captivity, and alternatives to the concrete tanks found in places like SeaWorld - a topic which she recently wrote about in this article.
For those who can't physically attend the conference, the WCA will be live streaming the event here and everyone is encouraged to join in beginning at 9:30 a.m. (ET) on November 6th and 7th.
Calling all HuffPost superfans!
Sign up for membership to become a founding member and help shape HuffPost's next chapter