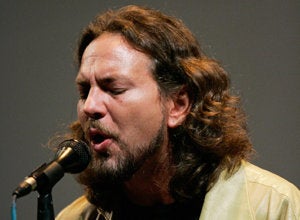 As an avid concert goer, I have two pre-show lists: my Wish List, i.e. if they play "Nothing Man" I may cry and/or stain my underpants, and my Must List, i.e. they better play "Alive" or I will cry.
I used two Pearl Jam examples because I've seen them in concert more than any other band. Eight times: Tokyo ('94); Verizon Amphitheater, Irvine ('03), The Forum ('05), United Center, Chicago ('06); MSG both nights ('08); O2 Arena, London ('09); and Viejas Arena, San Diego ('09).
If I had to rate those shows in ascending order, I'd go United Center, MSG night #2, and then O2 Arena.
But I may never have seen a more amazing Pearl Jam performance than the one I witnessed on Sunday. Just epic.
The band played all the fan favorites and closed with the best foursome of songs possible: "Last Kiss," "Alive," "Baba O'Riley," and "Yellow Ledbetter."
My friends and I left that show exhausted and inspired. Wow. If only PJ would do that more often.
Of course, we didn't actually see Eddie Vedder et al. No, we enjoyed a free performance by Vitalogy, a PJ tribute band, at a Beer Gardens in Hermosa Beach, CA.
Starting last summer, I began to question the wisdom of seeing my favorite bands in concert. In July at Hollywood's intimate Greek Amphitheater, I watched Counting Crows' lead singer Adam Duritz allow the two opening acts to join CC on stage throughout the gig. Thanks, Adam, but I didn't wait twenty minutes to park or pay $90 per ticket to watch one of my all-time favorite singers get shown up all night. I did, however, end up downloading several Augustana and Michael Franti songs from iTunes; so I guess their respective managers and Steve Jobs appreciated your stage time generosity.
But then I saw Pearl Jam at the O2 arena in August. Their energy blew me away, as did the set list. OK, this is why I pay to see concerts. Step back from the edge, Jamie. The Counting Crows show was just an aberration.
In October, I got a double-whammy of WTF?
First, we rolled down to San Diego to see Pearl Jam. To put it mildly, the concert sucked. They had no urgency, which is something I, uh, like at a rock concert. Their choice of songs left so much to be desired, thanks to their forcing way too many from their newest album down our throats.
Ditto the latter for U2's show at The Rose Bowl two weeks later. Bono and the boys brought the energy, as they always do (five shows under my belt), and their stage blew me away. But the songs? Enough with the new stuff!
And therein lies the problem with older bands: They keep recording new albums.
Jimmy Buffett does, too, but he keeps the new stuff to a minimum at his shows -- probably why his annual summer tour makes so much damn money.
As fans age, we want to see our favorite bands play the songs to which we have attached specific memories, and then we want to see those bands play those songs the way we remember them, i.e. the album versions. (Exception: unless the live version has transcended the original, as is the case with Peter Gabriel's "In Your Eyes," among others.)
When you go see Backstreets -- the most famous and successful of the Springsteen tribute bands -- you don't have to fret, I hope they play "Rosalita" tonight! Of course they're gonna play "Rosalita," just like they're gonna play "Out in The Street" and "Jungleland" and maybe even "Lost in The Flood."

Do you know why? Because people in tribute bands are fans! In fact, that description doesn't suffice; they are fanatics who like the music more than you or I. How else to explain playing the same tunes every day for the rest of your life?
And as fans, these diehards want to give other fans what they want. And if I'm paying $100 - $200 a ticket, I wanna hear my faves sprinkled with a few surprise classics.
That said, I'm going to see Sting at The Hollywood Bowl in two weeks. I wish he plays "Tea in The Sahara."
But he better freaking play "Message in A Bottle."