But the talented teen isn't the first to take an already-mesmerizing piece of art and turn it into something magnificent and brand new. Below, find 71 covers of beloved classics and recent hits that pretty much outdo the original.
Whitney Houston, "I Will Always Love You" (Dolly Parton)
Red Hot Chili Peppers, "Higher Ground" (Stevie Wonder)
Aretha Franklin, "Respect" (Otis Redding)
Johnny Cash, "Hurt" (Nine Inch Nails)
Sam Smith, "Fast Car" (Tracy Chapman)
Ryan Adams, "Wonderwall" (Oasis)
Janis Joplin, "Me and Bobby McGee" (Roger Miller)
John Mayer, "Free Fallin'" (Tom Petty)
The Fugees, "Killing Me Softly" (Lori Lieberman)
The Black Keys, "Never Gonna Give You Up" (Jerry Butler)
Iron and Wine, "Such Great Heights" (The Postal Service)
No Doubt, "It's My Life" (Talk Talk)
Christina Aguilera, Lil' Kim, Mya and Pink, "Lady Marmalade" (Labelle)
Mark Ronson ft. Amy Winehouse, "Valerie" (The Zutons)
Alicia Keys, "How Come You Don't Call Me" (Prince)
The Ramones, "California Sun" (Joe Jones)
The Shins, "We Will Become Silhouettes" (The Postal Service)
Reel Big Fish, "Take On Me" (A-Ha)
Adele, "Promise This" (Cheryl Cole)
Jeff Buckley, "Hallelujah" (Leonard Cohen)
Lauryn Hill, "Can't Take My Eyes Off Of You" (Frankie Valli)
Daughter, "Get Lucky" (Daft Punk)
The Byrds, "Mr. Tambourine Man" (Bob Dylan)
Björk, "It's Oh So Quiet" (Betty Hutton)
Joan Jett, "I Love Rock 'n' Roll" (Arrows)
Sixpence None The Richer, "There She Goes" (The La's)
Cyndi Lauper, "Girls Just Want To Have Fun" (Robert Hazard)
Toploader, "Dancing in the Moonlight" (King Harvest)
The White Stripes, "Jolene" (Dolly Parton)
Ed Sheeran, "Skinny Love" (Bon Iver)
Rod Stewart, "Downtown Train" (Tom Waits)
Nirvana, "The Man Who Sold The World" (David Bowie)
Eric Clapton, "Cocaine" (JJ Cale)
Elvis Presley, "Hound Dog" (Willie Mae "Big Mama" Thornton)
Mumford & Sons, "The Boxer" (Simon & Garfunkel)
Manfred Mann's Earth Band, "Blinded by the Light" (Bruce Springsteen)
Cake, "I Will Survive" (Gloria Gaynor)
Foo Fighters, "Baker Street" (Gerry Rafferty)
Failure, "Enjoy the Silence" (Depeche Mode)
The Postal Service, "Against All Odds" (Phil Collins)
Ellie Goulding, "Your Song" (Elton John)
Soft Cell, "Tainted Love" (Gloria Jones)
Sinead O'Connor, "Nothing Compares 2 U" (Prince)
Gary Jules and Michael Andrews, "Mad World" (Tears for Fears)
Jimi Hendrix, "All Along the Watchtower" (Bob Dylan)
The Carpenters, "Close To You" (Richard Chamberlain)
Taylor Swift, "Riptide" (Vance Joy)
Donna Summer, "MacArthur Park" (Richard Harris)
Eva Cassidy, "Songbird" (Fleetwood Mac)
Natalie Imbruglia, "Torn" (Ednaswap)
All-4-One, "I Swear" (John Michael Montgomery)
Ray Charles, "Georgia On My Mind" (Hoagy Carmichael)
Lorde, "Swingin' Party" (The Replacements)
Metallica, "Whiskey In The Jar" (The Dubliners)
Talking Heads, "Take Me To The River" (Al Green)
The Beatles, "Twist and Shout" (The Isley Brothers)
Led Zeppelin, "Dazed and Confused" (Jake Holmes)
Earth, Wind & Fire, "Got to Get You Into My Life" (The Beatles)
Nirvana, "Where Did You Sleep Last Night?" (Lead Belly)
The Clash, "I Fought the Law" (The Crickets)
Frank Sinatra, "I've Got You Under My Skin" (Virginia Bruce)
Cat Power, "Sea of Love" (Phil Philips)
Blondie, "The Tide Is High" (The Paragons)
Ace of Base, "Don't Turn Around" (Tina Turner)
Salt-N-Pepa, "What a Man" (Linda Lyndell)
Quiet Riot, "Cum On Feel the Noize" (Slade)
Guns N' Roses, "Live And Let Die" (Wings)
UB40, "Red Red Wine" (Neil Diamond)
Beck, "Leopard-Skin Pill-Box Hat" (Bob Dylan)
Patti Smith, "Gloria" (Van Morrison)
Franz Ferdinand, "All My Friends" (LCD Soundsystem)
You can listen to many of them in this playlist here!
Also on HuffPost: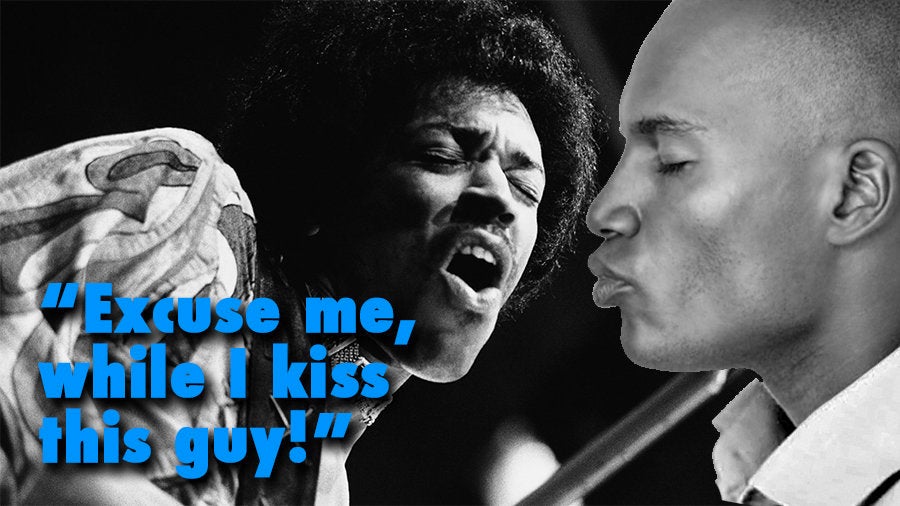 13 Commonly Misheard Song Lyrics That Are Way Funnier Than The Real Ones
Popular in the Community