"Oh wow!" Those were the first words uttered by Catherine, the new Duchess of Cambridge as she stepped onto the balcony at Buckingham Palace and surveyed the sea of well-wishers. "Wow" is also how I would describe the excitement of covering this wedding live and being part of a historic event. Wish you could have all been here. The atmosphere was electrifying!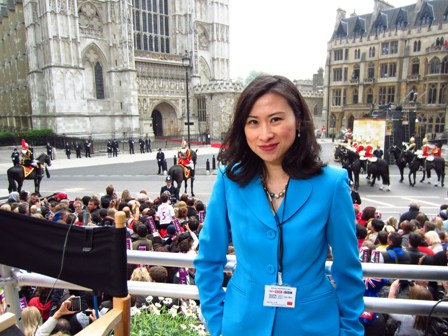 Up at the crack of dawn, it was an honor to join the BBC team who had the best media vantage point directly across from the West Door of Westminster Abbey and I was able to see, in person, every arrival and departure of the royals and the key players in the ceremony. From 8 a.m. onwards, I was on the air and commentating live for BBC World TV and BBC World Service Radio. Below on the pavement, well-wishers from around the world stood -- some who had camped out for days in pitched tents.
Guests started arriving at 9 a.m. and it was a virtual fashion parade of fanciful hats and fascinators, something that is traditionally worn at British weddings. British ladies in general love breaking out the big hats for special occasions like Royal Ascot and society weddings, and Philip Treacy, hatmaker to celebrities and the social set is the man to go to for the demure to the outrageous. Tara-Palmer Tomkinson, who is Charles' goddaughter, caused the biggest stir inside the Abbey in the most striking outfit at the wedding, topped with a Treacy creation that seem to defy gravity. Treacy was also responsible for Princess Beatrice's much talked-about stag-antlers hat which seemed more Lady Gaga than royal princess.
A pregnant Victoria Beckham appeared wearing a navy trapeze-shaped dress of her own design, a little hat perched practically on her forehead, and seven-inched platform shoes. No wonder she didn't crack a smile -- her feet were probably killing her! Her best accessory was her husband, who was easily the most fashion-forward male guest, sporting crocodile suspenders and his OBE medal pinned prominently on his jacket.
The first big cheer from the crowd erupted when Prince William arrived at the Abbey accompanied by best man Prince Harry. William was in the red tunic of the Irish Guards in honor of the 1st Battalion who are currently in deployment in Afghanistan. He was widely anticipated to wear his RAF uniform to the wedding, and there have been some reports of disappointment from his Royal Air Force colleagues over his decision not to do so. However, Sgt. Ed Griffiths who works on the same RAF crew as William told me that there was absolutely no disappointment from his team.
After the foreign royals and the members of the British royal family, we were all delighted to see the little bridesmaids and pageboys arrive. The little girls wore dresses that were reminiscent of the bridesmaids outfits from Diana's wedding, and I loved that 3 year-old bridesmaid Eliza Lopes put her hand on her head and gave a big yawn as she was led into the Abbey. Obviously, someone was too excited to sleep much the night before.
Maid of honor Pippa Middleton looked sensational in a slinky gown with a cowl-neckline and a row of buttons at the back -- the white of the dress accentuating her reported spray-on tan. Friends of mine who attended the wedding told me that Pippa drew admiring glances from many in the congregation, and that "she had the most beautiful walk" as she went up the aisle. While her sister was about to become Her Royal Highness that day, many dubbed Pippa as "Her Royal Hotness." Prince Harry certainly seemed to think so and reportedly whispered to her, "You do look very beautiful today -- seriously." This, along with the fact that Harry was seen spending more time talking and laughing with Pippa than with his on-and-off-girlfriend Chelsy Davy at the wedding reception sparked some to speculate on a possible Harry and Pippa pairing in the future. Well, this wouldn't be the first wedding where the best man fell for one of the bridesmaids!
Of course with any wedding, the most anticipated arrival was that of the bride. I reported that Sophie Cranston was believed to be Kate's wedding dress designer, and this was the name that I heard from my royal sources four months ago. As I've mentioned, William and Kate have been playing a very good cat-and-mo­use game with the press and have deliberate­ly left a trail of red herrings on all aspects of the wedding. At one point or another, designers such as Bruce Oldfield and Alice Temperley were declared a sure bet -- especially since the mother and sister of the bride were seen visiting their salons. Or just look at how many honeymoon and stag party locations that have been mentioned and falsely touted as "exclusive­s" in the British tabloid papers and American weekly magazines.
I do think that there was more than one wedding dress made and possibly more than one designer commission­ed in case there were any leaks, which had been widely reported. Carole Middleton herself had commissioned several outfits for the wedding day, originally rumored to be wearing Oldfield, then Lindka Cierach confirmed that she was making the ensemble, before Carole changed her mind and ended up donning a Catherine Walker (a favorite designer of Diana's) coat dress to the wedding. So it's not beyond the realm of possibility that the bride has also commissioned several dresses.
As far as Catherine's wedding dress is concerned, the game was up when Sarah Burton of Alexander McQueen was spotted entering the Goring Hotel the day before the wedding. Many wedding guests at the Abbey were buzzing over the fact that the Burton had lied outright regarding her involvement. I didn't think that Catherine would choose Burton only because the McQueen designer is known for her fashion-forward and cutting-edge designs, and Catherine's style leans more towards the aesthetics of Sophie Cranston's dresses. It's ironic that despite selecting Burton, the bride went with a dress that didn't look much like a Burton creation at all, but was classic and romantic, as I had predicted.
The white satin dress with the corseted bodice and lace appliqué was exquisitely beautiful, and perfectly suited the bride's personality, figure and modest tastes. This was the dress that will stand the test of time. Catherine looked regal, elegant and every inch a future Queen consort. Having said that, the gown wasn't fashion-forward in the least, nor was it anything that people haven't seen before -- there are many wedding dresses (royal or otherwise) that look remarkably similar. In fact, the gown immediately reminded many of Grace Kelly's 1956 wedding dress -- perhaps the most classic and iconic royal wedding dress of all time. It's also very similar in appearance to the dress Princess Marie of Denmark wore to her 2008 wedding to Prince Joachim. Not everyone is enamored with Catherine's gown -- there are some who have lamented that is was a safe and boring choice. Whether you loved or hated Diana's wedding gown, it was a showstopper with dramatic flair and a sense of theater, and it certainly looked nothing like anyone had ever seen before.
I also thought that Catherine's short train, which I had also expected she would have since I'm told that she is not into very long trains, could have been just a tad longer given the scale of Westminster Abbey. At just under 9 feet, it was the shortest royal wedding train in recent history. Diana's was a record-breaking 25 feet, Sarah Ferguson's was 17 feet, and the Queen herself had a 13-foot train.
Crowning Catherine's wedding outfit was a loaned 1936 Cartier 'halo' diamond tiara that was the Queen's 18th birthday present from her parents, but was never worn in public by her. As I previously reported, it's a modest-sized tiara which hasn't been seen for awhile (last worn by Princess Anne over 30 years ago), and was selected just after the engagement announcement.
As the bride proceeded up the aisle on the arm of her father, William kept his back to her -- as is the tradition in all Anglican, not just British royal weddings. The monarch is also the Head of the Church of England. Standing next to his brother, Harry looked back and with an appreciative grin, and is believed to have said to William, "Right, here she is now!" Coincidentally, royal grooms such as Prince Charles and Prince Andrew, who sneaked a peek back at their brides before she finished her walk up the aisle, had their marriages end in divorce. So it's a good omen that William resisted the temptation to turn around!
Other than a slight difficulty in getting the Welsh gold wedding band on the bride's finger, the ceremony went off without a hitch. In one fell swoop, Catherine became a duchess, a countess and a baroness (along with "Princess William") as William had three additional titles bestowed upon him by the Queen earlier that morning.
It's gratifying to see that the Middletons, especially Carole who had been subjected to nasty taunts by snooty and jealous individuals when her daughter was dating Prince William, now have the last laugh. In fact, William hates snobbery of any kind, and the Queen is known to abhor pretentious people.
The next big moment everyone was looking forward to was the kiss on the Buckingham Palace balcony. It didn't take long for the couple to oblige with a short and sweet kiss that had William blushing. Clearly the crowd wanted more and began to chant, "Again, again!" I think William even took Catherine a little bit by surprise by readily leaning in for a second kiss, much to the delight of the beaming bride who giggled.
While appearing on CNN Showbiz Tonight later that day, I was asked about the contrast between these kisses and Charles and Diana's wedding day kiss on the same balcony 30 years earlier. While Charles and Diana's kiss looked picture-perfect but lacked emotion, I noted that William and Catherine were both smiling as their lips locked, and it showed a couple very much in love and in sync with one another.
After a long day of interviews and commentating, I finally fell asleep at 1 a.m. in my hotel. For me, it had been an utterly magical, action-packed and unforgettable day, with all the pomp and pagentry that the British do so well. I wouldn't have missed it for the world. I'm sure that the new Duke and Duchess of Cambridge share the same sentiments!