Admit it: you have a secret beauty indulgence. An extravagant fragrance that has become your signature scent, the conditioner to which you've grown loyal because of its unbelievable transformative properties, or a tub of sugar infused with decadent oils evoking Parisian countryside groves -- sometimes we scrimp and save to invest in our yearly beauty investments. And although we live in uncertain times where responsible buying is au courant, splurging on the one item that brings you enormous joy never goes out of style. Aly Walansky finds that her indulgence is of the fragrance variety, relaying,"I may sometimes have to stretch a takeout burrito for three meals on those slow work weeks -- but I never, ever, will scrimp on my Chanel No. 5. It's the only scent I'll wear!" Paula Wade, beauty writer, confesses, "After resisting for so long, my Clarisonic brush is one thing I am glad I spent $200 on. It has made a world of difference in my skin. I can't imagine not having this now." Karen Lewis admits, "I can't go one day without my Lush shampoos. I'll buy drugstore makeup, soap, and nail polish, but I will gladly shell out the extra cash for Lush. Their stuff is the only thing that leaves my oily hair clean and soft without turning it into a grease-pot by the end of the day."
After sampling dozens of luxurious bath, body, and skin care products, I'm revealing my top 10 covetable indulgences for fall. Discover hair treatments that evoke the glamorous age of the Romanov dynasty, step out of the shower smelling like a jasmine grove, and battle the signs of premature aging and skin damage with the latest in technological advances while keeping your skin luminous and nourished.

1. Body Moisturizer: La Mer's The Body Crème (10oz $195): For years I'd stare at the La Mer display case in finer department stores, marveling over the tubs and jars of magic encased in glass. Intimidated by the exorbitant price, I knew I was the sort forever relegated to vanilla-scented lotions from Bath & Body Works and dime store moisturizers. But I wondered about a brand that inspired almost mythical devotion from celebrities and coworkers alike. They rhapsodized over the crème's magical properties and how their skin took on the softness of plush cashmere. Recently, I had the opportunity to sample The Body Crème and I can say, unabashedly, that this is the grand dame of body moisturizers. Formulated with seaweed, four types of algae, essential vitamins, amino acids, and bio-fermentation at its cornerstone, The Body Crème is like a "seaweed wrap in a jar." Suffice it to say this isn't formulated, nor does it perform like your tub of body butter. The luxurious lotion was immediately absorbed into my skin, leaving it soft, supple and refreshed. Dare I say gleaming? And although the price tag does inspire wincing, believe me when I say that a little goes a long way.
2. Hand Exfoliant: Oraser Microderm Hand Renewal (1oz $50): With regard to a beauty indulgence, I never gave my hands much thought as I considered them solely practical tools meant to complete daily tasks. However, as I grow older I've come to respect the most important and most overlooked part of my skin care regimen. Coupled with a recent plague of dry, cracked hands, I turned to the crown jewel of hand exfoliants. Formulated with retinol, shea butter and sugar crystals, a quickly daily exfoliating routine will gently scrub away rough, dull skin and keep your hands feeling ultra-rich. It also minimized the appearance of scratches (courtesy of my ferocious feline) and sloughed away and softened skin that had been peeling.
3. Face Moisturizer: Jurlique Herbal Recovery Gel (1oz $67): With slick packaging, multi-syllabic ingredients (pentapeptides! humectants!), and promises of clear, glowing, and unblemished skin, it's amazing how one doesn't get vertigo shopping in the drugstore. The options are seemingly endless and the promises border on the supernatural. With a strong commitment to the environment and sustainable farming, Jurlique has recently become my go-to brand for superior skin-care products. The Herbal Recovery Gel is a potent botanical moisturizer infused with a rich blend of herbs and precious plant oils to restore, firm, hydrate and revitalize the skin. I have sensitive combination skin and the gel is utter perfection in providing the optimal balance of hydration while curbing breakouts.
4. Shampoo: Phillip B's Russian Amber Shampoo (12oz $140): After reading a rave review of the shampoo in Lucky magazine, I was at turns intrigued and frightened. Who, other than czars and celebrities, could afford such decadence? Did this princely shampoo actually deliver? From the packaging, I gather that the reconstructing shampoo rejuvenates and revitalizes all hair types. Formulated with life-giving L-Amino acids, hair is repaired on a cellular level -- quickly restoring its body, bounce and shine. While I'm not entirely sure what youthful hair looks like, as someone who has coarse, unruly thick curls, I know when a product performs. Most shampoos leave me with the dreaded squeaky-clean feel -- my hair resembles the texture of bark and breakage is imminent. However, after almost six week of use, I've been impressed with the shampoo's efficacy. If you can get over the honey-like consistency of the shampoo, you will adore how it cleans and moisturizes your hair from scalp to tip. So, if your beat is hair and you can make the investment, I recommend the Amber shampoo.
5. Anti-Aging Treatment: CellCeuticals Biomedical Skin Treatments: CellGenesis (1oz $80): As skin ages, cell rejuvenation lags leaving skin dull and uneven, placing a grand spotlight on encroaching wrinkles and fading luminosity. Enter CellCeuticals. Formulated with the patented Growth Factor Peptide (GFP) Cellular Complex that includes a concoction of retinol, anti-oxidants, vitamins C&E, and lipopeptides, which encourage cell rejuvenation and turnover. After a few weeks of use, I did notice a marked change in my complexion. Admittedly, at 33 I don't have many signs of aging; however, my skin was refreshed, hydrated and firm.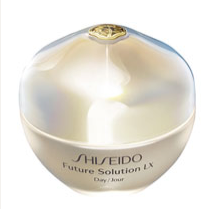 6. Daytime Moisturizer: Shiseido Future Solution LX Daytime Protective Cream (1.7oz $240): Not only does the cream provide intense nourishment for parched skin (without the ubiquitous spackled grease effect), but it also battles the signs of aging, shielding skin from environmental stresses and UV rays via its exclusive Skingenecell 1P technology.
7. Hair Masque: Phyto Phytokarité (6.7oz $38): For years I worshiped at the altar of Kerastase Oleo Relax. I was a product pusher, determined to convert all of my curly-haired friends to the line of hair products that has proven to give nourishment to the porous of locks. Kerastase was the crown jewel of hair care; it could do no wrong -- until I discovered Phyto. This uber-nourishing masque is formulated with shea butter, wood cellulose, hydrolyzed keratin, and cashew oil to restructure very dry, damaged hair deep into the cuticle. Trust me, after a single use you will feel the difference.
8. Skin Exfoliant: Amore Pacific Treatment Enzyme Peel (2.5oz $60): The latest rock star in my regimen is AmorePacific. Sulfate free, the products are formulated with a patented red ginseng compound, which revitalizes skin, provides moisture and increases elasticity (crucial in my thirties), bamboo sap, which hydrates the skin with its nine amino acids and litany of ingredient greatness, and green tea extract from AP's own gardens. The wunderkind product, the enzyme peel is a milk-based, non-abrasive exfoliant that soothes, calms, and protects, while removing dead skin cells and surface impurities. The controlled dosage ensures that you don't overdose and get the perfect amount every time. Incorporating this into my regimen along with clay masques and plant-based serums and hydrating oils, has made a marked improvement on my complexion.
9. Body Scrub: Soap & Paper Factory Luxurious Body Scrub (16oz $36) -- this totally green (recycled and recyclable packaging), paraben, phthalate, and petroleum free scrub revitalizes the skin and leaves it glowing and refreshed. I'm currently obsessed with the Jasmine scrub, which is formulated with pure sea salt and essential oils. Perfect for at-home DIY spa indulgences or a quick infusion of luxe into your morning routine.
10. Daily Skin Protection/Anti-Aging: PRIORI CoffeeBerry Natural Daily Protection SPF25 (4.0oz $80): There was a time when body oils and sun-baking were en vogue, however, I would never leave my house without slathering on sun protection. Perfect for all skin-types, this feather-light, intensely nourishing sunscreen and complexion brightner is formulated with potent antioxidants (including Coffeeberry) to battle free radicals, environmental stresses and reduce the signs of pre-mature aging.

Related