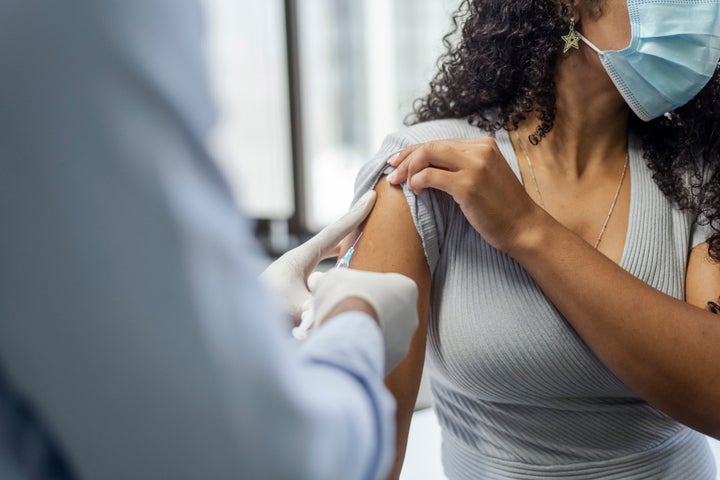 The Food and Drug Administration announced late on Thursday that it is authorizing a third COVID-19 vaccine dose for certain people with weakened immune systems. Specifically, "solid organ transplant recipients or those who are diagnosed with conditions that are considered to have an equivalent level of immunocompromise," according to the agency.
The additional shot will offer extra protection as the highly contagious delta variant continues to spread throughout the United States, where cases and hospitalizations have increased in recent weeks. The decision reflects mounting evidence that people who are immunocompromised do not have as robust of an antibody response, and some have no antibody response at all.
"The country has entered yet another wave of the COVID-19 pandemic, and the FDA is especially cognizant that immunocompromised people are particularly at risk for severe disease," Janet Woodcock, the acting FDA commissioner, said in a statement. "After a thorough review of the available data, the FDA determined that this small, vulnerable group may benefit from a third dose of the Pfizer-BioNTech or Moderna vaccines."
Here's what the FDA's decision to expand the emergency use of both the Pfizer and Moderna vaccines means for you — whether you are immunocompromised or not.
Right now, boosters are only available for certain people who are immunocompromised.
The move to expand the emergency use of both vaccines is rooted in growing evidence that certain people have poor immune responses over time to the first two doses. Studies have found, for example, that only 17% of organ transplant recipients produce a sufficient immune response after one dose of either vaccine, while roughly 50% did after a subsequent dose.
David Cohn, the chief medical officer at the Ohio State University Comprehensive Cancer Center, told HuffPost that the FDA's decision to approve a third booster dose is "not evidence of vaccine failure as much as it's a failure of the innate immune system that happens because of medical conditions."
"It's not that the immune system responded really favorably and then it's gone away really quickly and that's a vaccine issue," Cohn said. "Rather, these are folks who at a baseline were not able to mount an immune response and, as is the case with other vaccines, an additional dose is required to keep them above the threshold."
Estimates suggest that around 7 million Americans are considered immunocompromised. That includes (but is not limited to) people who have had organ transplants, those who are undergoing certain cancer treatments and those living with HIV/AIDs.
However, not all immunocompromised people will necessarily benefit from boosters, though it's unclear right now which individuals might not get a response or how well they'd respond to a third dose.
"This is all going to be very personalized," Dorry Segev, a transplant surgeon at Johns Hopkins University who is running a major National Institutes of Health study of extra shots for organ recipients, told the Associated Press. For some people, a third dose increases their immune responses, while for others it doesn't.
"We don't quite know who's who yet," Segev said.
Moderna and Pfizer are the only vaccines currently authorized for an additional dose.
The messenger RNA vaccines are the only vaccines being given as a third dose at the moment. Immunocompromised people may receive the dose at least 28 days or later after their second shot. (So, for example, if you were fully vaccinated in April, it's OK to get it. If you just got your second dose, you need to wait at least 28 days for the third.)
The FDA did not mention anything about immunocompromised individuals who originally received the single-dose Johnson & Johnson shot. In June, experts told HuffPost they didn't feel those in the general public who got that shot needed a booster at the time. If you fall in the eligible category and got the J&J shot, ask your doctor for their recommendation.
It's still not clear if boosters will be necessary for everybody else — or when.
Many experts believe vaccine boosters are likely to be necessary for everyone else at some point, but that is by no means a given. The Pfizer, Moderna and Johnson & Johnson COVID-19 vaccines have continued to hold up against the original strain of the coronavirus and the new variants — although two recent reports suggested that the Pfizer vaccine may not be as effective against the delta variant.
But in general, the vaccines are continuing to do their primary job: keep otherwise healthy people who get breakthrough infections from getting really sick or dying.
So for now, rolling boosters out to the rest of the general public is not a priority. The World Health Organization recently called for a three-month moratorium on boosters, urging health officials to focus instead on vaccinating people around the world. And the Centers for Disease Control and Prevention has also indicated that boosters are not necessary at this point in time, although it is working with other public health organizations to determine if and when they might be needed down the road.
"This approval is eagerly anticipated by the immunocompromised community, even as studies are ongoing for this group."
Experts are NOT worried that rolling out booster shots will deplete supply in the U.S.
Vaccine supply is a major issue globally. Wealthier countries, including the United States, have a disproportionate share of the doses and are now working to donate hundreds of millions of vaccines to middle- and low-income countries.
But here in the U.S., there is a surplus of vaccines, and experts are generally not concerned that making boosters available to the 3% of the population that is immunocompromised will mean there aren't doses available to others, including children under 12 later this fall or winter, or whenever they are eligible for immunization.
"We are thankful we're in an area of the world where we have enough vaccines and are able to do this without sacrificing any particular group. At the moment, the third dose for the immune-compromised is not going to affect availability for others," said Samir Parekh, a professor of medicine and oncological sciences at the Icahn School of Medicine at Mount Sinai in New York who has been doing research on the variable immune responses to vaccines among some cancer patients.
Parekh believes it is likely that if and when boosters become necessary for the broader public, they'll be rolled out to older adults who may be less likely to maintain a robust antibody response, and then to younger adults.
But again, that rollout to everyone may not be necessary, and health officials are watching very closely to see if and when people's antibodies wane, or if the vaccines stop holding up well against emerging variants.
"We've had to very openly say from the get-go that we do not know what the durability of the mRNA vaccines or the J&J vaccines are," Cameron Wolfe, an associate professor of medicine specializing in infectious diseases at Duke University's School of Medicine, previously told HuffPost. "We knew great safety data. We knew great efficacy data. We did not know great durability data because they haven't been around for that long."
For people with weakened immune systems, boosters offer a long-overdue chance at getting back to some kind of normal.
"We've been getting calls from both patients and their doctors for over a month begging for extra doses," Parekh said. "This approval is eagerly anticipated by the immunocompromised community, even as studies are ongoing for this group."
This third dose could help many immunocompromised patients regain some semblance of normalcy after a long and difficult 18 months, Parekh said, adding that some of his patients have been afraid to go out into their communities and interact with others, while others are still afraid to come into the hospital.
"There are very few groups, I think, that are more motivated to be vaccinated than folks with a compromised immune system, because those have been the folks doing everything they can to keep themselves safe — washing their hands, being obsessive about that, minimizing interactions with others," Cohn said. "We've had cancer patients who literally were not out of their house for a year before the vaccines became available. I have talked to patients today about it, and they're saying 'When can I sign up?'"
Experts are still learning about COVID-19. The information in this story is what was known or available as of publication, but guidance can change as scientists discover more about the virus. Please check the Centers for Disease Control and Prevention for the most updated recommendations.
Popular in the Community