Efforts to curb the outbreak have led to the global disruption of daily life and the economy, as schools and workplaces shuttered in hopes of slowing transmission. After months of precautions and lockdowns, governments have begun to reopen their economies.
HuffPost reporters around the world are tracking the pandemic and its effects.
Read the latest updates on the coronavirus pandemic below. (To see the latest updates, you may need to refresh the page. All times are Eastern. For earlier updates on the pandemic, go here.)
Trump's National Security Adviser Tests Positive — 7/27/20, 9:20 a.m. ET
Robert O'Brien, national security adviser to President Trump, has tested positive for COVID-19, according to multiple reports.
O'Brien apparently contracted the virus at a family event, Bloomberg reported. He is reportedly quarantining at home and continuing to work remotely.
O'Brien's diagnosis makes him the highest profile Trump administration official known to have tested positive for the virus. Vice President Mike Pence's press secretary tested positive in May, as did one of Trump's personal valets. Several Trump campaign staffers, including top fundraising official Kimberly Guilfoyle, have also tested positive in recent weeks.
— Hayley Miller
Birx Urges Several States To Close Bars, Limit Social Gatherings — 7/27/20, 9 a.m. ET
Dr. Deborah Birx, the coronavirus response coordinator for the Trump administration, urged states with rising infections to impose new restrictions that include closing bars, reducing indoor restaurant capacity and limiting social gatherings to 10 people.
"We can see what is happening in the South is moving north," Birx told reporters in Kentucky on Sunday, suggesting that new hot spots outside of Florida, Texas and other Southern states are beginning to emerge.
Birx said she is specifically focused on controlling the pandemic "before it gets worse" in Kentucky, Tennessee, Ohio, Indiana and Virginia, and she recommended that "100%" of individuals in these states wear masks when they're in public or around others.
Kentucky allowed bars to reopen on June 29, but Gov. Andy Beshear (D) said Sunday that he planned to announce new restrictions early this week amid a surge in new cases. As of Monday, the state has recorded more than 27,000 cases and at least 718 deaths. Meanwhile, Florida and California have surpassed New York, once the epicenter of the virus in the U.S., in known infections.
— Hayley Miller
World's Biggest Vaccine Study Begins In U.S. — 7/27/20, 8:05 a.m. ET
The biggest COVID-19 vaccine study to date is now underway in the United States.
Beginning Monday, the first 30,000 volunteers will help test shots created by the National Institutes of Health and biotechnology company Moderna, the Associated Press reported. Researchers will inject volunteers with either the experimental vaccine or a placebo and track which people contract the virus as they go about their lives. The researchers will also track any potential negative side effects of the vaccine.
Several other vaccines made by China and Britain's Oxford University are in the final stages of testing.
Read more from AP here.
— Hayley Miller
Florida Records More Coronavirus Infections Than New York — 7/27/20, 3 a.m. ET
According to figures released on Sunday, Florida has now recorded more coronavirus cases than New York, which was once the U.S. epicenter of the outbreak. 
Johns Hopkins University reported that Florida had reached a total of more than 423,00 cases, nearly 77,000 of which were reported in the last seven days. That figure exceeds New York's 416,000, which has seen just under 5,000 cases in the last week.
California currently has the most cases of any state in the country.
Despite the official figures, it's hard to know just how many people have been infected in epicenters of the pandemic as both New York and California had surges earlier this year when testing was limited, The New York Times reported. The Centers for Disease Control and Prevention said this month's true figures may be more than 10 times higher than the reported figures in some areas.
— Nick Visser
North Korea Declares Emergency Over Suspected Coronavirus Case — 7/26/20, 12:10 p.m. ET
North Korean leader Kim Jong Un declared a state of emergency on Saturday after the country for the first time acknowledged a suspected coronavirus case within its borders.
In response to the apparent case, Kim locked down the city of Kaesong, located near the country's border with South Korea. North Korea has previously denied having any cases of the virus, though outside experts have questioned that claim, according to The Associated Press.
North Korea's official Korean Central News Agency said the suspected virus patient had illegally entered the country last week after fleeing to South Korea three years ago. The patient, anyone who had contact with them, and those who were in Kaesong recently have been placed under quarantine, according to KCNA.
During an emergency meeting of top North Korean officials, Kim was quoted as saying there was a "critical situation in which the vicious virus could be said to have entered the country."
Read more from the AP here.
— Hayley Miller
More Than A Third Of Coronavirus Patients Feel Symptoms For Weeks ― 7/25/20, 11:35 a.m. ET
More than a third of coronavirus patients experience symptoms for weeks, even if they don't have a severe case of COVID-19, the Centers for Disease Control and Prevention said Saturday.
Of 293 people who had the virus surveyed by the CDC, 35% said they still felt negative symptoms two or three weeks after testing positive.
While research is still limited, many people who experience long-term symptoms say those include fatigue, difficulty breathing and body aches, among other symptoms.
A study of 143 patients in Italy found that 87% of those who had recovered from COVID-19 reported at least one lingering symptom, USA Today reported Saturday.
"We definitely see prolonged symptoms, sometimes a lingering cough and the most serious cases have long term chest pains and still feel they can't breathe well," Dr. Maja Artandi, medical director of an outpatient COVID-19 clinic at Stanford University hospital, told the publication. "It just causes all kinds of inflammation and takes awhile to heal."
― Sebastian Murdock
California Expands Essential Workers' Protections Amid Coronavirus Pandemic — 7/24/20, 7 p.m. ET
California Gov. Gavin Newsom announced additional efforts to protect essential workers as the number of confirmed COVID-19 cases in the state continues to grow.
At Friday's press briefing, the Democratic governor said officials were creating a new public information campaign and handbook for employers to create safer, cleaner work environments. The state is also expanding workers' compensation and pandemic-related paid sick leave, as well as its programs providing rooms for infected workers to quarantine.
The governor noted that the coronavirus has gravely impacted essential workers, who are disproportionately from the Latinx community. Latinos make up 38% of California's population, but more than half of those reporting COVID-19 infections and 45% of deaths from the virus.
Coronavirus cases continue to balloon in California, which now has more than 425,000 confirmed cases total, a 7-day average of daily cases amounting to over 9,800 — and over 8,000 people dead so far.
— Sarah Ruiz-Grossman
Coronavirus Vaccine Won't Be 'Widely Available' Until 'Several Months' Into Next Year, Says Fauci — 07/24/2020; 2:30 p.m. ET
A COVID-19 vaccine won't be "widely available" in the U.S. until "several months" into 2021, Dr. Anthony Fauci, the country's top infectious disease expert, told The Washington Post's Robert Costa on Friday. Fauci said, however, that "we will likely know whether a vaccine is safe and effective" by the end of the year or early next year.
President Trump has repeatedly said he expects a vaccine for the virus to be developed very soon. 
Fauci stressed that while a viable vaccine may indeed be found before the year's end, it wouldn't be until next year that such an intervention would be available to a wide swath of Americans.
"It is likely that in the beginning of next year we would have tens of millions of doses available," Fauci told Costa. "The companies who are involved in making these vaccines, many of which the federal government is in deep collaboration with, promised that as we get into 2021, there will be hundreds of millions of doses. And then maybe sometime thereafter billions of doses."
— Dominique Mosbergen
Vermont Governor Makes Masks Mandatory ― 7/24/20, 12:06 p.m. ET
Vermont Gov. Phil Scott (R) announced Friday he will sign an order requiring masks to be worn in public both indoors and outdoors "to help protect the progress we've made in combating COVID-19."
More than 1,300 people have contracted the virus in the state. It is faring better than other states including Florida and Arizona, which have seen enormous spikes in cases as elected officials continue to downplay the virus.
— Sebastian Murdock
U.S. Records More Than 4 Million Coronavirus Cases — 7/24/20, 5:45 a.m. ET
Coronavirus cases in the U.S. surpassed 4 million on Thursday, according to Johns Hopkins University data. More than 144,000 Americans have died from COVID-19.
Hospitalizations and deaths have also been on the rise in the U.S., and cases have been trending upward in 39 states, the New York Times reports. The number of people hospitalized across the country approached the high of 60,000, which was reached April 15.
Some states and localities around the country have been rolling back their reopening measures to try and curb the spread of the virus, and others have started mandating the use of face masks in public spaces. But the lack of progress has alarmed public health experts.
"We've rolled back essentially two months' worth of progress with what we're seeing in number of cases ... in the United States," Dr. Ali Khan, dean of the University of Nebraska Medical Center's College of Public Health, told CNN.
— Liza Hearon
Australia Deploys Army As Daily Death Toll Hits New High  — 7/24/20, 4:10 a.m. ET
The Australian state of Victoria will send in the army to question people who have tested positive for COVID-19 as it battles to control an outbreak that claimed a record number of lives on Friday.
The state recorded six deaths overnight, the highest daily toll for the nation since the pandemic began. It also recorded 300 new infections, dropping from a record of 484 on Wednesday.
Victoria will deploy Australian Defence Force personnel to the homes of people who have tested positive and who have not answered telephone calls, in order to kickstart the contact-tracing process.
A flare-up of infections in Melbourne prompted the government to enforce a six-week partial lockdown and make face masks mandatory for its residents or risk a fine.
All the deaths overnight were linked to aged care homes, of which more than 40 have recorded outbreaks.
Two cases were detected among Aboriginal people in the regional Victorian city of Ballarat, a cause of concern for officials given a high degree of health issues among Indigenous Australians.
Australia has so far escaped the high COVID-19 casualty numbers of other nations, with just over 13,300 infections and 139 deaths from the virus as of Friday. Read more
— Reuters
Washington State Cracks Down On Bars, Dining, Gyms And More ― 7/23/2020, 6:37 p.m. ET
Washington Gov. Jay Inslee (D) announced Thursday he is implementing stricter rules on bars, restaurants, gyms, weddings and funerals in the state.
All of those businesses and events may still operate in some capacity, but will face tighter limits on crowd size and indoor use. A list of the guidelines is available here.
Washington has seen more than 6,400 new cases of the coronavirus in the past week.
― Lydia O'Connor
Florida Sees Its Youngest Fatality As State Pushes To Reopen Schools — 7/23/20, 3:50 p.m. ET
A 9-year-old girl in Putnam County, Florida, has died from complications due to COVID-19, making her the state's youngest fatality in the ongoing pandemic. 
Florida Department of Health records show the girl is the fifth minor in the state to die from coronavirus. Two 11-year-olds, a 16-year-old, and a 17-year-old have also died from the disease.
Putnam County Health Officer Mary Garcia confirmed the death to CNN, noting she was unaware if the girl had any underlying medical conditions.
Florida currently has 389,868 confirmed cases of COVID-19 and 5,518 deaths, though both numbers likely underestimate the real burden. Children between the ages of 0 and 14 account for roughly 6% of the cases; that percentage jumps to 22% if the 15-24 age range is included.
The death comes as Florida Gov. Ron DeSantis (R) urges Florida schools to reopen to in-person classes this fall. 
"I look particularly at those elementary school kids, and the science on that is just overwhelming. Yes, they're at almost zero risk, but even more than that, transmission from an elementary school [student] to an adult is extremely rare," DeSantis said at a press conference last week. "I think generally for schools, the kids aren't vectors, but you know, as you get into 17-18 [years old], I think you can probably find some examples of that."
— Ryan Grenoble
Senate Republican Stimulus Bill Is Not Expected To Include Paid Sick Leave — 7/23/20, 12:26 p.m. ET
Senate Republicans are expected to unveil a $1 trillion economic stimulus package to provide additional aid to Americans whose financial situations have cratered because of the pandemic. However, the bill is not expected to include sick leave ― which, as HuffPost's Emily Peck reports, separates the U.S. from virtually every other high-income nation in the world.
― Marina Fang
NFL To Require Masks For Fans — 7/23/20, 5:30 a.m. ET
Fans attending NFL games this season will be required to wear masks, a league spokesperson said Wednesday.
"For those wondering, yes, it is league-wide," Brian McCarthy wrote on Twitter.
While the league is still moving forward with its plans, teams have differing views on whether fans will be attending their games. The Atlanta Falcons said Wednesday they will host 10,000 to 20,000 fans at their stadium. But the New York Jets and Giants won't have fans at their stadium.
There is still the chance the NFL season could get postponed or canceled as the pandemic continues.
— Liza Hearon
Trump Says He Wants 'Schools Open 100%' Despite Coronavirus Cases Mounting In Many Areas — 7/22/20, 6:30 p.m. ET
At the White House coronavirus briefing on Wednesday, President Donald Trump again insisted that schools should reopen fully for in-person learning for the new school year, despite the growing threat of the coronavirus pandemic in many states. 
"I'd like to see schools open," Trump said, noting it's "up to governors" to decide what schools in their states will do, whether in-person or virtual learning.
"I'd like to see the schools open 100% — we'll do it safely," he added.
Trump also said, without evidence, that children "don't transmit very easily" COVID-19, adding that "a lot of people are saying… they don't bring it home with them."
Scientists are still unsure the extent to which children can spread the virus. 
Experts say schools are going to need a lot of money — more than $100 billion, according to several estimates — if they are to reopen safely, with funding for more nurses on-site, more frequent cleanings, more masks and plenty of hand sanitizer, among other measures. 
Other countries that have successfully reopened schools did so after transmission rates reached low points. In the U.S., COVID-19 cases continue to grow in many areas, particularly in Florida, Arizona, Texas and California.
The U.S. continues to lead the world in coronavirus cases and deaths, with more than 3.9 million confirmed cases and over 142,000 dead so far. On Tuesday, the U.S. surpassed 1,000 daily coronavirus deaths for the first time this month, according to The New York Times, recording 1,120 deaths from COVID-19 — the highest number since late May. 
Earlier this week, teachers in Florida filed a lawsuit against the state for forcing schools to reopen as the virus has surged there in recent weeks. On Wednesday, Gov. Ron DeSantis (R) insisted parents should have the option to send kids to school or keep them home for virtual learning. 
— Sarah Ruiz-Grossman
Florida Gov.: Parents Should Choose Between Distance And In-Person Learning — 7/22/2020, 5:47 p.m. ET
Florida Gov. Ron DeSantis (R), whose state counted more than 9,700 new coronavirus cases on Wednesday, said parents should have the option to send their children to school or keep them home for virtual learning.
"I believe we owe every Florida parent a choice to send your child back to school for in-person instruction or to opt to maintain distance learning," DeSantis said at his Wednesday press conference. "No parent should be required to send their child to in-person instruction if they don't want to."
He also said he supports schools getting the option to delay in-person instruction by a few weeks.
His comments come two days after the Florida Education Association, a union representing the state's teachers, filed a lawsuit against the state for forcing schools to reopen under dangerous conditions.
"The governor needs to accept the reality of the situation here in Florida, where the virus is surging out of control," FEA President Fedrick Ingram said.
— Lydia O'Connor
Several States Tighten Mask Requirements Amid Coronavirus Spikes — 7/22/20, 5:15 p.m.
Governors in four states enacted or strengthened their face mask requirements to address the summer surge of COVID-19. Indiana, Minnesota, Ohio and Oregon made the orders one day after President Trump, for the first time, publicly urged people nationwide to wear masks to stop the spread of the coronavirus.
Indiana Gov. Eric Holcomb (R) plans to sign an executive order to require people in the state over the age of 8 to wear a cover over their faces any time they are in public. The mandate takes effect Monday. 
In Ohio, which shares a border with Indiana, Gov. Mike DeWine (R) issued his first statewide face mask requirement on Wednesday. Ohio's mandate takes effect Thursday. 
Minnesota Gov. Tim Walz (D) issued an executive order that only called for people to wear face masks in indoor spaces and businesses, unless the individual is alone. Those who work outdoors in Minnesota are also required to wear a face covering if they are not able to socially distance. The new rules go into effect Saturday morning.
Walz said he hoped to get a "90 to 95% compliance" from people in the state in the hopes that they can "reduce the infection dramatically," adding that it was the cheapest way to open up businesses and schools, KARE 11 reported.
Oregon Gov. Kate Brown (D) made the state's mask requirement more severe, requiring face coverings in public indoor spaces for anyone age 5 or older. The original age minimum was previously set at 12.
Some states are still resisting face mask regulations, despite experiencing an increase in coronavirus cases.
Georgia Gov. Brian Kemp (R) banned city and county leaders from issuing local mask mandates, and sued the city of Atlanta after Mayor Keisha Lance Bottoms, who has tested positive for the virus, enacted a mask requirement.
— Carla Russo
California Surpasses New York For Highest State Total Of Confirmed Cases — 7/22/20, 11:05 a.m.
California now has more than 409,000 confirmed coronavirus cases, the highest number of cases in any state, according to Johns Hopkins University's COVID-19 tracker. Previously, New York had recorded the most cases.
At the start of the pandemic in March, California was the first state to issue a stay-at-home order and impose restrictions. But in recent weeks, the state has seen a surge in cases, after state and municipal leaders lifted restrictions too early.
—Marina Fang
Pfizer Announces Deal To Produce 100 Million Doses Of Vaccine By December — 7/22/20, 10:00 a.m. ET
Pharmaceutical giant Pfizer and a smaller German company, BioNTech, announced a deal with the Trump administration to produce 100 million doses of a COVID-19 vaccine by December, which would be available to Americans for free.
Under the $1.95 billion contract, the companies would provide the first 100 million doses at the end of the year, plus an additional 500 million doses in 2021.
Before being distributed, the vaccine would have to obtain emergency approval by the Food and Drug Administration, which the companies say could happen in October.
As part of the Trump administration's push to produce a vaccine by the end of the year, various companies are racing to develop one, with several set to launch wide-scale trials this month.
—Marina Fang
Indy 500 Organizers Plan Race With Nearly 90,000 Spectators Next Month — 7/22/20, 9:50 a.m. ET
Organizers of the Indianapolis 500 are moving forward with a plan to hold the annual race on Aug. 23 with spectators at 25% capacity, which amounts to some 87,500 people.
"We want to demonstrate that even under current circumstances, people can gather with carefully planned procedures in place so we don't have to go back to shutting down our country and our community," they said in a statement. 
The Indianapolis Motor Speedway can hold around 350,000 people at maximum capacity; organizers had previously said the event would take place at half capacity before lowering the number on Tuesday. 
Masks will be mandatory at the race, and spectators will have temperatures taken at entrances, where hand sanitizer will be distributed. Fans over age 65 will be encouraged to stay home. 
Organizers say that they have prepared a 100-page safety protocol document for the event that they will share Wednesday. 
— Sara Boboltz
Bolsonaro Awaits New Test Result As Brazil Deaths Hit July Record — 7/22/20, 7:10 a.m. ET
Two weeks since falling ill, Brazilian President Jair Bolsonaro will find out today if he still has coronavirus after taking another test on Tuesday.
Bolsonaro, who has played down the extent of the crisis, is one of nearly 2.2 million people in Brazil who have tested positive for coronavirus, according to health ministry statistics released Tuesday.
Outside of the United States, Brazil is the worst-hit country in the pandemic, recording more than 81,000 deaths from COVID-19, and more than 1,367 fatalities in the past 24 hours.
Bolsonaro has previously said he has taken hydroxycloroquine, unproven for treating coronavirus but touted by Donald Trump, and credits the medication as the reason for his mild symptoms.
Bolsonaro tested positive for coronavirus on July 7 but by the next day said he was already feeling well. A follow-up test last week also came back positive for the virus.
— James Martin
Australia's Coronavirus Tally Rises By Record — 7/22/20, 7 a.m. ET
Residents of Australia's second-most populous city, Melbourne, must wear masks when leaving home from Wednesday as the country posted a record rise in coronavirus cases.
Australia recorded 501 new coronavirus infections in the past 24 hours, its highest since the epidemic took hold in March. Its death toll also rose by 2 to 128.
Victoria state, of which Melbourne is capital, accounted for most of the new cases, with 484.
Worryingly, more than half the people who tested positive for the virus in Victoria between July 7 and July 21, or more than 2,000 people, did not isolate, Victoria Premier Daniel Andrews said.
"That means people have felt unwell and just gone about their business," Andrews told reporters.
Cross-border travel between Victoria and New South Wales (NSW) will only be allowed for work, education or medical care, after the border was closed this month for the first time in 100 years.
Though the death rate in Australia has been lower than that of many of its rich-world peers, authorities and policymakers are increasingly worried about the spread of the virulent disease in Melbourne.
In NSW, of which Sydney is capital, 16 new cases were recorded with Premier Gladys Berejiklian saying the state was on "high alert" because of community transmissions and infections appearing in new places. Read more
— Reuters
U.S. Exceeds 1,000 Daily Deaths For First Time In July — 7/22/20, 6:45 a.m. ET
The U.S. on Tuesday recorded 1,120 coronavirus deaths in a single day, exceeding 1,000 for the first time in July, according to a New York Times database. It was the highest number since May 29.
Nevada, Oregon and Tennessee reported their highest single-day death tolls.
Deaths often follow cases by about a month, and in the month of June many states reopened businesses and lifted stay-at-home orders, contributing to a spike in cases around the country.
The U.S. has recorded about 3.9 million coronavirus cases and more than 142,000 deaths from COVID-19, according to Johns Hopkins University figures.
— Liza Hearon
D.C. Suburb School District To Hold Only Online Classes In Fall — 7/21/20, 5:20 p.m. ET
Students in Montgomery County, Maryland — an area of more than 1 million people just north of Washington, D.C. — will not resume classes in person in the fall, the district announced Tuesday. The county's second semester plans will be assessed in November.
Montgomery is one of the first districts to announce a plan for the upcoming semester that does not include any time in classrooms. Other districts have pledged to reveal their plans for the new school year in the coming days and weeks, with many weighing various hybrid plans that would allow for some in-person classroom instruction. New York City Mayor Bill de Blasio has said that the city's public school system — the nation's largest — will partially reopen, with one to three days of in-person class time balanced with online instruction.
But many Republicans, led by President Donald Trump, are pushing for schools to reopen fully in the fall, citing mental health benefits, and the fact that some students rely on their schools for meals. Public health experts have voiced fears about children picking up the virus and bringing it to parents and other relatives at home.
Teachers' groups are concerned, too. This week, Florida teachers responded to a statewide order to reopen schools with a lawsuit attempting to block it.
— Sara Boboltz
COVID-19 Infection Numbers Likely 6 To 24 Times Higher Than Official Count, Study Finds — 7/21/20, 4:30 p.m. ET
A new study published online in JAMA suggests that the true U.S. infection rate for coronavirus is six to 24 times higher than the official count.
The findings are based on study of the prevalence of antibodies for the virus that causes COVID-19, collected from 16,025 people across 10 nationwide testing sites from late March through early May. While some antibody tests have been criticized as inconsistent, the researchers note the test they relied on returns an accurate result 96% of the time.
The tests revealed that most people hadn't been infected, but they also found the infections were "much greater than the number of reported cases in all sites," the study authors wrote. "For most sites, it is likely that greater than 10 times more [infections] occurred than the number of reported COVID-19 cases."
The researchers suggested the disparity may be due to people with mild or no symptoms failing to seek out testing or receive medical care, thereby spreading the virus further.
— Ryan Grenoble
Europe's Landmark Rescue Plan Counters Far-Right Threat — 7/21/20, 7 a.m. ET

After almost five days of intense negotiations, European Union leaders emerged in the early hours of Tuesday morning with a historic deal on a massive stimulus plan designed to rescue their coronavirus-hit economies.
The size of the 750 billion euro ($857 billion) recovery fund acknowledges the fact that, as a result of the pandemic, which has killed more than 100,000 people across the continent, Europe is facing its worst economic downturn since World War II. 
In a larger sense, however, it also represents a major victory for the idea of a united Europe in the face of rising eurosceptic, nationalist and protectionist forces that have looked to capitalize on Britain's protracted departure from the EU.
"We did it! Europe is strong. Europe is united!" European Council President Charles Michel said at a dawn press conference in Brussels on Tuesday.
Under the terms of the deal, 390 billion euros will be made available in the form of grants to countries most in need of economic stimulus. The other 360 billion euros will take the form of loans to countries that apply for them. Poland would be a top beneficiary of the recovery package, receiving tens of billions of euros in grants and loans, along with southern European countries like Italy and Spain that have borne the brunt of the pandemic in Europe.
Nationalist figures, including Geert Wilders in the Netherlands and Marine Le Pen in France, expressed outrage at the final deal. 
— Sasha Belenky
L.A. County Reports Another Record-Breaking Day For COVID-19 Hospitalizations — 7/21/20, 6:30 a.m. ET
L.A. County reported Monday its highest single-day number of people hospitalized due to the coronavirus, as Mayor Eric Garcetti warned over the weekend that the city is in danger of fully shutting down again, the Los Angeles Times reported.
Monday was the sixth consecutive day that hospitalizations surpassed 2,100 a day, with 2,232. Of those currently in hospital, 26% are in intensive care.
Public Health Director Barbara Ferrer said Monday that 63 health-care workers have died from COVID-19 and 49% of those were nurses.
Ferrer also said that contact tracing was proving difficult, with only 57% of people contacted providing information on their close contacts and employers. "We are limited in our ability to force people to share important information," Ferrer said. Read more
— Liza Hearon
Florida Teachers Union Sues State Over Reopening Plans ― 7/20/2020, 4:15 p.m. ET
The Florida Education Association, a union representing the state's teachers, on Monday filed a lawsuit against state officials, saying plans to resume in-person instruction next month would put both students and educators at risk of contracting COVID-19.
"The governor needs to accept the reality of the situation here in Florida, where the virus is surging out of control," FEA President Fedrick Ingram said in a statement. "He needs to accept the evolving science. It now appears that kids 10 and older may pass along the coronavirus as easily as adults. Everyone wants schools to reopen, but we don't want to begin in-person teaching, face an explosion of cases and sickness, then be forced to return to distance learning."
Florida Gov. Ron DeSantis (R) issued an emergency order earlier this month for schools to reopen for the upcoming school year.
The state has one of the worst coronavirus outbreaks in the country after reopening most of its economy without flattening the curve. As of last week, it had more COVID-19 cases than most nations in the world.
Other teachers unions across the country are also gearing up to stop hasty reopening plans. In Ohio on Monday, the Columbus Education Association issued a letter signed by two-thirds of the district's teachers calling on officials to support distance learning instead of rushing students back to the classroom.
― Lydia O'Connor
First Child In Minnesota Dies Of Coronavirus — 7/20/20, 2:40 p.m. ET
Minnesota's health department reported that a child has died from coronavirus, the first in the state.
The child's death was one of four deaths reported by the state on Monday. The other two cases were two people in their 60s, and a third person was in their 90s.
The state doesn't report on specific ages of COVID-19 patients, but the child was identified to be between 0 to 5 years old. This is the youngest death linked to the virus and the state's first death of a person under 20 years old.
Minnesota reported 922 new cases of the virus in the state, bringing the total number of positive cases to 47,107.
― Carla Russo
Chicago Reinstates Some Restrictions Amid Rise In Cases — 7/20/20, 12:10 p.m. ET
Chicago Mayor Lori Lightfoot on Monday announced the "re-tightening" of some coronavirus restrictions amid a recent rise in daily new cases.
Beginning Friday, many bars and breweries will no longer be able to serve alcohol indoors, restaurants must limit table occupancy to six people, all indoor fitness classes must limit attendance to 10 people, and personal services requiring the removal of face coverings ― such as facials or shaves ― will not be permitted.
"We have made so much progress here in Chicago in containing the spread of the virus, protecting our health system and saving lives, and in general, the virus remains under control locally. But we are again seeing a steady increase in new cases," Lightfoot said in a statement. "While we aren't near the peak of the pandemic from earlier this year, none of us wants to go back there, and we feel these restrictions will help limit further community spread."
Chicago Health Commissioner Allison Arwady warned last week that new restrictions were possible if the city exceeded 200 cases per day on a seven-day rolling average. As of Sunday, that number was 233. Chicago's positivity rate has also increased recently after weeks of decline.
Lightfoot's office attributed the increase in new cases, largely seen among people ages 18 to 29, to an increase in interactions at bars, restaurants and parks.
― Hayley Miller
U.K. Coronavirus Vaccine 'Safe' And Showing 'Promising Results,' Study Finds ― 7/20/20, 10:40 a.m. ET
A potential coronavirus vaccine being developed in the U.K. has shown "promising" early results, researchers reported Monday.
The experimental vaccine developed by the University of Oxford and pharmaceutical giant AstraZeneca is "safe, causes few side effects, and induces strong immune responses," according to the results of vaccine trials published Monday in The Lancet, a peer-reviewed medical journal.
The vaccine candidate, called ChAdOx1 nCoV-19, is one of more than 100 being developed globally. Of those candidates, 26 are in human trials, according to The New York Times.
― Nina Golgowski
Bahamas Bars Flights From U.S. Over Coronavirus Concerns — 7/20/20, 8:45 a.m. ET
The Bahamas announced Sunday that it will no longer permit flights from the U.S. to enter beginning Wednesday, due to coronavirus concerns.
Prime Minister Hubert Minnis, speaking in a national address, stressed that the Bahamas has seen a rise in cases since it largely reopened to international travel on July 1. All of its progress fighting the outbreak can be reversed, he warned, "because of how citizens and residents within countries are following or ignoring health guidelines."
The U.S., particularly Florida, makes up a significant portion of the islands' tourism industry.
"We are in a marathon, not a sprint. This is a marathon demanding discipline, endurance, demanding resilience and requiring determination," Minnis said. "Our current situation demands decisive action, if we are to avoid being overrun and defeated by this virus."
Commercial flights from Canada, the United Kingdom and the European Union may still fly into the Bahamas, but passengers must provide proof they tested negative for the virus at least 10 days ahead of their arrival.
— Nina Golgowski
Critical Talks Over European Recovery Plan Enter Fourth Day — 7/20/20, 8 a.m. ET
European leaders are yet to reach an agreement on a recovery plan to revive their COVID-hit economies after three days of heated talks.
On the table is a 1.8 trillion euro ($2.06 trillion) package for the European Union's next long-term budget and coronavirus recovery fund.
HuffPost's European editions report that a group of so-called "frugal" wealthy north European states, led by Dutch Prime Minister Mark Rutte, are pushing for a smaller recovery fund and sought to limit how payouts are split between grants and repayable loans.
HuffPost France writes (in French) that French president Emmanuel Macron "punched his fist on the table" in frustration at the position of the northern states.

Italian Prime Minister Giuseppe Conte accused the Netherlands and its allies — Austria, Sweden, Denmark and Finland — of "blackmail."
HuffPost Italy reports (in Italian) that Macron accused Rutte of behaving like former U.K. prime minister David Cameron when negotiating the Brexit referendum. "That strategy ended badly," Macron pointed out.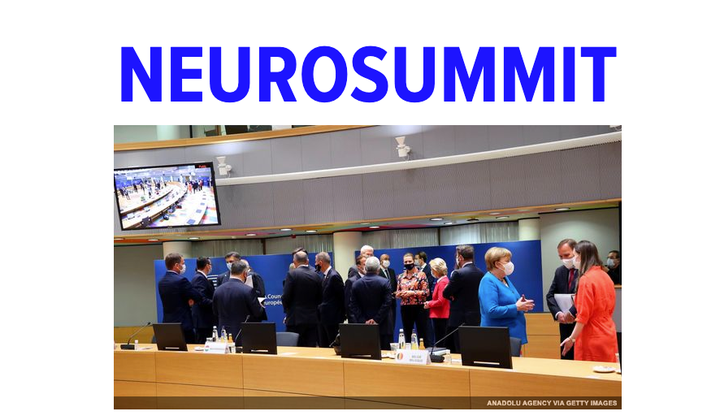 HuffPost Spain leads (in Spanish) on Spanish Prime Minister Pedro Sánchez rejecting the demand of the "frugal" countries for more cuts to direct aid from the recovery fund.

The meeting has been adjourned until 4 p.m. CET (10 a.m ET).
People in Melbourne, Australia, must now wear masks when leaving their homes as the state of Victoria marked two weeks of triple-digit increases in new coronavirus infections on Sunday.
Victoria, which has forced nearly 5 million people into a partial six-week lockdown on July 9, reported 363 new cases of the coronavirus on Sunday, after 217 cases the previous day.
"We're going to be wearing masks in Victoria and potentially in other parts of the country for a very long time," said Victoria Premier Daniel Andrews.
"There's no vaccine to this wildly infectious virus," he said. Masks are "a simple thing, but it's about changing habits, it's about becoming a simple part of your routine."
Melbournians not wearing face coverings will be fined $200. Australia has recorded about 11,800 coronavirus cases, a fraction of what has been seen in other countries or even some U.S. states, but an outbreak of community transmission in Victoria has been growing, prompting authorities to impose stricter social distancing measures.
Three deaths from the COVID-19 disease were reported in Victoria on Sunday, bringing the total to 38 and raising Australia's death toll to 122.
Victoria became the first state in Australia, a country of a loose federal system, to require masks for part of its population. 
For more updates on the pandemic, go here.
A HuffPost Guide To Coronavirus
Calling all HuffPost superfans!
Sign up for membership to become a founding member and help shape HuffPost's next chapter