More than 2.9 million cases of the virus have been confirmed worldwide, and more than 206,000 people have died from it, according to data compiled by Johns Hopkins University. Efforts to curb the outbreak have led to the global disruption of daily life and the economy, as schools and workplaces shutter in hopes of slowing transmission.
HuffPost reporters around the world are tracking the pandemic and the measures being taken to flatten the curve of transmission.
Read the latest updates on the coronavirus pandemic below. (To see the latest updates, you may need to refresh the page. All times are Eastern. For earlier updates on the pandemic, go here.)
Boris Johnson Returns To Work After COVID-19 Battle — 4/27/2020; 4:43 a.m. ET
U.K. Prime Minister Boris Johnson has returned to work after recovering from COVID-19, HuffPost UK reports.
Speaking at 10 Downing Street on Monday, Johnson, who spent three days in intensive care earlier this month battling the virus, said the U.K. was "beginning to turn the tide" against the virus but warned it was too early to lift the country's lockdown.
This is not the time "to go easy" on social distancing, Johnson said, as it would "throw away all the effort and sacrifice of the British people" and risk another wave of illness. 
— Dominique Mosbergen
New Zealand Eases Restrictions As New COVID-19 Cases Fall Below 1% — 4/27/2020; 4:30 a.m. ET
New Zealand, which has been under one of the strictest national lockdowns amid the coronavirus pandemic, said it will start easing some restrictions this week as the daily rate of new cases has slowed to below 1%. 
Around 400,000 people are expected to return to work after the country lifts restrictions at midnight on Monday, Reuters reported. Some outdoor activities like fishing and surfing will be allowed, and parliament and courts are preparing to reopen. Many restrictions will remain, however. Public gatherings are still banned, and shops and restaurants will remain closed.
Prime Minister Jacinda Ardern has warned the fight against the virus is very much still ongoing."It can't be return to pre COVID-19 life," she said. "That day will come, but it's not here yet." 
— Dominique Mosbergen
USNS Comfort Discharges Last Patient, Prepares To Leave NYC — 4/27/2020; 12:46 a.m. ET
Naval hospital ship USNS Comfort, which treated more than 180 COVID-19 patients over a four-week period, will soon be leaving New York City's harbor.
The ship discharged its last patient on Sunday, ABC News reported. The vessel — a fully-functioning hospital with 70 ventilators — will soon head back to its homeport in Norfolk, Virginia, to prepare for its next mission.
There has been no indication that the ship will be used elsewhere to treat coronavirus patients.
— Dominique Mosbergen
Gov. Cuomo Announces Phased Plan To Reopen New York As Death Rate Slows — 4/26/20, 7 p.m. ET
New York Gov. Andrew Cuomo said that he plans to reopen parts of the state in coordinated phases, likely beginning with the construction and manufacturing industries.
New York is currently under a strict stay-at-home order until at least May 15. After that date, Cuomo said regions of the state that have seen the CDC-recommended 14-day decline in hospitalizations could start to open in some areas of the construction and manufacturing sectors.
The state government will monitor the effects of the first phase of reopening the economy for at least two weeks, which will include the hospitalization rate, the infection rate, the number of positive antibody tests and the overall public health impact. After that, Cuomo said the second phase will be based on how "essential" businesses' services are and how they are able to operate while maintaining social distancing guidelines for customers and employees.
The governor stressed that New York City and the surrounding region will be the most "problematic" to reopen, but that the state will work specifically to make sure the area's transportation systems, schools, beaches and parks all follow the same guidelines. The effort will hopefully also be in coordination with neighboring states.
On Sunday, New York's statewide hospitalizations dropped to 12,839 — the first time since March 31 that the number has been fewer than 13,000. The state reported 367 COVID-19 deaths in the past day, down from 437 the previous day.
— Sanjana Karanth
FDA Has 'All But Given Up' Oversight On Antibody Testing, Top Health Expert Says ― 4/26/20, 12:30 p.m. ET
The U.S. Food and Drug Administration has "all but given up" its oversight responsibility on coronavirus antibody tests, one the country's top infectious disease experts said Sunday.
"We have the Wild Wild West for testing right now," Dr. Michael Osterholm, the director of the Center for Infectious Disease Research and Policy at the University of Minnesota, told NBC's "Meet The Press."
"The FDA has all but given up its oversight responsibility for the tests we have on the market," he added. "Many of them are nothing short of a disaster."
On Friday, the House Subcommittee on Economic and Consumer Policy released preliminary findings that showed "wide gaps" in the Trump administration's handling of serological testing, also known as antibody testing.
"FDA did not review any coronavirus 'rapid' antibody test kits before they went on the market, and a lack of enforcement by FDA has allowed manufacturers to make fraudulent claims about their efficacy," according to the panel's findings.
During a White House briefing later Friday, FDA Commissioner Stephen Hahn said President Trump asked his agency to "cut down as many barriers as we possibly could to get medical products out the medical community." Asked about the subcommittee's concerns, Hahn told reporters that their policy provides "a flexibility" to manufacturers.
"They have to validate their tests, they have to tell us that they validated their tests, and in the package insert they have to let people know ... those tests are not authorized by FDA," Hahn said. "We've authorized four. As I mention, more in the pipeline."
― Hayley Miller
Birx: 'Social Distancing Will Be With Us Through The Summer' ― 4/26/20, 11:10 a.m. ET
Dr. Deborah Birx, a leading infectious disease expert on the White House's coronavirus task force, warned Sunday that social distancing will be a necessary practice through the summer.
She was asked during an appearance on NBC's "Meet The Press" whether Vice President Mike Pence's prediction Friday that the coronavirus epidemic will be largely "behind us" is realistic.
"It gives us great hope when you project out Boston and Chicago and certainly the New York metro, which we're all still very focused on," Birx said. "We continue to watch this very closely but that's where the projections take us."
She added, however, that "social distancing will be with us through the summer to really ensure that we protect one another as we move through these phases."
Worldwide Death Toll Surpasses 200,000 ― 4/26/20, 8:35 a.m. ET
There have now been at least 200,000 deaths linked to the coronavirus worldwide, according to data compiled by Johns Hopkins University.
The death toll hit 100,000 several weeks earlier on April 10, nearly four months after the first documented case in China. Roughly one-quarter ― or about 50,000 ― of known deaths worldwide have occurred in the United States.
― Hayley Miller
No Coronavirus Task Force Update On White House's Saturday Schedule — 4/23/20, 9:49 p.m. ET
There is no coronavirus task force briefing on the White House schedule for Saturday. The schedule was published late Friday night.
Earlier Friday, Trump abruptly walked out of the task force briefing without taking questions. He was facing criticism over his comment one day earlier that injecting disinfectants into people could be studied as a "cure" for the virus.
Axios also reported Friday that Trump was planning to cut back on the daily updates.
— Carla H. Russo
The Largest U.S. Movie Theater Chain Says It Won't Reopen Until At Least The Summer — 4/24/20, 4:45 p.m.
Although governors in several U.S. states have started to allow movie theaters to resume operations against the recommendations of public health experts, AMC Theatres, the largest movie theater chain in the U.S., won't reopen its locations until at least this summer.
"As we plan our reopening, the health and safety of our guests and associates is our absolute highest priority," the company said Friday in a statement. "To be able to open, we also need a line of sight into a regular schedule of new theatrical blockbusters that get people truly excited about returning to their favorite movie theaters."
The earliest major releases currently on the calendar are Christopher Nolan's "Tenet," scheduled for July 17, and Disney's live-action remake of "Mulan," now scheduled for July 24 after being moved from its original March opening.
AMC said it expects to allow moviegoers to return "in the weeks ahead of these new blockbusters" and is figuring out how to do so "in an environment that's safe and welcoming," as the COVID-19 crisis makes the prospect of public events and gatherings unlikely for the foreseeable future.
— Marina Fang
Trump Claims He Was 'Sarcastically' Pitching Disinfectant As COVID-19 Cure ― 4/24/20, 3:50 p.m. ET 
President Donald Trump told reporters that he was only testing the media when he suggested injecting people with disinfectant to fight off the coronavirus.
"I was asking a question sarcastically to reporters like you just to see what would happen," he said early Friday afternoon, shortly after the coronavirus death toll in the U.S. surpassed 50,000. Trump did not appear to be joking when he pondered the idea at Thursday's press briefing.
― Lydia O'Connor
Advocates Collect Nearly 1,500 Reported Incidents Of Anti-Asian Racism In The U.S. Over The Past Month — 4/24/20, 3:05 p.m.
A group of Asian American organizations documenting the surge of racist incidents related to the COVID-19 pandemic received 1,497 reports of anti-Asian harassment and discrimination over the past month, the organizations said in a report released Friday.
In mid-March, the Asian Pacific Policy and Planning Council, the group Chinese for Affirmative Action and the Asian American Studies Department at San Francisco State University launched the project STOP AAPI HATE. They created a form for Asian Americans and Pacific Islanders to report incidents of racism related to the coronavirus.
In the first four weeks, they collected 1,497 incidents from respondents in 45 states and Washington, D.C. People said they were called racial slurs, spat on, denied service and physically assaulted. About 58% of the reported incidents took place in California and New York, which both have large Asian American populations.
There have been mounting reports of racist attacks against people of Asian descent since late January, when the coronavirus outbreak swelled in China and began to spread globally. Growing fears over COVID-19 led to increased stigma and bigotry against Asian Americans, who have long faced racist stereotypes involving disease, including being described as a "yellow peril" in the 1800s.
The national data reflects similar trends from local and regional leaders. Earlier this week, officials for New York City's Commission on Human Rights said they've seen skyrocketing levels of anti-Asian harassment and discrimination, with 105 reported incidents since February, compared to just five during the same period last year.
― Marina Fang
U.S. Coronavirus Death Toll Tops 50,000 ― 4/24/20, 11:15 a.m. ET
The coronavirus crisis in the U.S. passed another bleak milestone Friday, when Johns Hopkins counted 50,031 deaths due to the virus.
As of late morning, the country has recorded 879,468 cases of COVID-19, with around one-third of those coming from New York state.
But even with the crisis raging on, many states have begun to announce plans to reopen parts of their economies. Georgia Gov. Brian Kemp (R) is allowing hair salons, barbers, bowling alleys and other select businesses to open their doors Friday, with restaurants and movie theaters permitted to reopen Monday ― a move that critics have called dangerous to public health.
Experts agree that widespread testing is key to returning to a "new normal." Dr. Anthony Fauci, the nation's top infectious disease expert, said Thursday that he is "not overly confident" that current testing ability is enough to start resuming ordinary life.
― Sara Boboltz
FDA Warns Against Using Hydroxychloroquine To Treat Coronavirus ― 4/23/20, 10:30 a.m. ET
The Food and Drug Administration has cautioned against using hydroxychloroquine to treat COVID-19.
The FDA said it was aware "of reports of serious heart rhythm problems in patients with COVID-19 treated with hydroxychloroquine or chloroquine."
President Donald Trump and Fox News hosts have for weeks touted hydroxychloroquine as a way to beat the disease, but preliminary results of a study found it had little effect on recovering coronavirus patients. Trump reportedly owns a stake in a company that produces the drug. 
— Sebastian Murdock
Michigan Extends Lockdown To May 15 But Loosens Leisure Restrictions — 4/24/20, 10:20 a.m. ET
Michigan Gov. Gretchen Whitmer (D) has extended the state's stay-at-home order through May 15, local news outlets reported.
However, restrictions on outdoor activities such as golfing and boating will be loosened. Certain businesses that can implement social distancing rules relatively easily — including landscapers, plant nurseries and bike repair shops — can also resume operations.
Whitmer's last lockdown order triggered a small wave of protests in and around Lansing. Over the last two weeks, people have gathered in person ― without observing social distancing ― and in their cars, creating a gridlock that appeared to slow down some medical services.
Michigan currently has the seventh-highest number of COVID-19 cases in the country. Nearly 3,000 people have died of the illness in the state, largely in the Detroit area.
— Sara Boboltz
Lysol Maker Warns People Not To Ingest Disinfectants After Trump Remarks — 4/24/20, 6:35 a.m. ET
Reckitt Benckiser (RB), the company that manufactures Lysol and Dettol brands, issued a statement Friday morning warning that their products shouldn't be ingested into the body through any route. It didn't mention Trump by name.
"Due to recent speculation and social media activity, RB has been asked whether internal administration of disinfectants may be appropriate for investigation or use as a treatment for coronavirus," the company said.
"As a global leader in health and hygiene products, we must be clear that under no circumstance should our disinfectant products be administered into the human body through injection, ingestion or any other route."
— Chris York
UK's COVID-19 Website Runs Out Of Tests, Shuts Within Minutes — 4/24/20, 6:10 a.m. ET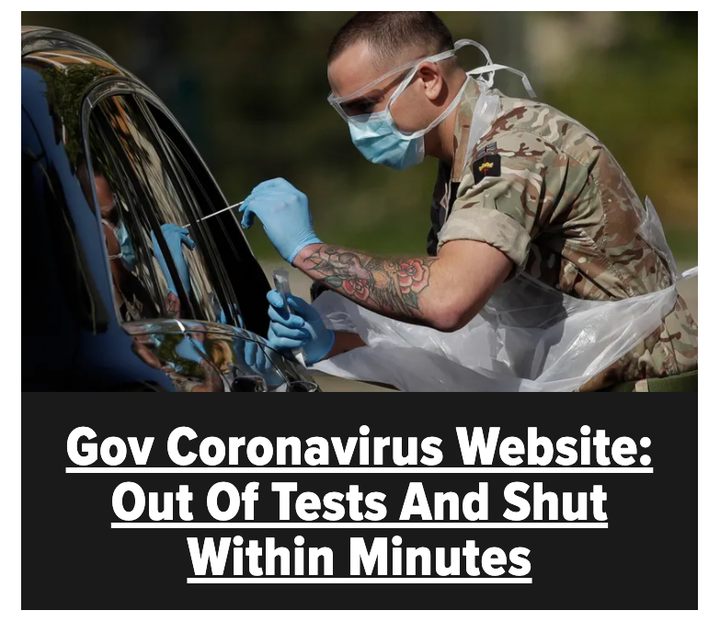 The U.K.'s much-lauded coronavirus testing program for essential workers ran out of capacity and had to be "closed" within minutes of opening Friday morning.
Health Secretary Matt Hancock on Thursday announced he was expanding the government's testing program to include key workers and people from their households. A daily allowance of 1,000 home test kits – to be posted out to people – was to be made available as part of the push, but the gov.uk/coronavirus site ran out almost straight away.
As scores of people logged on to apply for a test, a message informed them: "Currently, only drive through tests are available." But then, just minutes later, it appeared that nobody was able to book a test at all, as the site told them: "Coronavirus test: applications closed." Hancock admitted this morning that the government had only finished coding the website yesterday. Read more
— Rachel Wearmouth
Brazil Records Highest 24 Hour Death Toll As Total Cases Near 50,000 — 4/24/20, 5:50 a.m. ET


 Brazil on Thursday confirmed 407 new deaths from coronavirus, the country's highest day-to-day increase so far. HuffPost Brazil reports (in Portuguese) total deaths in Brazil have now reached 3,313, with total confirmed cases totaling 49,492.
Sao Paulo Mayor Bruno Covas said Thursday that "the worst is still to come" to the city, while health care systems in the cities of Manaus, Recife and Fortaleza are close to collapse.
Brazil's death toll is now 11th highest in the world, however, Brazilian President Jair Bolsonaro, who favors an unscientific approach to controlling coronavirus, has said he hopes social isolation measures in the country will end in the next few days.

Australia's chief medical officer has warned against following Donald Trump's suggestion of injecting disinfectant or ultraviolet light as a cure for coronavirus. During a press conference in Canberra on Friday, Brendan Murphy said he would "caution against the injection of disinfectants" and said they could be "toxic to people."
Trump had earlier suggested injecting people with disinfectant or light to fight off COVID-19, after a Department of Homeland Security official presented studies showing that ultraviolet rays may be effective at killing the virus on surfaces and in the air.
Australia has so far avoided the high coronavirus death toll of other countries, with only 78 deaths, largely as a result of tough restrictions on movement that have brought public life to a standstill. Read more
— Alicia Vrajlal
Trump Ponders Whether Light Or Disinfectant Injections Can 'Cure' Coronavirus — 4/23/20, 10:15 p.m. ET
President Donald Trump suggested injecting people with disinfectant or light to fight off COVID-19 after a senior Department of Homeland Security official presented studies showing that ultraviolet rays may be effective at killing the coronavirus on surfaces.
At the daily pandemic press briefing on Thursday, Bill Bryan said that experiments have shown the virus does not survive well in sunlight, warm temperatures or humidity. Trump then began proposing his own solutions.
"Suppose that we hit the body with tremendous, whether it's ultraviolet or just very powerful light, and I think you said that it hasn't been checked and you're going to test it," the president said. "Suppose you can bring the light inside the body."
"Then I see the disinfectant where it knocks it out in one minute," Trump continued. "Is there a way we can do something like that by injection inside, or almost a cleaning? ... It would be interesting to check that."
Bryan, who is the senior official performing the duties of undersecretary for science and technology at Homeland Security, had given a presentation on experiments testing how solar light affects the coronavirus on surfaces and in the air. Higher temperatures and humidity may kill the virus more quickly, he said.
He also warned that "it would be irresponsible for us to say that we feel that the summer is going to totally kill the virus. ... That's not the case."
Bryan added that these new observations about the virus's interactions with light should not be taken as a reason to ignore the guidance set by the Centers for Disease Control and Prevention.
Other health officials on the coronavirus task force were wary of Trump's suggestions about using light to kill the virus.
When Trump asked whether sunlight and heat could "cure" the virus, task force coordinator Dr. Deborah Birx said no.
"Not as a treatment," Birx told the president. "Certainly, fever is a good thing. When you have a fever, it helps your body respond. But not as ... I'm not seeing heat or light as ..."
Trump interjected, saying it would be "a great thing to look at."
Earlier this month, Dr. Anthony Fauci, the top U.S. infectious disease expert, acknowledged that warmer weather does affect other viruses, but he warned that it wasn't likely to end the pandemic. Other leading infectious disease experts, including professionals at the National Academies of Sciences, Engineering, and Medicine, gave a similar warning this month
— Carla H. Russo
For earlier updates on the pandemic, go here.
A HuffPost Guide To Coronavirus
Calling all HuffPost superfans!
Sign up for membership to become a founding member and help shape HuffPost's next chapter