Thank you for joining our Q&A with our health experts on December 17. You can view their responses here. If you did not get to leave a question or your question wasn't answered, you can email coronavirus.questions@huffpost.com. Our reporters may answer them in a future story.
As we enter the 10th month of the coronavirus pandemic in the U.S. and COVID-19 cases continue to surge, we've finally received some positive news: One vaccine has been granted emergency authorization use by the Food and Drug Administration, people have started to receive the first doses and other vaccine candidates are showing promise.
What questions do you have about the vaccine as we enter this next phase of the pandemic? Are you wondering when will they be available, or how will they be distributed? What groups will get the vaccine first? Are there any side effects? Exactly how effective will they be? Will life return to normal as more people are vaccinated?
Leave your questions in the comments here, and HuffPost medical contributor Dr. Kavita Patel and senior wellness editor Lindsay Holmes will respond to as many as they can. Check back on Dec. 17 between 1:30 and 3 p.m. ET for their answers. (If you're using a HuffPost mobile app, click on the quote icon at the bottom of your screen to see the comments.)
Note: Please avoid sharing personally identifiable health information about yourself or others in this thread, as these comments are public. And please be aware that any general advice provided here is no substitute for consulting your doctor or health care professional.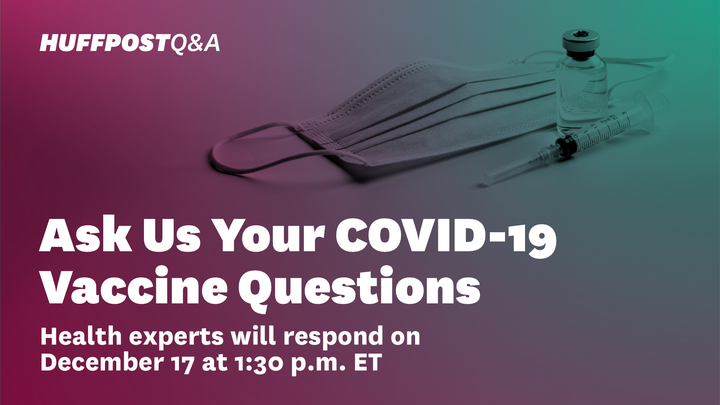 Dr. Kavita Patel is a practicing internal medicine physician in D.C. and senior scholar at the Brookings Institution working on health policy. She is also an adviser to New Enterprise Associates, one of the world's largest venture capital funds. She has worked on disaster preparedness, first in Los Angeles County, then in New Orleans after Hurricane Katrina, in the White House on swine flu and now on COVID-19.

Lindsay Holmes is the senior wellness editor at HuffPost, where she oversees the health content for HuffPost Life and writes about mental health. She was selected for a National Press Foundation mental health fellowship in 2016 and has participated in multiple panels on how mental health is covered in the media. She graduated with a degree in journalism from the University of Central Florida and lives in New York.
Related