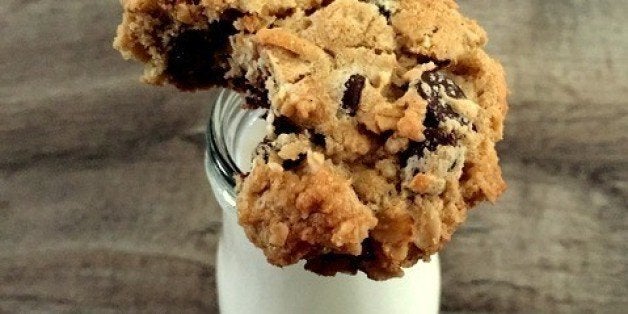 Searching for the perfect chocolate chip cookie takes time. Some say the perfect cookie doesn't even exist. It's the Yeti of the dessert world. After all, with two opposing consumer preferences (those who prefer crispy vs. those who prefer chewy) you can't please everyone. Crispy on the outside while chewy on the inside, this cowboy cookie is certainly promising. Perhaps this is the bipartisan cookie capable of bridging the gap; unifying cookie lovers everywhere as we form a circle holding hands and sing kumbaya.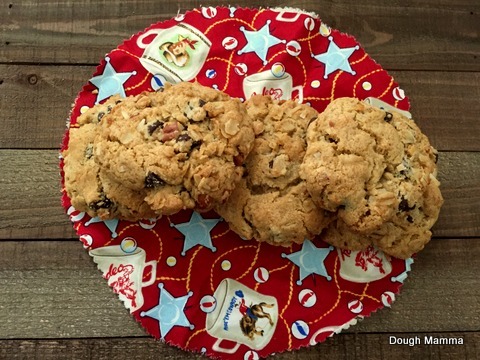 O.k., I seemed to have gotten carried away, however, this truly is a terrific tasting cookie that can stand tall with pride. Multiple textures abound: there's the flakiness of the coconut, the chewiness from the oats, the snap of the chocolate finish and of course, the outer layer of crispness from the shortening.
While searching for the origin of the "Cowboy Cookie" name, I came across some very interesting history regarding this recipe, which in fact does involve political parties. Before we get there, let me be the first to notify you, no one has any idea as to why the cookie is named "the cowboy cookie." Some speculate it's hardy enough to survive long days out west, while others claim the recipe was developed in Texas where cowboys are apparently prolific. Both theories sound good enough to me, though I will add my own bit which is, these cookie will certainly add a little "giddyup" to your side step.
This particular recipe is an adaptation of Laura Bush's "Texas Governor's Mansion Cowboy Cookie". For many decades, presidential hopefuls have been encouraged to provide family recipes to the public in an apparent attempt to appear wholesome while highlighting family values. After all, nothing portrays family values better than the image of home cooking. When Walter Mondale ran in the election of 1984 against Ronald Reagan, he published an entire family cookbook. I guess he thought he could use all the help he could get - well, we all know how that turned out.
I wonder if there are some hidden presidential recipes buried in the Smithsonian waiting to be discovered. Do the vice presidents and their spouses get to participate? I would love to see a potato souffle recipe from Dan Quayle or should I say a "potatoe souffle." For those of you too young to remember Dan Quayle, please take a moment to click on these highlighted YouTube links and familiarize yourself with our proud American history.
In 1992, Family Circle magazine decided they wanted to create a legacy in which the wives of presidential hopefuls would submit their favorite cookie recipe, while the readers at home would then bake and vote on those entries. The first ladies to "bake-off" were Hillary Clinton vs. Barbara Bush. Eight years later, Laura Bush's "Texas Governor's Mansion Cowboy Cookies" beat out Tipper Gore's ginger snaps by a landslide. Interestingly enough, this bake-off contest has unintentionally yet ultimately predicted the winners of the presidential election. There has been only one exception which was in 2008 when Cindy McCain's butterscotch oatmeal cookies beat out Michelle Obama's orange shortbread cookies.
It will be interesting to see if Family Circle will be making the same request of Bill Clinton next year; a fiery feminist debate will surely ensue if not. After all, these highly educated women have better things to do than submit a cookie recipe but if they make Bill do it, all will be equal in my world.
These delectable cookies are very easy to make and keep well. I have noticed cookies that contain shortening tend to soften up when stored at room temperature, so I store mine in the refrigerator as I am one who identifies with the crispy side of the cookie debate.
Time to saddle up to your oven, kick up your boots and start baking folks.
Title: Cowboy Cookies, Yeehaw
Author: Adapted from the Food Network
Prep time: 25 mins
Cook time: 10 mins
Total time: 35 mins
Serves: 24
Notes: If you want to keep these crispy, store in the refrigerator. This recipe can also be halved.
Ingredients
1 cup shortening (I use Spectrum Organic)
1 cup granulated sugar
1 cup brown sugar
2 eggs
1 teaspoon vanilla extract
2 (10oz) cups all-purpose flour
1 teaspoon baking soda
½ teaspoon salt
½ teaspoon baking powder
2 cups rolled oats
½ cup chopped pecans (lightly toasted)
1 (6-ounce) package semi-sweet chocolate chips
½ cup unsweetened shredded coconut
Instructions
Preheat oven to 350 degrees F.
In a large bowl, with an electric mixer, cream the shortening, granulated sugar, and brown sugar.
Add eggs and the vanilla and beat until well blended.
Stir in the flour, baking soda, salt, and baking powder. Add oats, nuts, chocolate chips and coconut, mix until combined.
Spoon cookie mixture onto greased foil lined cookie sheet. Bake for 8 to 10 minutes.
Transfer the cookies to a wire rack to cool.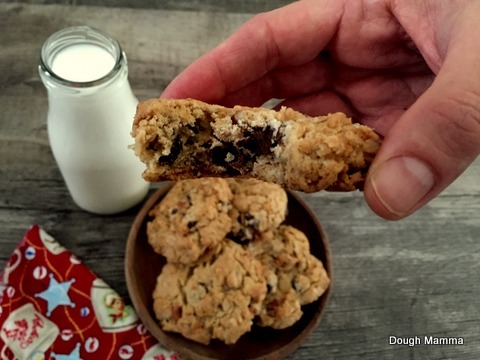 Related