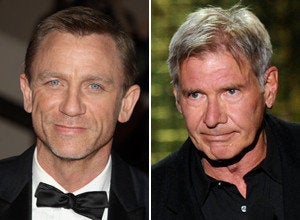 "It's cool to see characters who would have been shooting at each other a few days before, suddenly forced to try to survive together."
So says Ron Howard, one of three Hollywood heavyweights behind the upcoming western sci-fi epic, "Cowboys & Aliens." The two characters in question are Jake Lonergan, played by Daniel Craig, and Colonel Woodrow Dolarhyde, played by Harrison Ford -- they're initially rivals as Lonergan finds himself in the frontier town Dolarhyde runs with an iron fist, with no idea how he got there.
As the town is besieged by alien invaders, however, the two are forced to work together, if very begrudgingly. After all, how can two action icons truly co-exist? As director Jon Favreau says, Craig is a wildly smart and talented actor, while Ford is his generation's John Wayne.
Who will take lead and save the day? Moviegoers will find out July 29th when the film opens, but that question is only really a segue into a more in depth examination of the two stars' places in Hollywood, past and present.
Ford, as Favreau pointed out, is an all-time legend; he's played two of the most iconic action heroes of all time, in Indiana Jones and Han Solo. He also punched terrorists off of his plane as President in Air Force One, making him the toughest Commander in Chief since Teddy Roosevelt. But in present days, Craig can give him a run for his money; the Englishman helped revive and transform the James Bond franchise, and is headed into his third run as 007.
Watch the featurette about the film below, and answer the poll underneath that to make your opinion heard.
WATCH
:
Popular in the Community