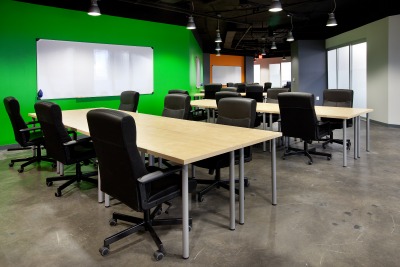 Coworking spaces in D.C. are popping up in droves. This explosion suggests that the culture of D.C. work life is shifting. We're getting less conventional and breaking away from stuffiness and tradition. This town isn't just about government, law, and lobbying anymore. We're about tech, design, art, food, and culture, and the demand for intermingling, free-flowing, high-energy workspace proves it!
Coworking is the new buzzword. Though we tend to picture coworking spaces as airy Brooklyn lofts or trendy San Francisco warehouses, an increasing number of office buildings in D.C. are now opening up to organizations promoting "liquid" office space.
The popular coworking spots in the area include UberOffices (with locations in Rosslyn, Tysons, and, as of September, Dupont Circle) as well as 1776, PunchRock, and later this fall, WeWork.
With all the growth in coworking office space, it almost comes as a surprise when anyone (under 40) works in a typical office anymore.
The thing about D.C. is that at our core we are a traditional folk. We have a reputation of pantsuits and politics to uphold. When people think "D.C.", they think government. They think Show Biz for Ugly People. They don't immediately jump to start-up hub. But maybe that's exactly what we're becoming.
Raymond Rahbar, founder and CEO of UberOffices, sees huge potential in fluid office spaces -- which is why he and his team are snatching up desirable real estate left and right. When he opened the first UberOffices location in July of 2012, he couldn't predict how popular it would become. But, when the space filled up and stayed packed on a daily basis, he knew it was time to expand. The UberOffices Tysons location is twice the size of Rosslyn and the Dupont Circle space is almost 40,000 square feet. Clearly, demand is robust.
But why the sudden interest in coworking?
One explanation: In the wake of September 11th, some of the brightest and most innovative minds were pulled into the government and government contractors for IT-focused intelligence positions. Now, these tech-savvy individuals have put down roots in the D.C. metro area. As they slowly shift away from their government contractor jobs, they're starting companies of their own.
These start-up businesses are getting a lot of attention. Senator Mark Warner stopped by the UberOffices coworking space in August to commemorate Start-up Day across the nation and talk with leading small business owners in the area. During his visit, he commented that Northern Virginia -- particularly along the Metro's Orange line -- has become the cradle of start-ups in greater Washington.

Of course one question is: why don't all these people just work from home? There are a few factors here worth considering.
First, we're all human. As humans, most of us crave some element of social interaction. Working entirely from home can be isolating and lonely.
Second, there is a certain amount of serendipity that comes from gathering in a workspace where mingling, networking, and discussion takes place. When a workforce is entirely remote, brainstorming sessions are more formal, planned out, and less spontaneous. There is value in that water cooler chitchat. Then, there is the Marisa Mayer factor -- some managers don't believe or trust that their people can or will work efficiently from home.
Of course, for many of these small businesses and start-ups, it's simply not in the budget to rent out unfurnished, formal office space and pay for utilities, office supplies, and furniture. Coworking hubs offer small businesses the chance to rent desks on a monthly basis in a pre-established workspace. Clearly, coworking is an ideal option for companies that want to keep a low overhead while encouraging the exchange of ideas and employee productivity.
Finally, it doesn't hurt that D.C. was recently named the top city in the nation for young people. It's an affordable, safe, social, environment with great food, entertainment, demographics, cultural and natural attractions, and it's easy to travel in and out of. Once the young people arrive, it's only a matter of time before a number of them eschew stuffy cubical-crammed offices in favor of more appealing options like coworking.
Young Washingtonians like myself are excited about working with companies on the cutting edge, even if that means they don't offer formal office space. It's a truly exciting time to be in the nation's capital -- even if you don't give a hoot about what's happening in the actual Capitol building.
Related
Popular in the Community