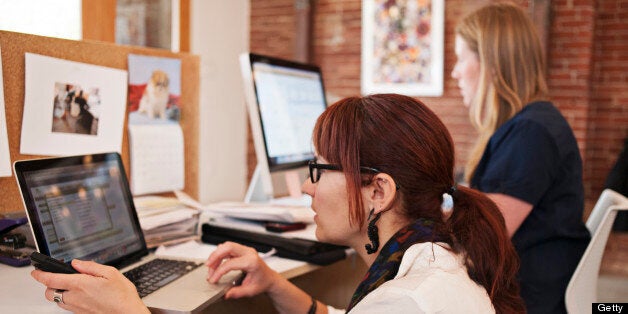 At a time when the media was full of stories about "leaning in," I took a step back. About three months ago, I decided to leave a full-time communications position and start my own PR firm. It seemed like the right decision to start my business from a home headquarters. But when I really thought about it, I worried that I would feel a void -- one created by not having interaction with co-workers after years of working with a team. So, I jumped into the co-working scene that's become increasingly popular in New York City and Brooklyn.
Co-working brought a lot of benefits with it. It fosters collaboration, which is vital for creativity. In the Soho space that I'm working out of now, there are weekly meetings where you can present what you're working on and get feedback from a group of savvy freelancers and fellow entrepreneurs. Paying for one small desk space in an open room eliminated my stress about working alone. In a room full of strangers, I still have someone to bounce ideas off of if I need to.
The flexible group environment created by co-working is helping to transform and improve the startup experience by creating a feeling of interaction and increased productivity that I haven't found when trying to follow in the footsteps of Williamsburg hipsters working out of the local coffee shop. It's affordable and risk-free (many spaces offer flexible plans with month-to-month contracts).
Clearly, it's a trend that's not just taking off in New York. Co-working actually started in San Francisco, unsurprisingly. In February 2013, Deskwanted.com released The Global Co-working Census noting that there are now 2,498 co-working spaces around the globe, compared to just 1,320 in February 2012. The freelance economy seems to be supporting the demand for co-working around the globe.
One of the other big benefits are the connections that I make while co-working, which could lead to new business opportunities or partnerships in the long run. I've met someone who needs PR help launching an app, as well as someone who creates and manages events for btob tech companies that I could partner with in the future.
Looking around at my new space, there's one thing missing. Where are my fellow female entrepreneurs? The scale seems tipped in favor of males instead of females. That could be in part due to the fact that a lot of the spaces I looked at housed freelancers in professions that tend to be male-dominated, like web developers and programmers. Based on my experience, I'd recommend co-working to fellow female entrepreneurs in the communications industry. I would love to hear about new and diversified spaces as I immerse myself in co-working environments where the excitement of launching a new business is always in the air and many cups of coffee are consumed.
As I plan an August trip to the South of France, I've found a co-working space in Nice to work from. I'll definitely be raising a glass of rosé to the new global agile workplace.