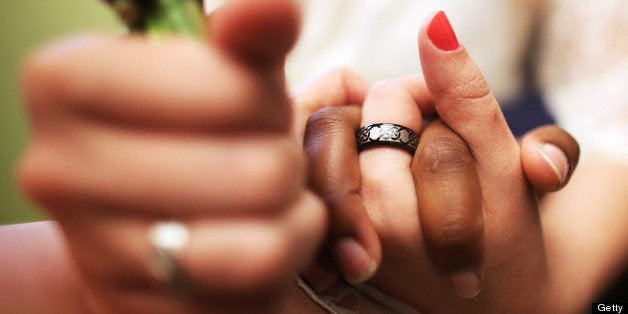 The historic Supreme Court ruling against the Defense of Marriage Act showed its colors Monday when a federal judge ruled that a lesbian widow is entitled to survivor benefits from her deceased wife's employer.
Judge C. Darnell Jones II cited United States v. Windsor, the case that struck down DOMA as unconstitutional in June, when he ruled that Philadelphia-based law firm Cozen O'Connor P.C. owed benefits to Jennifer Tobits, whose wife Sarah Ellyn Farley held a $41,000 profit-sharing plan before her death.
"Following the court's ruling, the term 'spouse' is no long unconstitutionally restricted to members of the opposite sex, but now rightfully includes those same-sex spouses in otherwise valid marriages," ruled Judge Jones.
He also ruled that federal laws "establish a floor for privately sponsored employee benefit plans with respect to spousal benefits."
"Today's holding makes clear," he continued. "That Windsor leveled the floor."
Tobits and Farley married in 2006 before Farley was diagnosed with a rare cancer. When Farley passed away four years later, her parents, who did not recognize her marriage to Tobits, sought death benefits from her employer. The company filed an action in the federal district court to determine who should receive the benefits, citing DOMA in the lawsuit.
"Today's decision is not only a victory for Jennifer and Ellyn, it is a victory for every married same-sex couple in the country," said National Center for Lesbian Rights Legal Director Shannon Minter, who represented Tobits, in an emailed statement. "No longer can employers hide behind DOMA to deny equal benefits to some employees solely because their spouse is a person of the same sex."
In Michigan, a federal judge prominently cited the Windsor decision in allowing a challenge to the state's marriage ban and its prohibition on same-sex couples jointly adopting children to go forward.

U.S. District Judge Bernard Friedman, appointed by President Ronald Reagan, quoted Kennedy in concluding that "plaintiffs are entitled to their day in court and they shall have it."

A separate case in Michigan also "might cast a large shadow over a state law limiting marriage to opposite-sex couples," Georgetown University law professor Marty Lederman wrote on scotusblog.com.
In a statement about her case, Tobits hailed the decision for recognizing the legitimacy and worth of same-sex marriage.
"I am overjoyed that the court has said my marriage to Ellyn deserves the same respect as everyone else's," said Tobits in a release. "Nothing can ever replace Ellyn, but it's a great tribute to her that the courts have rejected these challenges to our marriage and recognized our commitment to each other and the life we built together."
Calling all HuffPost superfans!
Sign up for membership to become a founding member and help shape HuffPost's next chapter
BEFORE YOU GO
PHOTO GALLERY
SCOTUS Decisions On Prop 8, Defense Of Marriage Act