 WASHINGTON -- Increasingly of late, conservative thinkers and leaders have been emphasizing a shift away from being known for what they're against and toward what they favor.
But now comes the Conservative Political Action Conference, starting Thursday in National Harbor, Md.
Year after year, CPAC has become a ritual that defies reason, common sense and strategy (if you are a conservative). Hundreds of national reporters descend en masse to observe the face of conservatism, and in response the right trots out some of its most partisan, divisive figures, along with panelists who express a common theme that because President Barack Obama is in office, the end is near. The fringe has become the face of the party, because for some reason conservatives decided to hold an annual conference near the nation's capital for some of its most hardcore activists.
This year, some of the well-known loud voices who love to court controversy are back. Wayne LaPierre of the National Rifle Association and Donald Trump both speak Thursday afternoon. Oliver North and Christine O'Donnell will be on stage at different points Saturday. Sarah Palin will give the last speech of the weekend late Saturday afternoon. In addition, CPAC has been in the news leading up to the conference for disinviting an atheist group and for not allowing a gay Republican group to sponsor the event or host a booth. And only a handful of women are scheduled to speak during the three-day event.
Despite all this, there is an obvious effort by organizers to soften the image of the conference. For example, here are a few names of people who spoke at CPAC last year, who are not scheduled to speak this year: Rep. Steve King (R-Iowa), Rep. Louie Gohmert (R-Texas), former Rep. Allen West (R-Fla.), conservative activist Brent Bozell, and former Virginia Attorney General Ken Cuccinelli.
Simply by the absence of these speakers, CPAC this year will be a less shrill event. King and Gohmert are probably the two most strident opponents of any kind of immigration reform that allows undocumented immigrants to stay in the U.S. And in addition to their lack of participation, the American Conservative Union, headed by Cuban-born lawyer and lobbyist Al Cardenas, has invited several Latino activists and leaders to take part in panels on immigration and health care.
"The entire country is moving toward the inevitability of reform," said Daniel Garza, president of the Libre Initiative, who will be a panel participant on Saturday. "You see the entire Republican leadership making overtures. One after the other at the top of the Republican party are proposing legislation or ideas, and their rhetoric speaks toward that. I'm not surprised that CPAC is trending that way as well."
The conference opening day has been stacked with GOP political figures who are advocating for a different approach to politics. Sen. Ted Cruz (R-Texas), who speaks first on Thursday morning, is something of an exception, having developed a reputation for opposing Democratis much more than for proposing his own vision of governance.
But after him comes Rep. Paul Ryan (R-Wis.), who has made poverty a focus the past year or two; Sen. Tim Scott (R-S.C.) who in a recent interview with The Huffington Post slammed the idea of fighting for corporations rather than middle-class Americans; Sen. Tom Coburn (R-Okla), who has been willing to compromise with Democrats on fiscal negotiations; New Jersey Gov. Chris Christie, whose bipartisan image has been bruised by the Bridgegate scandal, but who has drawn fire from the right for being too moderate; Louisiana Gov. Bobby Jindal, who has called on the GOP to stand up to big business; Sen. Marco Rubio (R-Fla.), once the leading champion of the Senate immigration bill; and Sen. Mike Lee (R-Utah), who has advocated for tax reform to help middle-class families.
A year ago, former Florida Gov. Jeb Bush came to CPAC and pleaded with the GOP to stop being "anti-everything," only to receive a lukewarm response. But in the past year, the party's leaders -- even those with impeccable credentials among tea party grassroots activists like Sen. Lee -- have made it clear that they agree with Bush's message.
Further, there are panels Thursday on economic inequality and on "reaching out." The latter will feature Virginia Senate candidate Ed Gillespie, who has been focused for years on recruiting minority candidates to the GOP and to putting a more welcoming face on the party, and Bob Woodson, a veteran anti-poverty activist who has been very critical of the GOP for neglecting the issue of helping the poor, and has advised Paul Ryan on how to connect with key partners in urban centers.
LaPierre and Trump won't hit the stage until all these other names have spoken, late in the program on Thursday. There will be press coverage, but not as much as if they were to speak earlier in the day.
That seems to have been by design.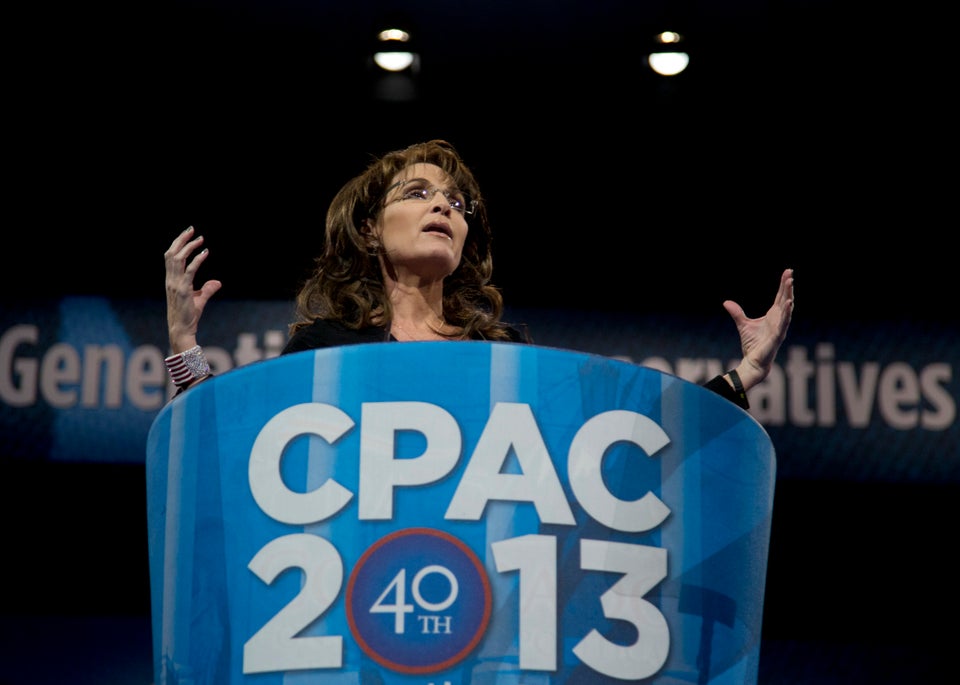 CPAC 2013 Memorable Moments