NATIONAL HARBOR, Md. -- It may be contemplating life on the outside, but the Conservative Political Action Conference remains very much in the closet.
The annual confab of activists, students, lawmakers and pundits has put forward a public face on gay rights that is increasingly at odds with the mindset and direction of the conservative movement as a whole. It's obvious to anyone who bothered to look around or ask these past two days that the Republican tent has made room for LGBT advocates, but some top conservatives, including much of the vanguard, remain loudly in denial.

At the appropriately-named Gaylord National Resort and Convention Center in National Harbor, Md., the site of this year's gathering, evidence of this division was abundant. Thursday's keynote speaker, Sen. Marco Rubio (R-Fla.), used a clever rhetorical flip to at once oppose same-sex marriage and give gay-rights groups reason to hope.
"Just because I believe that states should have the right to define marriage in a traditional way does not make me a bigot," the Florida Republican declared, in a line of logic that would have him accepting a state's right to define marriage in what he thinks of as untraditional ways, too.
Foster Friess, the Republican mega-donor who propped up the presidential campaign of the primary's most outspoken social conservative, Former Sen. Rick Santorum (R-Pa.), urged the GOP to sand down its rough edges on gay rights.

"You've got people who are gay-bashers, who forget that these are human beings that need love just like all of us need love," Friess told Buzzfeed. "We have to be sensitive to that."
In his speech on Friday, however, he defiantly declared his belief in "Chik-fil-A values" -- in praise of the socially conservative fast-food joint -- to raucous applause.
Roaming the halls outside the main ballroom, former Rep. J.D. Hayworth (R-Ariz.), who once warned that same-sex marriage would pave the way for man-horse nuptials, dinged CPAC organizers for not inviting pro-marriage equality conservative groups to participate.

"I usually think that it is better to let people in regardless of their views, and where there may be some disagreement that is fine," Hayworth told the Huffington Post. "Everybody should have a chance to come, do what they want to say and say what they want to do ... dialogue and healthy debate is a good thing."
When Sen. Rob Portman (R-Ohio) Friday morning declared his support for same-sex marriage, inspired by his son's decision to come out, the shift in momentum among conservatives was impossible to ignore.
"I'm always curious about these things. If his neighbor had a gay son or lesbian daughter, the heck with them, but his own son makes a difference?" said John Weaver, the longtime Republican strategist who has for years advised the candidates he represents to use a more moderate touch. "Still, I'm glad there is evolution."
"Will we have a candidate who [supports same-sex marriage]? Yes," he said. "Will it be in 2016? No."

The response from convention-goers to Portman's declaration helps illustrate why, as Weaver says, it will likely take more than one election cycle for Republican support of same-sex marriage to hit critical mass. Attendees were divided on whether the senator's change of heart amounted to ideological heterodoxy or a recognition of the future. As usual, the split was along generational lines.
Matt Kendzicky, a 19-year-old college sophomore from Ann Arbor, Mich., said he was neither bothered nor moved by Portman's support for same-sex marriage, since as a libertarian his belief is that government should stay out of the issue entirely.
"The way I see it is whether you support it or not, it's really a non-government matter, to be honest with you," he said. "If someone wants to be for or against it, it really doesn't bother me."
That's hardly the consensus at CPAC, however. Four-time attendee Helen Hornbake, a 71-year-old from Gettysburg, Pa., said she strongly opposes same-sex marriage and wouldn't vote for a Republican with Portman's stance.
"It bothers me a great deal ... because I think that conservative Republicans should be a reflection of what Republicans and the party stands for, and I think that gay marriage is very destructive," she said. "I think that's a betrayal of core Republican beliefs."
In the exhibit hall, attendees could pick up a booklet from the Family Research Council titled, "The Top Ten Harms of Same-Sex 'Marriage'" (#5: "Fewer people would remain monogamous and sexually faithful"; #10: "Demands for legalization of polygamy would grow"). Or they could grab a pamphlet from The Ruth Institute called, "77 Non-Religious Reasons to Support Man/Woman Marriage" (#50: "Same-sex marriage creates an entitlement to the use of artificial reproductive technology;" #60: "by the time the activists are finished, there will be nothing left of marriage but a government registry of friendships").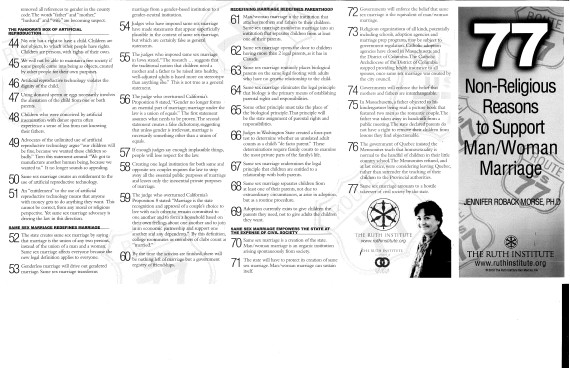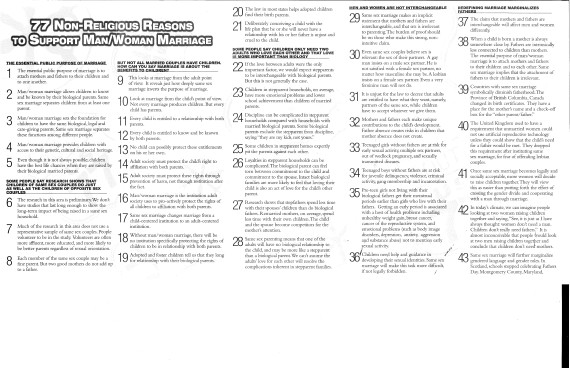 But they weren't offered any literature explaining why same-sex marriage was a constitutional right, despite the number of prominent conservatives who recently signed an amicus brief arguing just that.
An official with Family Research Council declined to comment for this piece.
CPAC did end up hosting a panel discussion on the need for tolerance within the Republican Party. Packed tight with more than 100 people, it featured GOProud Executive Director Jimmy LaSalvia and other supporters of same-sex marriage.
"We have tolerated something in our movement for far too long: anti-gay bigotry," LaSalvia declared. Even so, he made a point to not offend his philosophical counterparts.
"Let me be clear, I do not believe that just because someone opposes same-sex marriage that that automatically makes them a homophobe. Opposing gay marriage isn't in-and-of itself bigotry, I don't believe," he said to applause from the crowd. "But there are, however, a few in our movement who just don't like gay people, and in 2013 that's just not okay in America anymore."
CPAC, indeed, is still threading the needle: recognizing the mood of the times but scared stiff by the prospect of losing the social conservatives and evangelicals that make up a large part of the GOP base.
"So many people say, 'Why can't conservatives give up on abortion, why can't they give up on the gay stuff and all the rest,' and I understand where they're coming from," Jonah Goldberg, editor-at-large of the National Review, said at the panel. "But you're going to have to show me where you're going to replace those 30 million social conservatives and evangelicals who may well leave the party if you completely abandon some of those issues. ... If you do that, well then you'll have a great moral victory, but you'll go on to lose even more elections."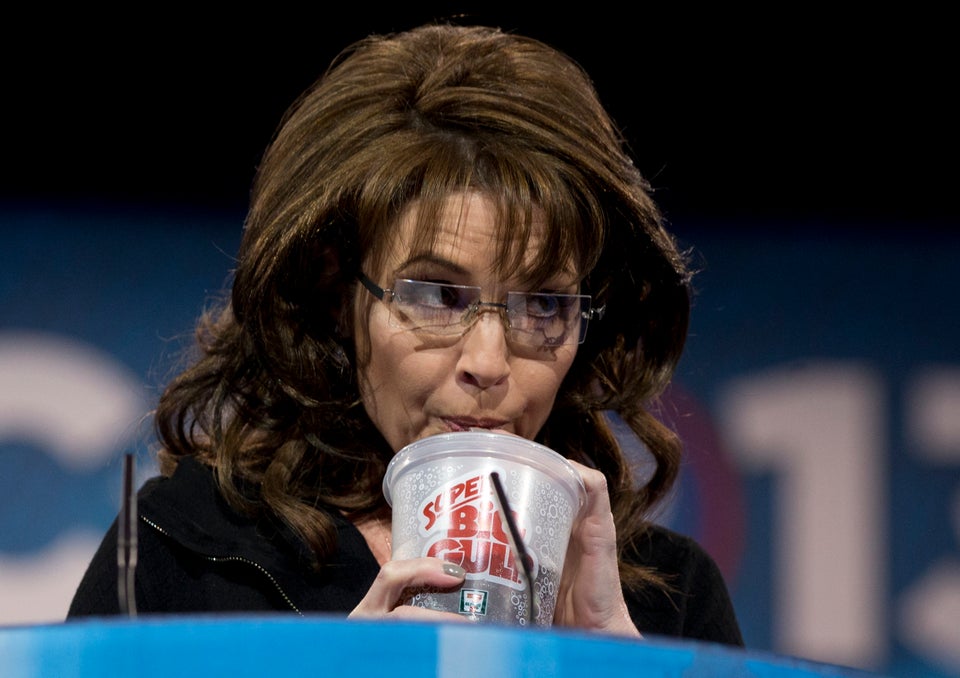 CPAC 2013
Popular in the Community