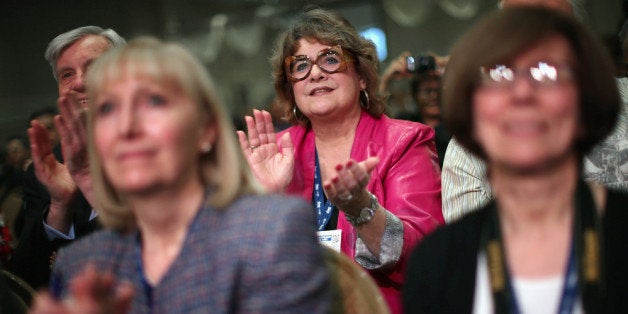 NATIONAL HARBOR, Md. -- The Conservative Political Action Conference has no problems with gay rights groups or women, according to Al Cardenas, chair of the group that hosts the annual gathering.
Cardenas, chair of conference sponsor American Conservative Union, on Friday denied both charges. On the subject of gay rights, he told reporters that reports of friction between CPAC and gay conservative leaders were false.
"We don't believe CPAC is in any trouble," Cardenas said. "As a matter of fact, we encourage conversation, we encourage debate. We believe the center core of the conservative intellectual movement … is that we're unafraid to open up conversations about any subject matter."
Members of conservative gay rights groups may feel differently. Members of GOProud were finally allowed to attend CPAC this year after years of exclusion, but were denied the opportunity to help sponsor the conference or to host a booth to distribute information. Another group, Log Cabin Republicans, said members wanted to participate in a panel discussion about reaching out to minorities and broaden the subject to the inclusion of gay conservatives. The group's request to the American Conservative Union was met with silence.
Cardenas didn't address specific requests from gay rights groups. But he said he hadn't heard of any liberal conferences hosting anti-abortion groups or speakers. CPAC represents the broader conservative belief that marriage should be between a man and a woman, he argued.
"We provide a forum for people to participate here within the parameters of our belief," Cardenas said. He added that conversations with GOProud were private, but the group agreed to keep "an ongoing conversation and dialogue."
"I think individuals, regardless of their sexual preference, are welcome to come to a conservative conference and are welcome to participate in the conservative process," Cardenas said. "We have a tradition in the movement of believing in traditional marriage, but we also believe in equal rights for all Americans in terms of our civil rights."

Cardenas was visibly annoyed when reporters raised questions about women speakers at CPAC.
"Everyone who's asked me that question, I've asked them one back: Have you physically counted the number of women from the 200-some speakers that appear on our agenda?" Cardenas said.
"I have yet to have someone ask me that question who's bothered to go down the full agenda and count the full list of women," he continued. He said that at least seven women from the American Conservative Union board were hosting and moderating CPAC panels.
While women are participating in panels, reporters pointed out that the list of featured speakers were mostly men. It was then that Carly Fiorina, chairwoman of this year's CPAC, stepped in to dispute the claim.
"I absolutely disagree," said Fiorina, the former Hewlett-Packard CEO. She said some women invited to speak at the conference had scheduling conflicts. "We're very proud of the women in this movement, and we highlight the women in this movement."
REAL LIFE. REAL NEWS. REAL VOICES.
Help us tell more of the stories that matter from voices that too often remain unheard.
BEFORE YOU GO
PHOTO GALLERY
CPAC 'All-Stars' Have A Way With Words