Hamza Al Haidari wasn't thrilled last week when he realized that the college recreation conference he was attending was in the same place as a big annual gathering of conservative activists known as the Conservative Political Action Conference.
Al Haidari came to the United States in 2008 as a refugee from Iraq, and he doesn't like President Donald Trump's policies toward immigrants and refugees. So on Wednesday, he decided to wear a T-shirt around the Gaylord National Convention Center in Maryland, where the two conferences were occurring, as a sort of silent protest. It read, "Different is not dangerous" and featured the seven flags included in Trump's refugee and travel ban.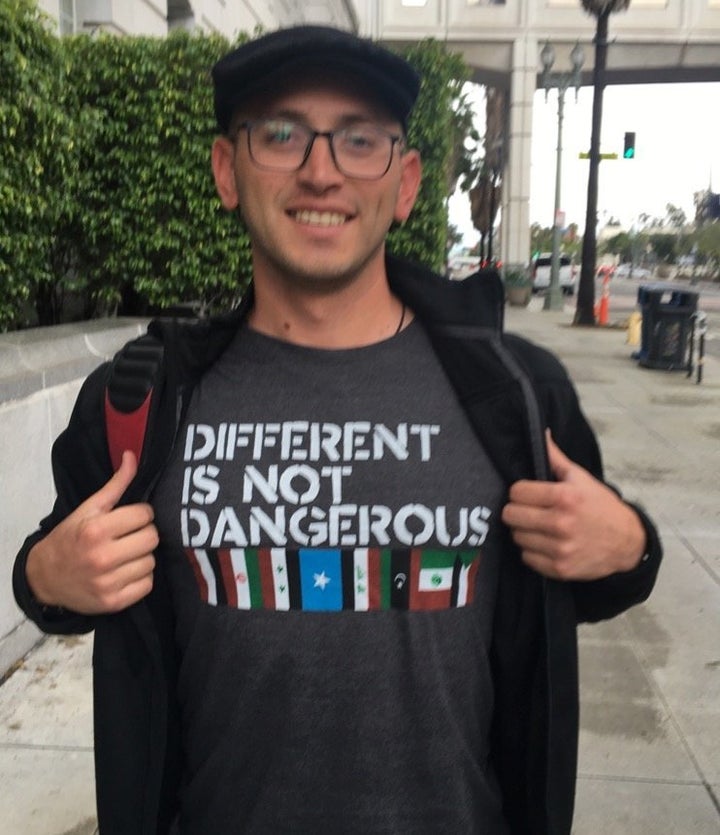 Al Haidari said he was standing in the elevator with some CPAC attendees, who then asked him where he's from. When he answered them, they replied, "We better convert you before you blow this place up."
"They were certainly very out of line," Al Haidari recounted to The Huffington Post.
Al Haidari was in town for the National Intramural-Recreational Sports Association, which was happening in the same place, right next to CPAC. There was a bit of a culture clash, attendees said, between NIRSA with its gender-neutral restrooms and CPAC.
Multiple NIRSA attendees reached out to HuffPost with stories of harassment and inappropriate behavior from CPAC activists. The situation was serious enough that a manager for the Gaylord made a surprise appearance at NIRSA's closing session and apologized for the complaints about CPAC attendees, saying the reports were out of line with the convention center's values.
The manager added that the convention center had never had a problem with CPAC attendees' behavior until this year. The Gaylord declined to comment for this piece.
Al Haidari was out later in the evening Wednesday with his friend Enrique, when they again encountered some CPAC attendees. Al Haidari said that when they saw his friend's name on his NIRSA badge, they began chanting, "Build that wall! Build that wall!"
"All in all, it was just a really strange experience. I had not seen blatant and blunt racism like that," he said.
"I don't want my incident to be about me personally," Al Haidari added. "I want to use this opportunity to shed the light on racism and how we will still need to work against it, rather than have people feel sorry for me."
Other NIRSA attendees reported witnessing homophobic incidents as well.
Andy Lemons, who was at NIRSA, said he heard men with CPAC badges joking about the NIRSA gender-neutral bathrooms, saying, "Why do those fags need their own bathrooms?"
Allie Bogard, who identifies as a lesbian, said she was called a "dyke" multiple times during the conference and was harassed at a bar by a CPAC attendee. She also said she saw a white woman with a CPAC badge ask a black woman for a menu at a restaurant. The woman, however, was not a restaurant employee but rather a NIRSA attendee.
CPAC spokesman Ian Walters said he was not aware of any incidents like these and had not heard any complaints from either the Gaylord or NIRSA.
For years, the conference had been a bastion of conservative opposition to President Barack Obama, attracting activists, students and politicians. But this year, the conference had extra weight with the appearances of both President Donald Trump and Vice President Mike Pence, as well as several top White House aides.
NIRSA Executive Director Pam Watts confirmed that there were "some interactions between NIRSA attendees and CPAC attendees that are inconsistent with NIRSA's values, in particular Equity, Diversity and Inclusion."
"NIRSA views equity, diversity, and inclusion as an essential component of inspiring healthy people and healthy communities," she added, "which is what our Association strives to do."
This piece has been updated with comment from CPAC.
Want more updates from Amanda Terkel? Sign up for her newsletter, Piping Hot Truth, here.
Popular in the Community