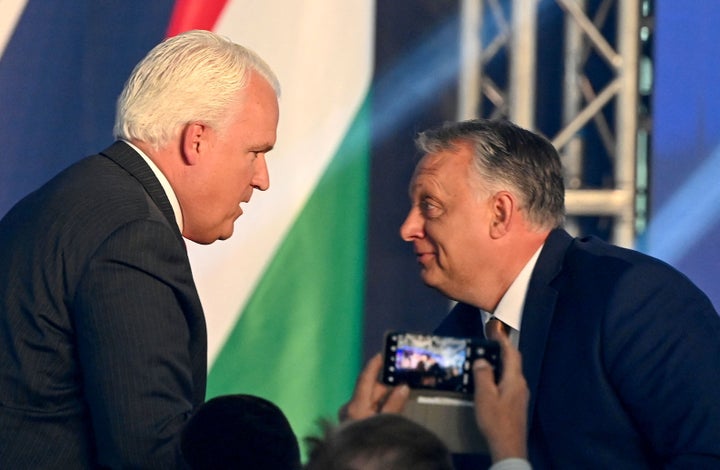 "If you're worried about this quote-unquote replacement, why don't we start ... with allowing our own people to live?" Matt Schlapp, who is white, asked U.S. media shut out of CPAC in Budapest, where he spoke on Thursday.
Scuttling Roe v. Wade is a "good start," Schlapp reportedly emphasized, referring to Supreme Court Justice Samuel Alito's draft opinion doing just that.
"If you say there is a population problem in a country, but you're killing millions of your own people every year through legalized abortion every year, if that were to be reduced, some of that problem is solved," Vice quoted Schlapp as saying.
"Underlying anti-abortion rhetoric ... is the idea that white women should be having more babies to build up the white nation," Dorothy Roberts, director of the University of Pennsylvania's Program on Race, Science and Society, told MSNBC last week. Presumably, the conspiracy theory also assumes that white women would only be having children with white men.
Hungary's authoritarian Prime Minister Viktor Orbán — who was the keynote speaker at CPAC in Budapest — referred to the "replacement theory" in an earlier speech on Monday. In an apparent nod to the extreme right in America, he said the West is "committing suicide" through immigration.
"We must coordinate the movement of our troops as we face a big test; 2024 will be a decisive year," he told the crowd.
The Hungarian leader also blasted "progressive liberals, neo-Marxists dazed by the woke dream, people financed by George Soros and promoters of open societies."
Fox News host Tucker Carlson spoke via video at CPAC on Thursday, and the Trump administration's former White House chief of staff, Mark Meadows, was also scheduled to speak remotely.
U.S. and most international journalists were barred from attending the conference, several publications and wire services reported.
Popular in the Community