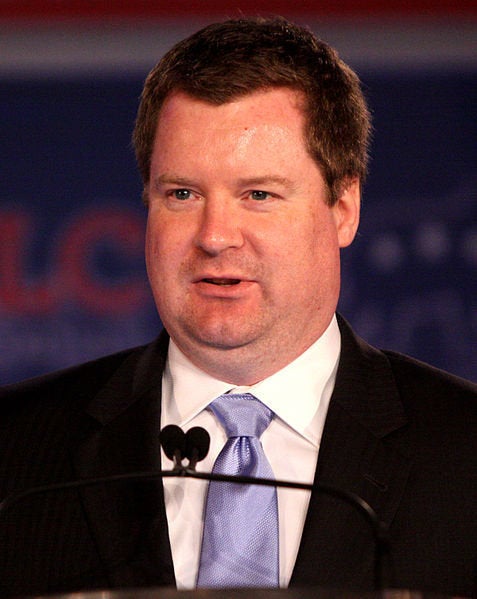 NATIONAL HARBOR, Md. -- A common, and crowd-pleasing, refrain among speakers at the Conservative Political Action Conference is that the media are out to get Republicans, unwilling to pursue scandals involving President Barack Obama and paving the way for a future President Hillary Clinton.
On Thursday, speakers from New Jersey Gov. Chris Christie (R) to NRA chief Wayne LaPierre, Senate Minority Leader Mitch McConnell (R-Ky.) and Sen. Ted Cruz (R-Texas) used "the media" to elicit laughter or cheers from the conservative faithful. In a Friday afternoon panel, several prominent conservative journalists and commentators argued that the media are treating four Obama administration scandals as, to borrow the president's word, "phony."
The packed Friday discussion, titled "Conservative Journalism: From Benghazi to the IRS -- a Layman's Guide to Covering 'Phony Scandals' New Media Style," featured RedState's Erick Erickson, Townhall's Katie Pavlich and Guy Benson, and HotAir's Mary Katharine Ham and Ed Morrissey.
Pavlich, who wrote a book on the botched gun-walking "Operation Fast and Furious," started off there, while Ham followed with the Obamacare rollout debacle. Erickson discussed the Internal Revenue Service's targeting of political nonprofit groups, and Morrissey tackled the Sept. 11, 2012, terrorist attack on the Benghazi, Libya, compound that killed four Americans, including Ambassador Christopher Stevens.
"If there are reporters in this room right now, I guarantee you, some of them are muttering under their breath, 'You wouldn't know about any of these scandals if you hadn't read about them in the papers or seen them on TV,'" Erickson said. "Yeah, that's absolutely right. The media did mention Benghazi. They did mention the IRS scandal. They did mention Fast and Furious. They did mention these things. And they mention them as quickly as they could and pass on."
Indeed, the national media have covered all four issues to varying degrees, if not to the extent these panelists -- and probably most of the CPAC attendees -- would like.
For instance, the media pounced on revelations in May 2013 that the IRS had targeted groups with the words "tea party" in their names. Coverage then fell dramatically following later revelations that liberal and Occupy-aligned groups had also faced increased scrutiny.
News outlets have also gone back to do extensive reporting on the Benghazi attack, including New York Times Cairo bureau chief David Kirkpatrick spending months on a late 2013 investigation. But Kirkpatrick found no evidence that al Qaeda was involved and claimed an inflammatory anti-Islam video helped fuel the attack, a version of events that strayed from the perspective largely found in conservative media. Several Fox News hosts and guests suggested the Times was trying to cover up for Clinton, the former secretary of state and anticipated Democratic presidential frontrunner in 2016.
The prevailing view on Friday's panel was that journalists have fallen down on the job in demanding accountability from the Obama administration and would be far tougher on a Republican president. Pavlich said that when you don't have the media "asking the question about why no one's getting fired, people don't get fired."
"If there's no sunlight to shine, which the media's supposed to do," she continued, "there's no accountability."
Regarding Benghazi, Morrissey said that "we still don't have the answers" or accountability.
"I know there are more important issues, because there was a bridge closure up here in New Jersey," Morrissey said sarcastically. "Thankfully," he added, "the media, especially MSNBC, is all over it."
Several panelists brought up the media's coverage of the scandal over the closing of lanes on the George Washington Bridge in apparent political retribution by Christie's administration.
Ham said she'd like to see the media "bring the same passion" in covering Christie to reporting on Obama. And Benson said the media have been engaged in an "absolute feeding frenzy" over "the greatest crisis of our time, which is two lanes being closed for four days in New Jersey."
While the liberal MSNBC has arguably gone overboard on Christie, the top-rated Fox News –- along with influential talk radio hosts and online conservative outlets -- has been amplifying the right's preferred scandals for years.
The CPAC audience unsurprisingly agreed with the panelists' take on scandal coverage and shared their own personal experience with media bias.
But at one point late in the 90-minute session, Morrissey suggested that not all reporters are so bad -- especially "the ones the Justice Department is spying on."
"There are good reporters out there, and you have to know that sometimes you're going to hear a good reporter tell you actual facts that may not quite square up with where you think a story's going," he said, "and you have to be open to that as well."
REAL LIFE. REAL NEWS. REAL VOICES.
Help us tell more of the stories that matter from voices that too often remain unheard.