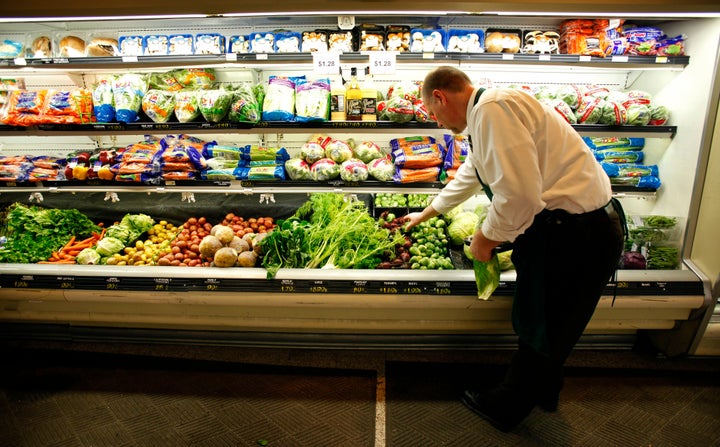 Despite American consumers being hard hit by rising gas and grocery prices, federal regulators continue to insist the country need not fear inflation.
Gas prices, which rose nearly 6 percent in March alone, are now almost 28 percent higher than they were a year ago, according to figures from the Bureau of Labor Statistics released Friday. Overall, the Consumer Price Index, a closely-watched measure of inflation, rose 0.5 percent in March, the Labor Department reported.
The Consumer Price Index tracks changes in the cost of a virtual basket of goods for consumers in cities across the country. Rising food and gas prices accounted for almost three quarters of the March CPI increase. Those findings are in line with economists' expectations.
Still, the Federal Reserve has no plans to combat inflation by raising interest rates; many economists argue that higher food and energy prices do not necessarily trigger overall price increases for goods and services.
"Prices for energy are certainly putting pressure on headline CPI," said Constance Hunter, Chief Economist at investment banking firm Aladdin Capital. "We saw this in the summer in 2008, when due to oil prices, the CPI got up 5.53 percent. But the point is it didn't stay there because we had demand destruction."
As gas prices spiked in summer 2008, Hunter noted, many Americans changed their driving habits, opting to take more public transport and start carpooling rather than pay higher prices. That caused oil demand to fall, and prices followed. Now again, there is some indication Americans are already cutting back on driving.
The strongest evidence counteracting inflationary fears, however, lies in the core inflation level, which does not include volatile food and energy prices and is widely considered to be a more accurate inflationary predictor. According to that BLS measurement, inflation only inched up 0.1 percent in March -- the smallest increase this year -- suggesting core inflation is on track to rise 1.2 percent overall in 2011.
Inflation below 2 percent normally doesn't trigger alarm at the Federal Reserve.
"The Fed tends to see through temporary increases in headline inflation that are driven by rising fuel and food costs," said Sal Guatieri, senior economist at financial services provider BMO Capital Markets. "Because the view is those costs cannot rise infinitely."
What is clear, though, is that many Americans are feeling the pinch of those rising costs anyway.
"People are still spending very cautiously," Guatieri noted. Higher gas prices buoyed just a 0.4 percent jump in retail sales in March, according to figures released by the Commerce Department on Wednesday.
Consumer spending, which makes up 70 percent of U.S. spending, has risen for nine consecutive months, jumping over 7 percent since March 2010. Sales at gas stations accounted for almost 11 percent of overall retail sales in March -- a sign March's spending increase was more a result of rising costs than increasing optimism.