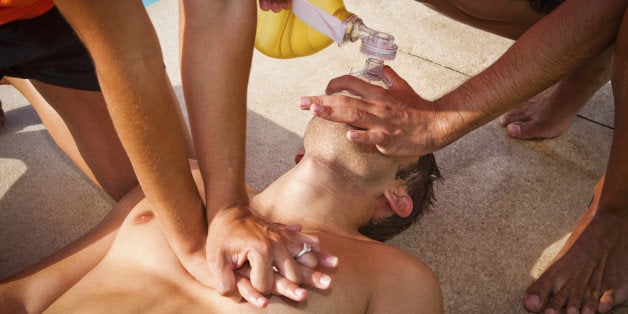 About 92 percent of the people who have sudden cardiac arrest outside of a hospital setting will die, according to data from the Centers for Disease Control and Prevention. Previous research shows that receiving chest compression and rescue breaths from a bystander before EMTs arrive can improve the odds of survival.
"Traditional methods such as mass public training, which are now used throughout the world, are important but have not shown any evidence of a similar increase," said cardiologist Jacob Hollenberg, the head of research at the Center for Resuscitation Science at Karolinska Institutet, in a statement. "The new mobile phone text-message alert system shows convincingly that new technology can be used to ensure that more people receive life-saving treatment as they wait for an ambulance."
The app is not publicly available, so this test was its first use in the real world. When someone suffered from a potential cardiac arrest and an ambulance was dispatched, the app text messaged pre-registered CPR volunteers in the near vicinity (about 550 yards) of where the first responders were headed. Because the volunteers were closer to the patient, they would often beat first responders to the scene.
Researchers recruited almost 10,000 CPR-trained volunteers to sign up for the study. Then, from April 2012 to December 2013, the CPR alert system was activated for about half of the cardiac arrest calls in Stockholm. CPR volunteers were alerted in 46 percent of cases, or 306 patients, while the control group was not alerted in the other 54 percent of cases, or 361 patients.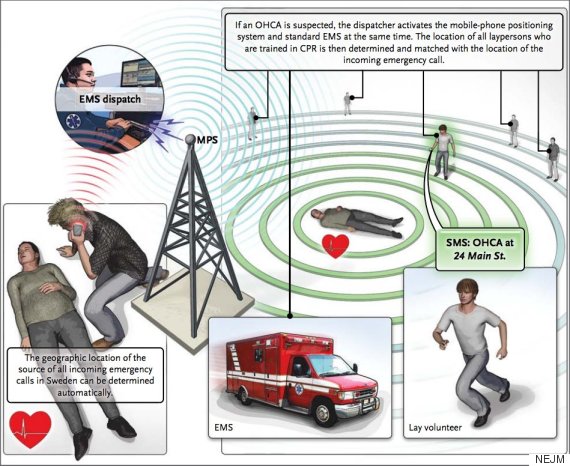 Dispatchers activated the geo-locating app for suspected out-of-hospital cardiac arrest cases. Photo via NEJM.
The researchers found that bystander CPR occurred in 62 percent of cases in which the app texted volunteers, while it happened only 48 percent of the time when the app wasn't activated.
Research published in NEJM alongside the alert system study confirmed the importance of bystander CPR. When researchers analyzed over 20 years of data on about 30,000 cardiac arrests that happened outside the hospital, they found that CPR before the arrival of first responders was linked to a more than two-fold increase for the 30-day survival rate.
"Both these studies clearly show that cardiopulmonary resuscitation is an effective, life-saving treatment, and that further encouragement must be given to respond swiftly on suspected cardiac arrest," Hollenberg concluded.
Before You Go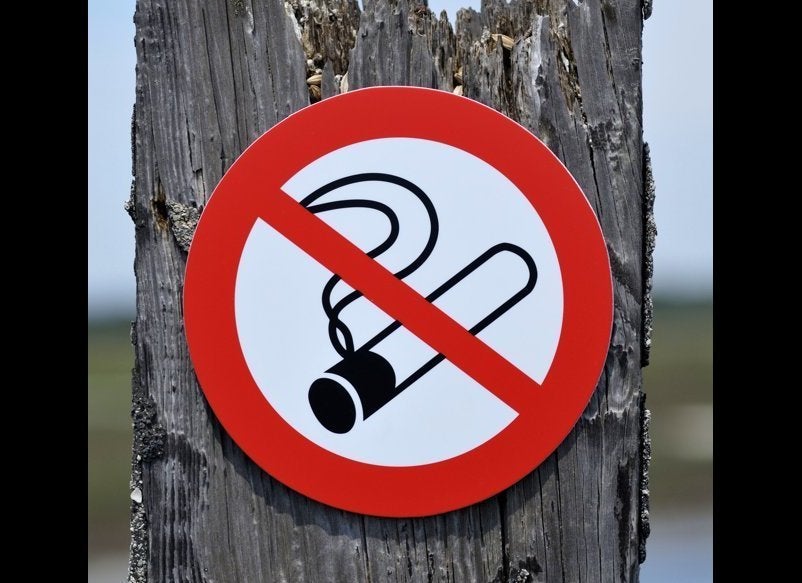 Heart-Healthy Habits And Behaviors