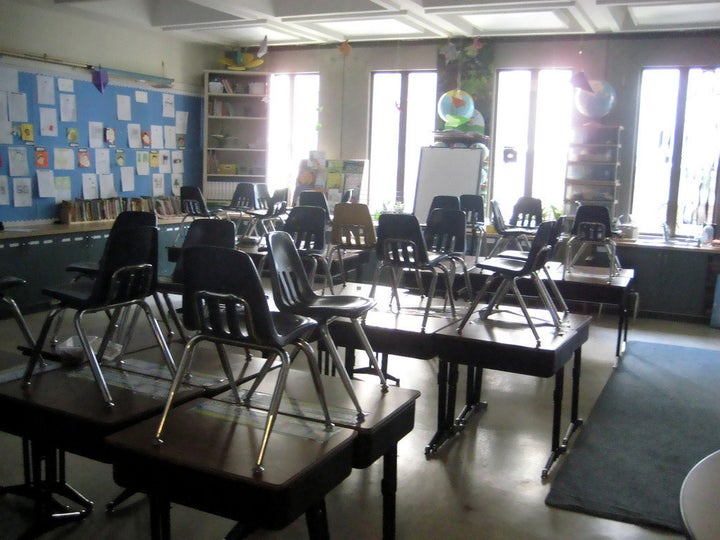 Though they voted last week to rescind four percent pay raises for teachers and union school workers, the Chicago Board of Education today is expected to approve salaries for the newly installed Chicago Public Schools CEO Jean-Claude Brizard and four other top executives that, by and large, mark substantial increases over their predecessors' pay.
As the Chicago Sun-Times reported Wednesday, Brizard's base salary - $250,000 - tops former CPS head Ron Huberman's salary by $20,000 - and is the highest pay rate for any city executive excluding the city's new police chief, Garry McCarthy. It is also an annual salary nearly $40,000 higher than the head of New York City's school system, though less than the public schools chiefs in Los Angeles and other cities.
Salaries for the other four executives are less dramatic, but still more than their Daley administration predecessors. New Chief Education Officer Noemi Donoso, who is slated to rake in $195,000, is making $2,150 more than the former education officer. New Chief of Staff Andrea Saenz, who will be paid $165,000 annually, is making $49,000 more than those who came before. CPS chief administrative officer Tim Cawley and communications officer Becky Carroll are slated to take in $35,833 and $34,617 base salary increases over their Daley counterparts, earning $215,000 and $165,000 salaries respectively.
In their unanimous vote last week, the board said the city could not afford the $100 million price tag for teacher raises, even though they were laid out explicitly in the teacher union's contract that was approved in 2007. The teacher's union has asked the board for a detailed budget outline to support their decision, but the board has yet to provide one.
School board president David Vitale described the administrative pay raises as "appropriate" to the Sun-Times, given their enhanced responsibilities and the need to compete with other districts throughout the country. In the case of Cawley, Vitale continued, he will be overseeing twice as many departments (eight) compared to his predecessor (four).
But some are not buying that argument, including the Chicago Teachers Union who, on Wednesday morning, picketed outside the board's headquarters at 125 S. Clark Street, the Chicago Tribune reported. Teachers appear frustrated that, though they are facing an extended school day, they will not be compensated in line with the longer hours.
"I actually think kids need a little longer day, but not without some compensation. I have my own daughter I have to get home to," a kindergarten teacher at the Wednesday protest told the Tribune.
The board is also voting Wednesday whether they will grant an extension allowing Cawley to wait two years, rather than the customary six-month rule, to satisfy the department's residency requirements by moving into the city from his current residence in Winnetka.
In a letter published Wednesday in the Sun-Times, Brizard thanked Chicago teachers "for what you do" and urged them to "stay encouraged, to continue to believe that all children 'can' and to take the summer to re-energize."
"I know we won't always agree on how to get there. But regardless of where we may stand, you will always have my respect. I no longer want this central office to be seen as an adversary — we cannot do the work ahead of us without you. I only ask that you keep an open mind as we engage you on reforms that will impact our kids and that we keep the lines of communication open," he added.
But the teacher's union has, thus far, pledged to fight the rescinded raises. CTU president Karen Lewis criticized the board and city administrators in a June 19 Tribune op-ed and wrote: "Come what may, our teachers will always put our children first. Isn't it time their city did the same?"
Related
Popular in the Community