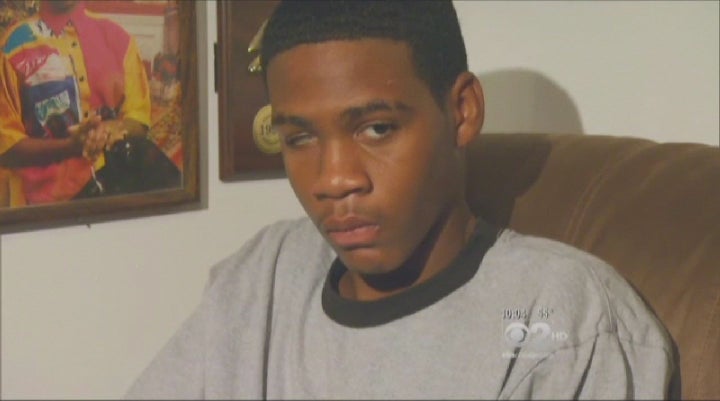 Two Chicago Public School football coaches have been suspended while CPS investigates allegations that they drove a group of students to attack another teen over a pair of stolen flip-flops.
The family of Derion Jones, a Fenger Academy High School Student, says that he was attacked at about 12:35 p.m. Saturday by a group of up to 30 classmates in an alley near South Wentworth and West 118th, they told CBS Chicago. They say he was beaten so severely that he lost a tooth, and his prosthetic eye was knocked out of its socket.
"I saw my son. He was bloody, shirt all ripped," his mother, Patricia Jones told CBS Monday. "I'm hollering, 'What's the matter? What's going on?'"
Jones' mother Patricia says that when she saw what was happening, she also noticed other adults at the scene. A source told the Chicago Sun-Times that at least one Fenger faculty member and coach was there to help recover items allegedly taken from a player by Jones and his friends.
"The coach said that my boys had taken some high school student's shoes," Jones told CBS. "I told the guys in that car, 'I'll buy you a pair of shoes. Don't take my child's life. Don't take my children's life.'"
Chicago Public Schools officials say the incident first came to their attention Monday. They told ABC Chicago that they are investigating.
"CPS takes allegations of misconduct by its employees very seriously," CPS spokeswoman Marielle Sainvilus said in a statement. "When the matter came to our attention [Monday morning], investigators were immediately assigned to conduct interviews and this afternoon, CPS decided to remove the coaches from their positions pending the completion of the investigation."
As of early Tuesday, no one was in custody and no charges had been filed, ABC reports.
WATCH the Jones family describe the attack to CBS:

REAL LIFE. REAL NEWS. REAL VOICES.
Help us tell more of the stories that matter from voices that too often remain unheard.