 CHICAGO, Aug 22 (Reuters) - The $6.6 billion proposed fiscal 2014 budget for the Chicago Public Schools is unsustainable and the district's fiscal health will continue to deteriorate absent pension reform, according to an analysis by a government finance watchdog group on Thursday.
The Chicago-based Civic Federation said it does not support the school spending plan, which helps close a $977 million deficit by draining $696.6 million in reserves, noting that budget gaps of nearly $1 billion are already projected for the next two fiscal years.
The city-run school system's contribution to pensions will triple to $600 million in fiscal 2014 due largely to the expiration of a three-year partial pension funding holiday passed by the Illinois Legislature in 2010, the analysis said. The payment in fiscal 2013, which ended on June 30, was $196 million.
Meanwhile, the funded level of the Chicago Teachers' Pension Fund fell to 54.5 percent in fiscal 2012 from a healthy 81.2 percent in fiscal 2003 on a market value basis.
"The district knew this budget crisis was coming and should have been aggressively advocating for their own pension reform proposal tied to a long-term financial plan to stabilize their budget," said Laurence Msall, president of the Civic Federation in a statement.
The nation's third-largest public school district has been waiting along with the city of Chicago and other local governments for Illinois lawmakers to address ballooning pension costs. Chicago Mayor Rahm Emanuel, who lobbied the state legislature last year for pension reform, is closing 48 schools, the largest mass public school closing in U.S. history. In May he laid off 3,000 employees, 1,000 of them teachers, as part of a cost cutting effort.
Legislators have been unable to reach a consensus on dealing with the state's own $100 billion unfunded pension liability. A bipartisan panel of lawmakers has been meeting since June, with no visible sign of progress toward any deal.
The school system said its deficits were being driven by the lack of pension reform.
"We will continue to rigorously push for pension reform as we did last session and hope that union leadership will come to the table willing to support the kinds of reforms necessary to provide significant financial relief for our schools while keeping the pension system viable and sustainable for current and future retirees," the district said in a statement.
The Civic Federation said it supports some elements in the schools' budget, including $111.6 million in management efficiencies and cost-savings outside the classroom and an increase in the property tax levy to the maximum amount allowed by state law.

Before You Go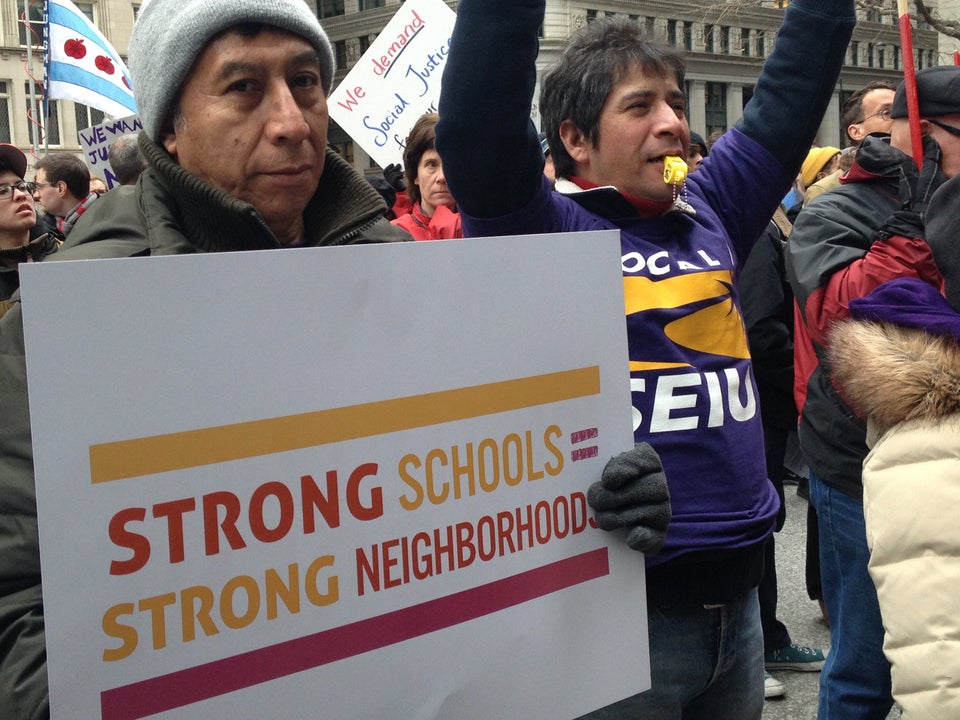 Protest Of Chicago Public School Closings
Popular in the Community