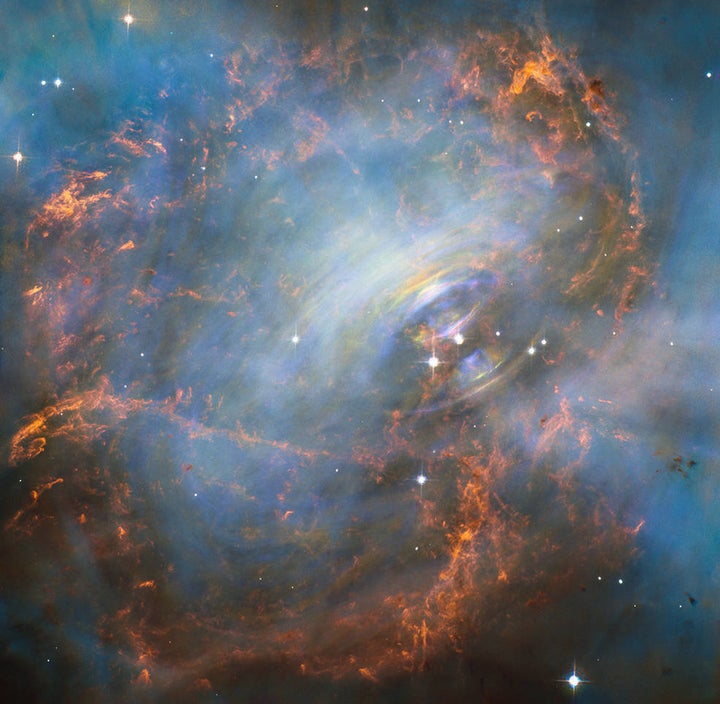 Observers have studied the supernova remnant that's in the constellation of Taurus for nearly a thousand years. But this is the first time scientists have managed to delve inside the eye of the storm.
"The neutron star at the very center of the Crab Nebula has about the same mass as the sun but compressed into an incredibly dense sphere that is only a few miles across," NASA said in a news release Thursday. "Spinning 30 times a second, the neutron star shoots out detectable beams of energy that make it look like it's pulsating."
The space agency described the as a "showcase for extreme physical processes and unimaginable cosmic violence."
"Bright wisps are moving outward from the neutron star at half the speed of light to form an expanding ring," NASA said in the release.
Scientists identified the heartbeat radiation in 1968. It led them to the discovery of pulsars, rapidly spinning neutron stars. 
Observers including Chinese astronomers observed an exploding star, or supernova, in 1054 that scientists believe created the Crab Nebula. It's the first astronomical object identified with a historical supernova explosion.
CORRECTION: The image caption beneath in an earlier version of this story stated that the Crab Nebula at spins 30 times per second.
Calling all HuffPost superfans!
Sign up for membership to become a founding member and help shape HuffPost's next chapter
BEFORE YOU GO
PHOTO GALLERY
25 Gorgeous Images Captured By Hubble