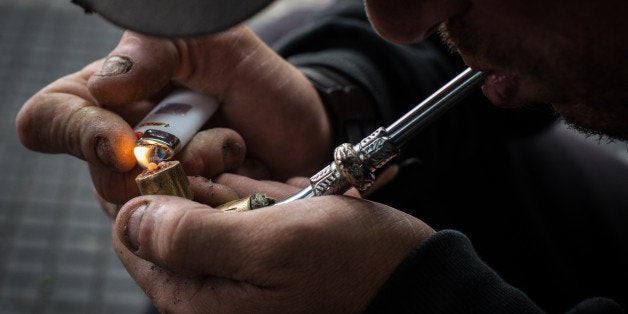 SAN FRANCISCO -- San Francisco's brazen crack pipe exchange isn't going anywhere, its organizers say, even if the city won't condone -- let alone fund -- the HIV-prevention program.
Isaac Jackson, the San Francisco chapter president of the Urban Survivors Union, a drug users' rights group that has spearheaded the effort, said the program started as a "demonstration to show that all hell won't break loose because we give out crack pipes." But in the absence of a blessing from the city, they're preparing to move the program forward with money from an unnamed donor, an expanded team and support from other disease-prevention groups.
"We're hoping that if the city keeps ignoring this issue, we'll get more organizations to get involved," Jackson told The Huffington Post. He believes the donor can financially sustain the project for at least the rest of the year, and said he will look into hiring college interns and providing a stipend to someone who can take on a leading role.
Since March, a team of about five Urban Survivors Union volunteers has been distributing 50 clean crack pipes, valued at 40 cents each, every week in the Tenderloin, south of the Market and Polk Gulch neighborhoods. Users do not need to trade in an old pipe but may only obtain one at a time. The goal, Jackson said, is simply harm prevention.
According to the San Francisco HIV Prevention Planning Council, crack is an "HIV driver" that puts those in contact with it twice as likely to contract the virus. HPPC stated in its 2014 community assessment report that crack and cocaine are the biggest drug use issue for over 20 percent of people who seek publicly funded substance treatment in the city.
Jackson said the health of these drug users, who contract and transmit HIV and Hepatitis C when they burn and cut their lips on broken and makeshift pipes, is a public health duty the city should take on.
"We can run it for awhile, but we feel the city of San Francisco could do a much better job with its resources than we ever could," he said, explaining that the Urban Survivors Union is not intended to be a service organization."When it comes to crack smokers, there is a deficit of services and a deficit of care."
The crack pipe exchange program is following a similar path to San Francisco's flagship needle exchange programs, which provide clean syringes and needle disposal for intravenous drug users. The needle exchange program has been supported by the city since 1992 and distributes more than 2 million clean needles a year at nearly a dozen locations through the San Francisco AIDS Foundation. The World Health Organization, the Centers for Disease Control and the Institute of Medicine have all found the needle exchange method to be effective at fighting HIV, but it was met with stiff opposition when the group Prevention Point first started distributing clean needles in 1988. In light of the AIDS epidemic, the city began funding the project three years later, and spent $1.2 million on the program in 2011, according to the San Francisco Chronicle.
"Now, it's very well accepted that syringe access is incredibly effective and cost effective at reducing new HIV transmissions," Laura Thomas of the HPPC told CBS San Francisco. "Unfortunately, the cost of that learning curve is often peoples' lives and we don't have time to waste on this, so we need to start implementing [crack pipe exchange] now."
On top of lives saved, studies have found that implementing needle exchanges also saves significant spending in health care costs. According to research presented at the 2012 International AIDS Conference, if the U.S. covered 5 percent of needle exchange programs, it would save $66 million in annual treatment costs.
Jackson said he launched his program after attending a San Francisco Department of Public Health presentation where a crack pipe exchange was discussed as a possibility. Thinking it would take months before the city would move on it, he decided to start his own distribution in March.
"We figured the city would jump in and welcome us," he said, "but we were surprised."
Once the public caught wind of Jackson's efforts, both Mayor Ed Lee's office and the Barbara Garcia, the city's Department of Public Health director -- neither of whom returned HuffPost's requests for comment -- announced they would not even consider supporting a crack pipe exchange.
"We aren't doing it because there is no evidence that demonstrates that it's effective," Department of Public Health spokeswoman Rachael Kagan told Time magazine this week. "Our harm-reduction programs are evidence-based and part of a comprehensive program of care. 'Let's start handing out crack pipes' is way too reductionist and too narrow for the department to take on."
Jackson worries city officials oppose his crack pipe exchange not because of health concerns, but because of fear over how it may taint the city's image. He pointed to an email obtained and published by the Bay Area Reporter, in which the mayor's director of communications, Christine Falvey, asked Garcia to clarify the city's opposition, writing that they "don't want any Fox News SF headlines on this."
That attitude is frustrating to Jackson, who feels crack carries a stigma as a "drug of the ghetto," which has led to users' health being largely disregarded. Studies have found 23.9 percent of crack users and dealers in Harlem, a neighborhood of New York City, are HIV positive. Yet the crack pipe exchange, advocates say, encourages a healthier lifestyle even beyond mitigating transmission through broken pipes.
"This gets people to be conscious about their drug use," Jackson said. "It doesn't mean they have to stop using, but they can just be more aware of what's going on."
Thomas of the HPCC agreed, telling CBS that an official program could operate more as an outreach service.
"It may seem counterintuitive, but it's a great program," she said. "Once you can bring people into your program, make them feel respected, taken care of, then they're more likely to come back and get on HIV meds and want to be engaged and taking care of their health."
While San Francisco police could cite Urban Survivors Union volunteers for possessing drug paraphernalia, an officer told Vice earlier this month that the charges are so minor and the chance of prosecution so low that they "wouldn't touch that with a 10 foot pole."
Jackson said he plans to keep pressuring the city and is organizing with some of his allies. But for now, he's celebrating having started the conversation.
"It's been an overall success in the sense that we've raised the issue," he said. "People have been ignoring this, and we've raised the issue from obscurity to media."
REAL LIFE. REAL NEWS. REAL VOICES.
Help us tell more of the stories that matter from voices that too often remain unheard.
BEFORE YOU GO
PHOTO GALLERY
27 Reasons Why The U.S. Shouldn't Lead The War On Drugs