"Baba, sumoud!" ("Daddy, stay steadfast!")
Ten-year old Malak Rajab called out these words as Bahraini police led her father, prominent human rights defender Nabeel Rajab, from his home to waiting police vehicles in July 2012. His crime: insulting the Prime Minister in a tweet.
I filmed Rajab and his young daughter in their front yard from the upstairs window of their house; I had to film clandestinely, as I had entered the country under false pretenses--Bahrain was denying entry to nearly all journalists and human rights defenders. But I captured the girl's defiant resistance as she trailed after the police who had her father in tow. Later that day, I witnessed her fear as the reality settled in: she did not know when her father would come home.
Malak was 12 years old when Rajab (co-founder and president of the Bahrain Center for Human Rights) was released. And then, the following year, Rajab was back in prison for two, relatively brief, stints, and has faced a travel ban for much of his time outside of prison. Now at the age of 14, Malak is again uncertain of when her father will next walk through the door. At 5 a.m. on June 13, Bahraini police, led by the Cybercrime Unit, arrested Rajab again, charging him with "spreading false news and rumors about the internal situation in a bid to discredit Bahrain." The charge relates to statements that Rajab made on social media, condemning the torture of Bahraini prisoners and criticizing Bahrain's role in the Yemen war. On June 14, the public prosecutor issued an order to keep Rajab detained for seven days "pending investigation." On June 21, the detention was extended for another eight days. Rajab's health has deteriorated precipitously since his arrest, likely due to unsanitary conditions in the cell and his being held in solitary confinement - as if he was a dangerous criminal. His health has declined to the point that on June 28, he was transferred to a hospital. Rajab faces trial on August 2. If convicted, he could spend up to 13 years in prison.
Rajab's re-arrest is but one example of an alarming escalation of repression that Bahrain has meted out in the past month. In addition to targeting the country's leading human rights defender, authorities is using citizenship revocation as a means to punish political dissent; in three days alone, authorities stripped 33 Bahrainis of their nationality. Then, on June 20, the Bahraini government revoked the citizenship of Sheikh Isa Qasim, a leading Shia cleric, leading to wide-spread protests, the likes of which have not been seen since the February 2011 Bahraini uprising calling for freedom and democracy. On May 30 Sheikh Ali Salman, the Secretary-General of al-Wefaq (the largest political opposition parties), had his four-year prison sentence extended to nine-years. (Like Rajab, Salman is a staunch advocate of nonviolence, whose "crime" was exercising freedom of speech.) Two weeks later, the Bahraini government closed al-Wefaq altogether, suspending its activities.
Bahraini human rights defenders such as Rajab who expose these abuses have been targeted with renewed vigor. Rajab is not alone; Zeinab al-Khawaja, in and out of prison for most of the last three years, finally had to escape the country for Denmark, where she holds duo-citizenship, under threat of being locked up again. Al-Khawaja's father Abdelhadi al-Khawaja who co-founded the Bahrain Center for Human Rights with Nabeel Rajab, is serving a life sentence for his peaceful activism in the 2011 uprising, which called for democracy and reform from the monarchy.
The US State Department has made some strong statements regarding the past month's crackdown. "We remain deeply troubled by the Government of Bahrain's practice of withdrawing the nationality of its citizens arbitrarily," State Department spokesperson John Kirby said in a press statement on June 20, in response to the revocation of Sheikh Isa Qasim's citizenship. Kirby stated at a press briefing on June 14 that the U.S. was also deeply trouble by the dissolution of al-Wefaq, the extension of Salman's sentence, and the arrest of Rajab. The U.K. government, for its part, expressed concern about Rajab's arrest and promised to monitor his case.
The statements by the U.S. and the U.K. are helpful, but expressing concern does not go far enough. The reality is that London and Washington both enable the Bahraini government's repressive tactics: through arms sales, cozy diplomatic relations, and, in the case of the U.S, its 5th Fleet Naval base.
Rajab is clear-eyed about why. "These Western countries see their future with the regime that guarantees the flow of the oil, guarantees the American base, guarantees their security in the region," he told me in his home back in 2012, just minutes before the police entered and led him away to prison. "That's why the U.S. and the U.K., who are the strongest influence here, are with the regime."
But Rajab had this advice to offer leaders in Washington and London: "Supporting dictators will not help the strategic interests of your countries. You should always support people. You should always support a struggle of a nation for freedom and justice."
The U.S. and the U.K. governments would be wise to follow Rajab's advice.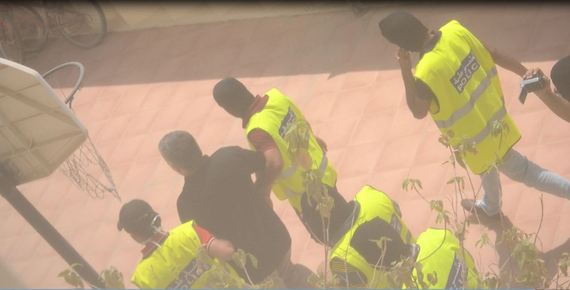 Caption: Masked police lead Nabeel Rajab from his home to prison in July 2012, convicted for a tweet. He is back in prison now, on similar charges.
Related
Popular in the Community